Please Understand PTSD Is a Reality for Some of Us Who Parent Medically Fragile Kids
---
I still remember the first time it happened. The surgeon had come in to tell us that the open-heart surgery performed on my 3-day-old son was an outstanding success. I remember looking at the surgeon calmly and saying, "Thank you very much," and I turned on my heel and nearly sprinted down the hallway. My mom and step-mom followed close behind, calling my name, but my brain wasn't computing their words. I grabbed the door to the lactation room at the end of the hall and locked myself inside.
Then I completely and totally lost it.
I sat on the sterile vinyl chair, hugging myself, sobbing, and I think I even drooled a little. I'd been holding in all these emotions, trying to process everything that happened in the last 30 hours and once I knew my son was "safe," I couldn't hold back anymore.  Little did I know, this would be the start of a near constant internal battle.
My son, Sully, was born in November 2011, seemingly healthy. Just 36 hours later, local doctors discovered a congenital heart defect (CHD) and he was airlifted to the larger, metro hospital. The third day of his life, a team of doctors and surgeons operated on his 6-pound, 8-ounce body. After a spectacular recovery from his first surgery, we handed him off to the surgeons again just six months later. That surgery was also a success.
I considered myself a pretty "together" person. I felt like I handled stress well and had healthy coping skills (scarfing a king size Reese's is a healthy coping mechanism, right?) As time went on, I noticed myself beginning to change. When we were getting ready to leave the house for any reason, I would retch and gag, and sometimes even vomit. I would get sweaty and nervous, and I had no idea what was going on. If I wasn't with Sully, I would think of all the horrible possibilities that could happen. I would replay these scenarios in my head until I would end up in a crying ball on the couch. What was wrong with me? Everything was fine, but I just couldn't figure out what was going on. I was too scared to talk to anyone about it. I have a job that keeps me in the public eye, so what if they thought I was a liability? What would my family think? I knew it wasn't normal to need a gallon of Pepto just to go and get groceries. I'd dealt with a mild form of anxiety all my life, but never like this. This was different.
Right after Sully turned two, a friend a mine sat me down for a frank discussion. Being a mental health practitioner, she'd seen this before. She told me she wanted me to talk to my doctor. I tried to blow her off, but she pushed further. Then she said it, "I think you have PTSD."
Umm… what?
I was stunned. I wasn't in the military and hadn't been through a war. How could I possibly have PTSD? There had to be another explanation.
Even though I thought my friend was way off base, I decided to call my doctor. After talking to my doctor and being referred to a therapist, it was confirmed; I had post-traumatic stress disorder (PTSD). The diagnosis was hard to swallow. I blamed myself for not being able to control my emotions and thoughts. I felt out of control.
Then, I started talking to other parents who'd been through the same or similar situations. It was during these conversations that I realized I wasn't alone. All these other parents had feelings like I did. Though none of us had been deployed to a war zone, we were on the front lines of our own: battling for our children's lives. We'd waged war against catastrophic medical conditions that threatened to kill our children, and sadly, some of those medical conditions took the lives of some sweet warriors.
With a newly restored hope, I decided to talk more about PTSD and mental health. There is such a stigma surrounding mental health issues. The world is judgmental, that's a fact, but we cannot stand silent in battle alone. We need to talk about it. We need to let the masses know that this is a real struggle that stems from healing wounds. Seeing your child hooked up to 20 IV racks, with chest tubes and a ventilator, is not something you can easily get over. When you face the mortality of your child, you change. It is something that rocks you to the very core of your being.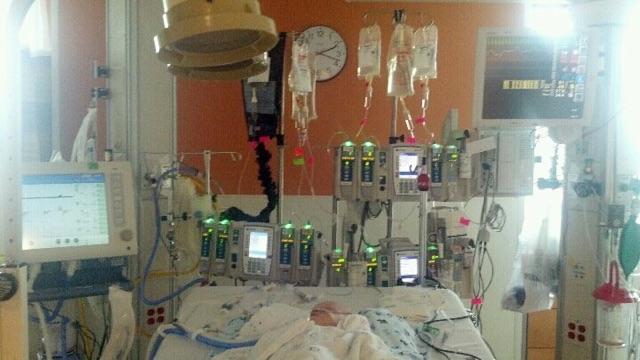 The biggest thing I've learned since my diagnosis is self-care. I can't be the mom Sully needs unless I take care of myself. Admitting you need help can be tough for people, but it is a necessity. You can't do this alone. Do not be ashamed. We are in this together.
I'm happy to report that Sully is almost 6 years old now. He is starting kindergarten in the fall. He's happy, healthy and the joy of our lives. As for me, I've learned tips and tricks to manage my anxiety and panic. Don't get me wrong, I'm not perfect. There are still times that leave me in a nervous mess, reaching for my inhaler. But those times are few and far between. Every day I choose to take care of myself and not let PTSD control me.
We want to hear your story. Become a Mighty contributor here.
Originally published: December 19, 2017