You Can Still Attend the ReelAbilities Film Festival This Year (Online!)
---
As film festivals and other cultural events around the world started to cancel and postpone, the ReelAbilities Film Festival: New York, scheduled to run March 31 to April 6, was left with a tough decision. Should we cancel, postpone or try to run?
One of the reasons this festival was established was because disability stories were not being told enough. Programmers did not know how to approach films relating to disabilities and avoided these topics. We needed a festival to highlight stories that included the disability community and shared images of the community like they had never been presented before.
We have seen much improvement over the years in the quality and quantity of the representation of people with disabilities on screen, but still have a long way to go for appropriate representation in the mainstream. Because ReelAbilities is one of the few platforms bringing these films to the public and raising the bar on accessibility in presentations, we knew these stories needed to continue to be told and we had a responsibility to share these voices with the public.
Especially now, in a time when social distancing is keeping us safe — but physically apart — we need to tell these stories. The community is hungry for quality content and a sense of normalcy. The thousands of people who attend ReelAbilities annually should not miss out. At the same time, the dozens of filmmakers who have worked hard and were selected out of hundreds of qualifying films should not miss their chance to reach an audience and bring their message to the public. Like the leaf falling in the forest, I believe a film does not achieve its purpose without reaching an audience.
In this time of isolation, it is our mission to bring the community together, even virtually. So in an amazingly short time, we found a way to turn our already programmed festival into an online event. Before we completely understood the extent of the threat of COVID-19 and other festivals started to cancel and postpone, we started looking into a variety of options and how to re-design the ReelAbilities experience to be as effective as possible in a virtual format.
One of the founding elements of the ReelAbilities model is to screen in multiple locations in order to be more accessible to the community. For years we have been toying with the idea of putting our past films and conversations online simply as a way to bring these important stories to audiences who cannot attend festivals. We've always known that within our attempts to be fully accessible to all, we are missing out on an audience who cannot leave their homes. This year, by going virtual, we are actually becoming more accessible.
We were not exactly sure how this was all going to play out. We knew it was important for us to have accessibility aids and have the community engage interactively. For that, we provide two touchpoints. The first is the films, which will be mostly available for a 24-hour period to stream on a computer, starting from the scheduled programmed time. Almost all of the filmmakers agreed to come on board and be a part of this. We will be providing all the films with open captions and a separate link with open audio description for those who need it.
The second touchpoint is the conversation element of the festival, which will also take place as scheduled after the original screening time of each film. As Zoom has become a popular format, we will be using this platform to create an interactive dialogue with filmmakers and experts on the themes presented in the films.
Beyond the films and Q and As, one of the things that makes a festival unique are the conversations and events, and we are proud that many of these will be continuing. Comedy night might not be stand-up at the Gotham Comedy Club, but we will host great comedians in conversation (with Donnie Sengstack, Maysoon Zayid, Steve Way and Danny Woodburn) as well as panel discussions on art, beauty, and an exclusive discussion with a disability rights activist also featured in the Netflix documentary "Crip Camp" — Judith Heumann. Our opening night will also include some surprise celebrities (actors John Krasinski, Zach Gottsagen, Millicent Simmonds, and singer Maelyn — winner of NBC's "The Voice" Season 16), and even a virtual red carpet.
In these times, when resources are scarce and we are forced to prioritize, the disability community needs to not be forgotten. As our world moves closer to a form of a restart, we need to make sure all voices are heard as we rebuild and rise back up. ReelAbilities helps bring these voices to the table and makes sure these stories are told.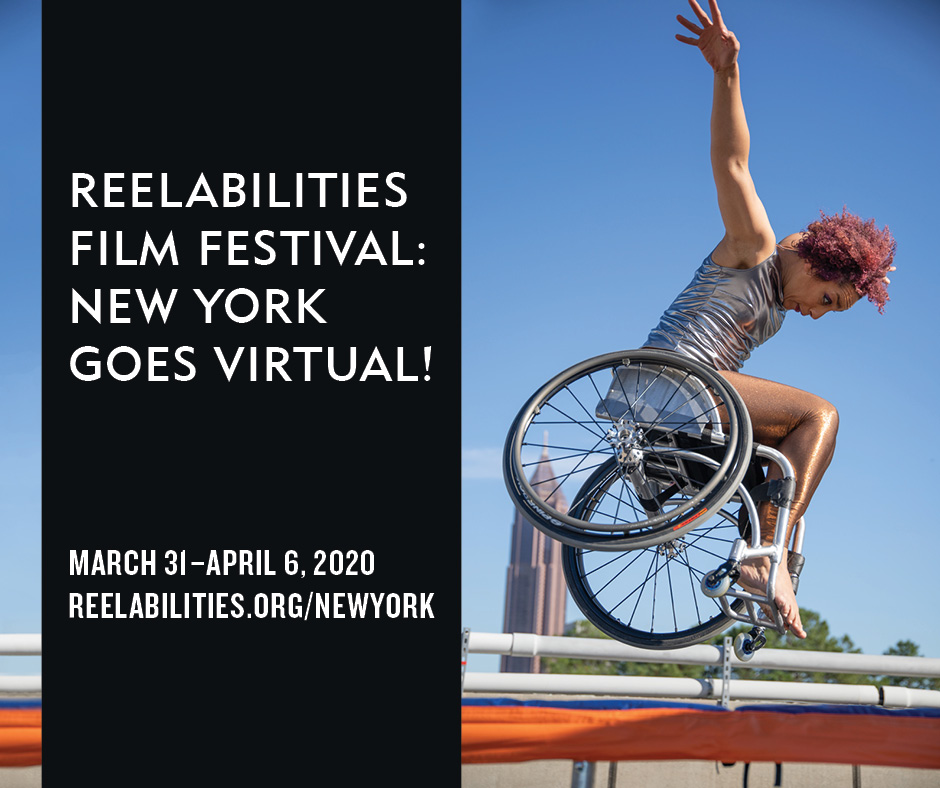 Concerned about coronavirus? Stay safe using the tips from these articles:
Originally published: March 30, 2020