My COVID-19 Point of View: What Life Is Like in Naperville, Illinois
---
What's happening in Naperville, Illinois: My name is Melissa Scheer. I live in Naperville, IL, which is a pretty large suburb of Chicago. I'm a 25-year-old woman who was born and raised in this area, and really love suburban life. I am currently diagnosed with bipolar disorder, ADHD, generalized anxiety and OCD, which can make functioning on a daily basis in the regular world difficult, never mind the COVID-19 world. However, I'm still able to hold down a full-time job at a therapeutic day school for students with autism as a paraprofessional, and this upcoming fall I'll be completing student teaching to complete my Bachelor's in Special Education. As nerdy as it is to some people, video games have been what's getting me through this pandemic. However, I also like to write all kinds of things, including novels, fanfiction and articles for The Mighty.
In Illinois, there have been 183,241 confirmed cases of COVID-19 as of August 3, 2020. Out of those confirmed cases, there have been 7,526 deaths, and 2,806,797 total tests conducted. Overall, our recovery rate is 95%. However, a disproportionate amount of COVID-19 cases has been found in the city of Chicago, and there is a noticeable trend that the virus is affecting minority populations at a higher rate. Of the 7,526 COVID-19 deaths in Illinois, while 44.7% were white, 48.2% were Black or Hispanic. This is considering 60.8% of the population in Illinois is white, and only 32.1% of is Black or Hispanic.
There was a study done in April 2020 that found at that time a whopping 41% of COVID-19 deaths in Illinois were black POC. This can be linked to a majority of cases being found in the west and south sides of Chicago, where minority rates are higher than the rest of Illinois. Still, it's undeniable that POC are being diagnosed at a much higher rate than white people, and unfortunately dying at a higher rate as well.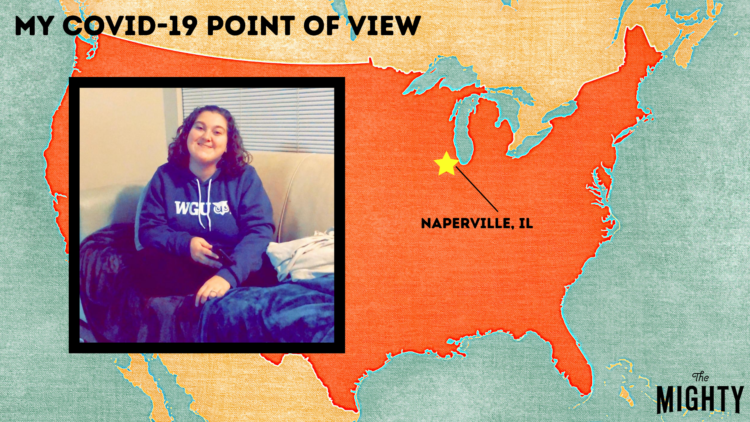 My observations about masks: In Illinois, masks are by no means optional. Even though many restrictions have been lifted, such as restrictions on gathering sizes (which increased from 10 people to 50 people) and bars and restaurants reopening with a decreased capacity limit, masks are required in indoor settings at all times. In fact, stores and restaurants can deny you service if you aren't wearing a mask. On the front window of every establishment is a reminder saying something along the lines of, "Masks are required for service." In the beginning of the mask mandate, Illinois essential stores even had employees standing outside to make sure people were coming in with masks on. If you didn't have one on, they would gently deny you entrance. 
However, this doesn't mean everyone is happy about the mask mandate. Especially as it was announced that kids would have the option of returning to school this fall permitting they wore a mask all day. When this was announced, many parents in my area were outraged. I'm a member of a Facebook group called "What's Happening in Naperville?" and when the news was announced, there were a plethora of posts from concerned parents in the group because they found the rule to be unreasonable and unnecessary. 
The mask mandate also poses a problem for students at my current job, because many kids with autism can't tolerate wearing a mask for that long, nor do they understand why they need to. Already, my workplace has had parents announce that they will not be sending their child back to school and will continue with the e-learning model at home. 
One thing is for sure — this upcoming school year will be one for the record books, and will most likely look much, much different than the years before.
My experience out of the house:  On June 26, 2020, Illinois moved into "Phase 4" of its reopening stage, meaning restaurants and bars can be opened at a decreased capacity limit. Tables must be six feet apart, and outdoor seating is preferable. This means many restaurants, both big and small, have set up impromptu tents outside in their parking lots with foldable tables and chairs. From big chains like Buffalo Wild Wings to local favorites like Protein Bar and Kitchen in Oakbrook, IL, restaurants have found creative ways to make outdoor seating possible for their guests.  
Additionally, going out to stores looks different than it did pre-COVID-19 — and not just because every employee and guest has to wear a mask. Many aisles have arrows pointing in which direction guests should move in order to encourage social distancing. For example, at Target there's blue masking tape on the floors to form arrows signaling if an aisle is an up or down aisle, and the expectation is that all guests are moving in the same direction if they're sharing an aisle. Additionally, stores and restaurants now have markers to show people where to stand at checkout lines. Even restaurants like Subway have mats that are taped to the ground, telling guests where to stand in order for them to follow social distancing and remain six feet apart.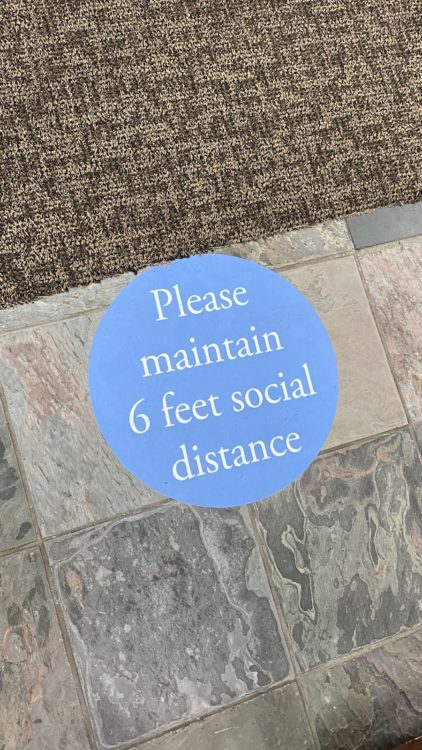 Also, in Naperville, Aldi has become the place to go for your grocery shopping needs. From the very start of COVID-19, while other stores had toilet paper and meat shortages, they've been one of the only stores to always have supplies on hand. So, if you happen to be in Illinois, check it out.
My health: To put it lightly, COVID-19 has made managing all of my mental health conditions a lot more challenging. Bipolar disorder, anxiety and ADHD all do well with having structure and routine, so losing my daily routine due to working less and being home all day has been extremely difficult for me. It got to the point where I had to make a color-coded schedule for myself just to stay sane — which only really works half of the days. When I'm being honest with myself, I need to admit I've been more symptomatic these past few months, and a lot of that I contribute to losing my routine and structure.
Additionally, all of my doctor and therapist appointments are now online, which is OK, but I don't feel I get as much out of them. Something about online therapy doesn't sit well with me, and I surprisingly find it a lot harder to open up in the comfort of my own home. There's something about my therapist's somewhat small office and extremely comfy chairs that makes it feel safer to open up. Going back to in-person appointments is something I'm looking forward to the most.
My quality of life: As mentioned before, I've been a lot more symptomatic since the beginning of COVID-19. And at first it wasn't that bad because I was quarantined with my wife, but now that she's gone back to work it's become really hard to keep myself from getting anxious. Most days, by the time 3:00 rolls around, I'm a ball of nerves because I don't have the routine and structure I mentioned earlier.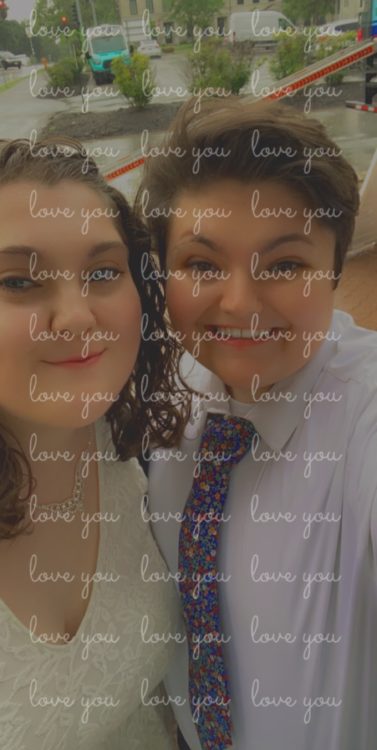 Overall, it's been really hard on me. And by hard, I mean I've had two psychotic breaks in the past few months, which hasn't happened in five years. But with the stress of COVID-19, as well as the isolation that comes with it, I have too much time to think. I've had a lot of medication adjustments and doctors appointments to try to figure out the problem, but at some point I had to realize this isn't a medication issue, and meds won't fix it — because my symptoms are all situational. I just need to find better ways to cope — which is something I'm honestly still working on.
My unique COVID-19 moment: Despite my troubling mood swings and brief episodes of psychosis, there has been some really exciting things happening in my life. The main one is I got married! Before this pandemic began, my fiancee and I planned to get married April 3, but that turned out to be the time of peak cases in Illinois. Then, by the time June rolled around, we decided to just get married on our own. We didn't need a big party or an expensive venue, we just needed each other. So, we went to the Will County courthouse and I finally got married to the love of my life! After, we went out with our closest family and friends to a nearly empty restaurant due to all the restrictions. Not many people can say they got married wearing masks and staying six feet apart from other people in the room, but it's a memory I'll always cherish. To me, it was the perfect day.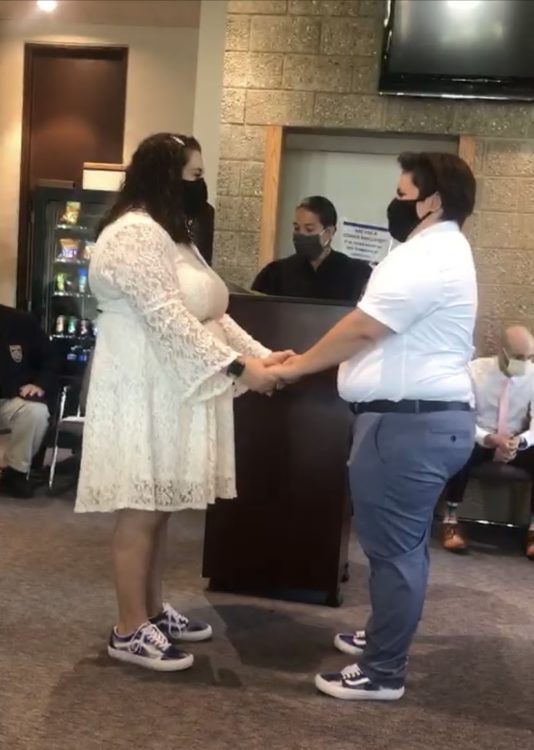 My hopes for the future: In the future, I hope to see people gain more insight and be more receptive to learning about germs and pandemics. Many people don't want to wear masks, but one of the reasons our state has had a heavy decrease is linked to the mask mandate and strict regulations that were put in place in the beginning of the pandemic. I especially hope there will be an increased awareness that wearing masks around people with autoimmune disorders can literally save lives. 
I'm also hoping some things don't change in my area. I hope the number of COVID-19 cases continues to decrease and that schools will still be able to open this fall, because I'm really looking forward to getting into a routine again with work. And I especially hope we don't have another full shutdown because that was really, really hard for me. Above all, I hope one day normalcy will return.
Local resources: 
Originally published: August 4, 2020