My COVID-19 Point of View: What Life Is Like in New Orleans, Louisiana
---
What's happening in New Orleans, Louisiana: Hi everyone! My name is Natalie and I am reporting in from Louisiana for my local COVID-19 story. I am a 20-something living in the Uptown neighborhood of New Orleans, ("Nola" as the locals call it) with my husband and our dog, Finn. I write about my experience healing and living with chronic health conditions for The Mighty, other publications and on my blog, Mindful Migraine. I started blogging after starting an Instagram account several years ago (@mindfulmigraine).
The online community and the relationships they foster have been a major source of support, especially while navigating the COVID-19-quarantine world. I live with chronic lyme disease, chronic migraine and interstitial cystitis, all of which impact me on a day-to-day basis, often severely limiting my functionality. I've found that many of the skills in my "chronic illness coping toolbox" are highly transferable to the "COVID-19 lifestyle toolbox." I have been leaning on them heavily to support my well-being during this unprecedented time.  
New Orleans was one of the early COVID-19 hotspots. It was alarming to watch case numbers soar in a matter of days and skyrocket with each passing week. At one time, we had one of the highest rates per capita in the entire world. As we all developed increased understanding about the dangerous nature of this virus, so did my awareness of the essential role that individual actions play in helping to control it. In Nola, a spike in case numbers in early April left us under strict quarantine orders, with most businesses closed for the better part of May and June. There was a significant reduction in cases and a phased re-opening process began in mid June. Unfortunately, case numbers slowly started to creep up again, with 9,649 total cases in Orleans parish as of July 23, 2020. Many businesses are still closed and almost all have both mask and occupancy regulations in place. Watching the numbers steadily rise over the course of July has filled me with sense of alarm not unlike the one that I had in early March; nervous about what the future will bring and navigating such uncharted territory.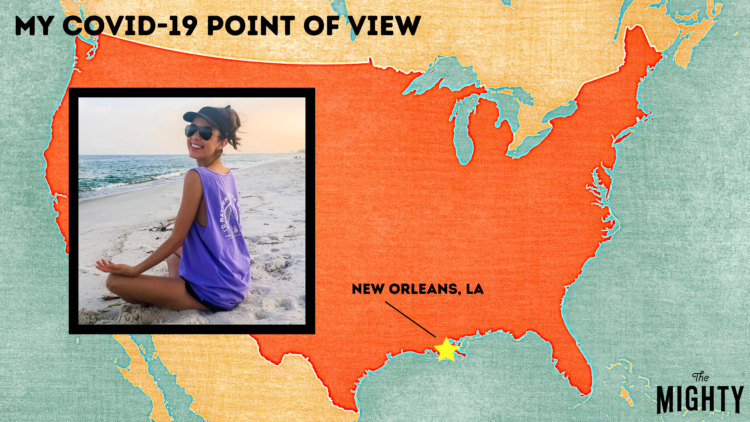 My observations about masks: My observations are mostly limited to the Uptown and Garden District neighborhoods in New Orleans. Here I have noticed that people are generally accepting and positive about the use of masks. Many businesses and all grocery stores have been requiring them for entry for some time now, and at the height of our case numbers, many people were wearing them while walking outside or in some of our larger local parks (despite summer heat and humidity!). Although I haven't been out to eat at any restaurants since they reopened to 50% capacity, it appears that in the outdoor dining areas, all of the staff are wearing masks and tables are socially distanced. When we've driven outside of New Orleans, even as little as 20-40 minutes away, it seems as if there are significantly fewer mask wearers. I do think that New Orleans is in a bit of a "bubble" in terms of how seriously the majority of its residents are following the guidelines and restrictions as compared to the rest of the state and other parts of the country. I would guess this is due to the fact that many of its residents were scared at the beginning of the pandemic, and/or have been personally affected by COVID-19.
My experience out of the house: Admittedly — I have been largely homebound through most of the pandemic! However, I have ventured out to some grocery stores, coffee shops, medical appointments and other errands. During the month of May, it was incredibly desolate; a very large percentage of the businesses in Nola closed when the city's infection rates were at their peak. It was eerily spooky to drive down the usually bustling Magazine Street and see sidewalks empty and most of the businesses closed. As things have started to reopen, the people entering stores, coffee shops, etc. seem to be wearing their masks willingly and are compliant at those establishments taking temperatures before entry or asking patrons to use hand sanitizer (some stores even have disposable masks at the front door for customers to use).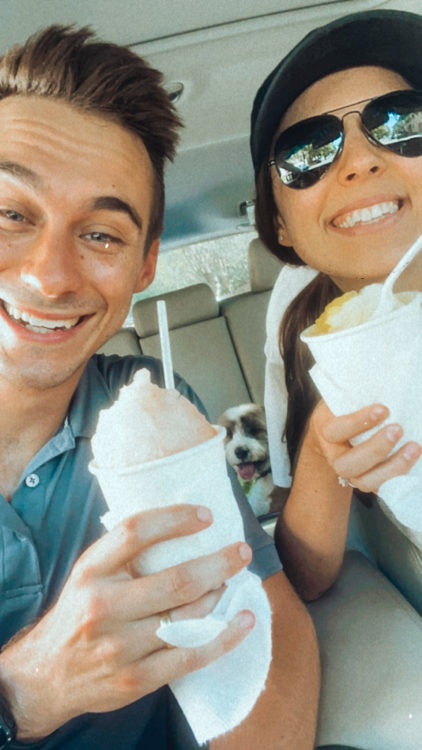 Our first "must visit" business when things reopened was a local favorite, PJ's Coffee Shop. They converted their front door to a to-go window for several weeks and set up social distancing markers on the sidewalk for customers to line up. Another "must visit" at the top of our list was Imperial Woodpecker for snowballs. July is beastly hot and humid in New Orleans, and there is nothing that hits the spot quite like a snowball with impeccably soft ice on a 95+ day (New Orleans is well known for their "snowballs" which are like shaved ice but have lots of flavor options including wedding cake, grapefruit basil, cream of chicory coffee and Mardi Gras king cake). 
My health: COVID-19 has shifted much of my health management to telemedicine appointments. For me, this has been a very welcome change. The nature of my chronic conditions can make simple errands out of the house intensely triggering for migraine pain and neural fatigue. Being able to avoid loud, bright, busy hospitals and take some appointments from home, where I have control over the stimuli and don't need to use my sometimes depleted energy supply driving, has been really helpful.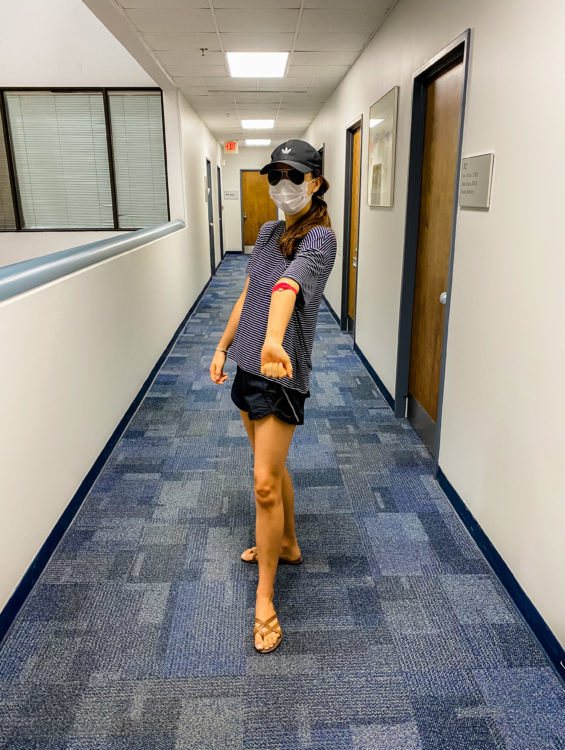 Despite the pandemic, I've been able to complete necessary lab-work and in-clinic appointments and have also been able to keep the medications I need fairly well-stocked. I feel lucky to live a few blocks from a drive-through pharmacy, a real benefit, particularly during this time. Ochsner Hospital, where much of my care is located, also has a specialty pharmacy that delivers certain medications (like injections). That program has also helped keep my treatments to stay on track. 
My quality of life: As mentioned earlier, the skills I use for coping with my chronic health conditions have done double-duty in managing my overall well-being during the pandemic. Over the last six years, I have had to learn how to get used to things like daily symptom unpredictability, health anxiety, frequent canceling of plans for reasons beyond my control and social isolation. The tools that I use daily to create calm inside of my health chaos such as mindfulness, self-compassion, gratitude and acceptance, have been instrumental in helping me find that same calm amidst global pandemic induced chaos and an uncertain future. I've still had plenty of moments of overwhelm, anxiety and fear; but I have been much more adept at managing those moments than I would have been had chronic illness not become a part of my story. 
In many ways, the stay-at-home orders and quarantine response to COVID-19 were actually helpful in managing my daily health. It was wonderfully supportive to have my husband working from home during the quarantine (his school canceled in person classes due to the pandemic) and to eliminate the guilt I often feel about my inability to socialize with friends and family (since most social engagements were postponed). The emotional "relief" that certain aspects of the quarantine provided has prompted me to take a close look at my lifestyle. There are some areas where I will likely make changes to create better boundaries in order to protect and honor my physical and emotional needs in the post  "COVID-19" world. 
My unique COVID-19 moment: One of the sweetest moments I witnessed as a result of COVID-19 occurred on a sunny Sunday afternoon in June when I was sitting on my front porch. I live one block away from the "parade route" where Mardi Gras parades roll in the spring, all of which have either a marching band or floats with musicians aboard. As I sat sipping my iced tea, I heard jazz music coming from the direction of the parade route. Although it sounded much too loud, I assumed it was someone playing music in their yard. 
When we walked our dog at sunset, we turned a corner to see a socially distant neighborhood concert going on. All along the street were little pods of couples, families with their pets and some singles sitting on lawn chairs, face masks on, listening to live music being performed in a backyard on the corner of the street. When we got closer, someone told us that a local musician was going to be putting on a neighborhood concert from his backyard every Sunday afternoon during quarantine. It was heartwarming to see everyone "gathering" and following social distancing guidelines; I deeply appreciated having this little piece of "normalcy" and celebration amidst all of the tragedy and disruption. I have looked forward to sitting on my front porch every Sunday afternoon since, listening to the jazzy tunes make their way down the block as the sky turns soft pinks, oranges and purples and the sun makes its slow, lazy descent down to rest; reminding me to exhale a little easier and that there is still joy and beauty all around.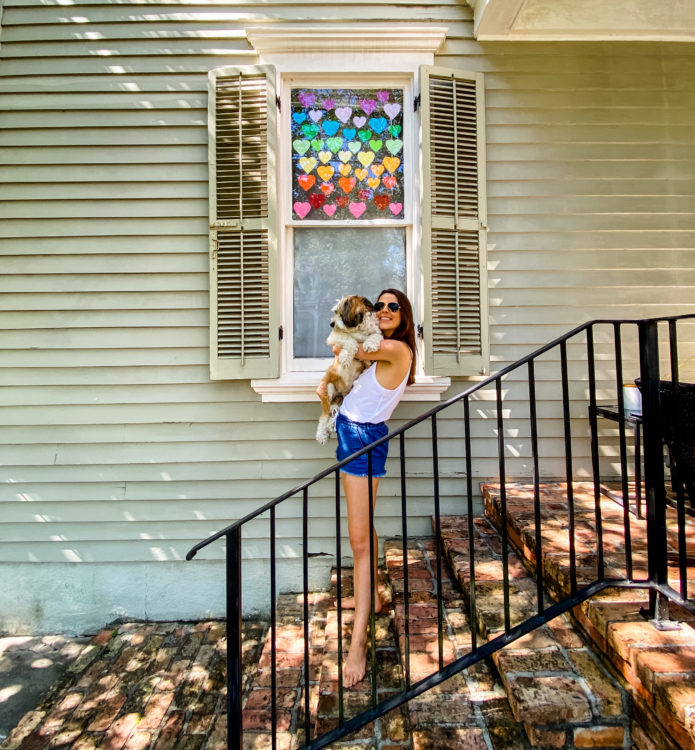 My hopes for the future: I hope to see compassion and respect for others continue to guide the actions of our community in response to COVID-19. From wearing masks in public, to limiting social gatherings to taping rainbows in the windows of homes and businesses as a show of solidarity and support for our health workers — I hope to see the residents of New Orleans continue to exhibit love for the population as a whole with their actions. When it's safe to do so, I'm excited for the city to be able to come alive for the things that make it so unique like lots of live music and festivals. In the meantime, I have noticed, and will continue to look for, the many creative solutions that people have come up with which are both COVID-19 compliant and respectful of the seriousness of this situation. 
On a personal level, I'm looking forward to hugging my loved ones more freely again. It's definitely something that I have had to restrain myself from doing almost reflexively and I miss this simple gesture of warmth and love. On a larger scale, I am looking forward to being able to travel again. My husband and I cancelled a trip to Tulum, Mexico in April which we had been planned to celebrate the completion of his second year of med school — but rather than regret that this was one of the ways that we were affected by the pandemic, I focus instead on knowing that the trip will be just that much sweeter when we ultimately make it to Tulum!
Local resources:
Originally published: July 23, 2020