Why Quarantine Feels Familiar to a Mama Raising Medically Fragile Babies
---
The COVID-19 pandemic has blanketed much of the world over the last couple of months with isolation, fear, uncertainty, sadness and anxiety; so much of that feels familiar to me, in dare I say an "almost comforting" way.
I'm a mama to twin 6-year-old-boys (born at 27 weeks via emergency c-section) and a 2-year-old little girl who was born with a complex congenital heart disease. I've been in survival mode for the last six years… much of which has been spent in self-isolation while raising my children. Life — as I had always known it — came to a complete standstill (much like when the novel coronavirus made the world come to a screeching halt) as soon as my motherhood journey began.
The abrupt change that hit my life came almost out of nowhere, and it wasn't very kind.
After my premature twin boys were born, my husband and I spent months in the hospital, only going home (separately I might add) to sleep and eat, then we'd head right back to the NICU to check our babies and their progress. My life revolved around the NICU as I kept vigil at my babies incubators, their progress and health was all that mattered to me. I became an expert on all things related to premature babies. I learned CPR, I became an expert hand washer, I wore personal protective equipment (face mask and gown or "PPE" as they call it nowadays in the news) and I became absolutely terrified of any and all germs that could make my babies even the tiniest bit sick. I've always kept a very clean home, but once I became a twin mama, and preemie mama at that, my cleanliness went into overdrive. Hand sanitizer pumps sat on my kitchen island and coffee tables at home. Clorox wipes and all things "antibacterial" were always on my kitchen sink, in my pantry and stockpiled in my closets. I had a stash of face masks that I snagged from the hospital in my cupboard, in my purse and in my car.
In retrospect, I now realize that becoming a mother of premature twins was a crash course in preparation for my babygirl's medical journey… and even for the COVID-19 pandemic.
When my twins were 3, I found out I was expecting my daughter who was diagnosed in utero with Tetralogy of Fallot. One day I was over the moon discovering she was a girl (I was convinced she was going to be my third boy!), and just days later I found out about her heart-wrenching diagnosis (talk about highs and lows). Instead of enjoying my pregnancy and shopping for all things "babygirl," we immediately started traveling to meet with doctors and surgeons from around California trying to make the best birth plan with the little information we had about a life-threatening disease we had never heard of before.
Life, yet again, as I knew it came crashing down on me and the health of my new babygirl had to be my priority. Nothing else mattered besides keeping my children healthy and safe. Three open heart surgeries and several procedures later, my daughter is doing quite well. It's been an eye-opening, heartbreaking yet joyful and educational experience all at the same time.
I've learned so much, so much, about parenting, love and why health always has to take precedence COVID-19 or not… at least, in my household.
Since she was born we've always kept her away from public places and most mass family gatherings. At the get-togethers she has made an appearance at, there's always constant panic and anxiety on my end wondering if someone is sick. I rarely let anyone hug or kiss her outside of the family members who live in our household. And I tend to keep her (and my boys) relatively close to my hip, whether that be at home or when visiting a relative's house. I watch them like a hawk. I hover. I make them social distance. I protect her, and my twin boys, at all costs. I assume anyone and everyone we encounter could possibly be sick, even if they aren't showing symptoms. This is how I've always operated since becoming a mom, long before the coronavirus was even a threat.
I know there's been judgment from people who don't understand my "overboard" precautionary tactics when it comes to my children. And I don't expect them to get it. We took a lot of the same COVID-19-type precautions when our twins were born too. I isolated them at home away from anyone who wasn't in our immediate family for much of their first year of life because I knew in my heart it was the best way to keep them from getting any sicker, and to give them the best opportunity to get strong.
The knuckles on my hands have been cracked, dry, bloody and rough ever since I became a mom. To me, it's just one of my many mommy battle wounds I am proud to wear. I do my damndest to keep my twins and my heart warrior daughter from catching anything: the common cold, flu, fever… now, coronavirus. Social-distancing and quarantine… they've always been our norm.
I've gone months and months without seeing friends, without seeing family, without shopping, without going to the salon, without self-care, without going to social gatherings, without celebrating holidays, without hugs and instead I just stood home with my babies. It's not all that bad, especially when you're familiar with it.
Motherhood taught me a hard lesson about life — if my children's health is in jeopardy, nothing else should matter. Not things, not places, not restrictions, not sacrifices, nothing.
I understand how COVID-19 has been an unwelcome visitor to so many people around the globe, but for me... thankfully it's only been a reminder that the way I have always taken care of my children with the upmost precautions is what remains best for protecting their health.
And if I'm being honest, it's been kind of nice seeing other people step into our world and put health and hand-washing at the forefront, even if it only lasts during quarantine.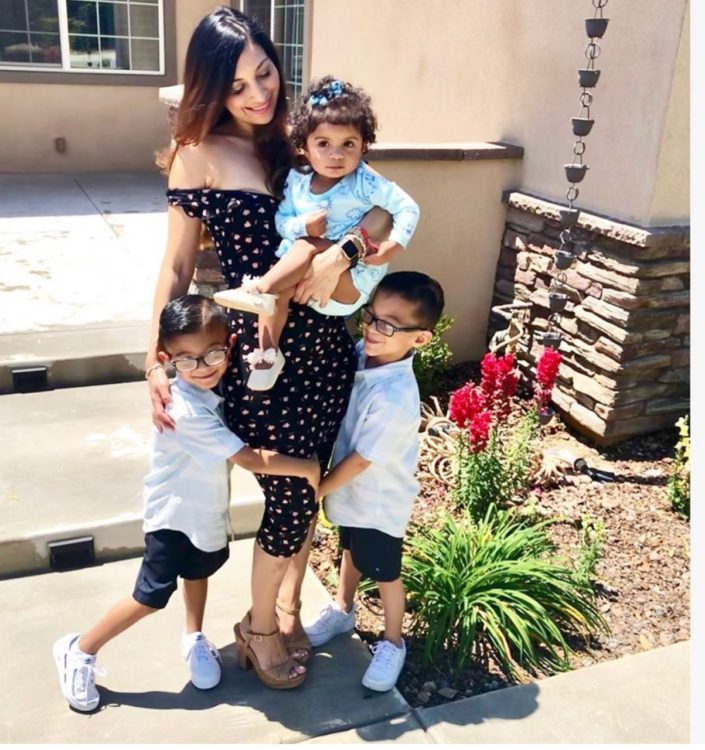 Getty image via SeventyFour
Originally published: May 20, 2020