What 16 Days With COVID-19 Is Like
---
Coronavirus Chronicles is a new series from The Mighty sharing the human stories behind the pandemic. In our third installation, a 24-year-old woman living in Los Angeles shares her experience with COVID-19. 
Written by Jessica Schwartz.
I am 24 years old and my COVID-19 test came back positive. To give you some context, it took eight days of experiencing COVID-19 symptoms to finally be approved for testing. I shared my experience on social media, and wanted to share with The Mighty community in the hopes of spreading awareness of the symptoms and provide information from my perspective of having the virus. These are the symptoms I experienced day-by-day for the last 16 days, as well as a few tips that helped me get through it.
Day 1:
The virus started with a deep, dry cough and congestion.
Day 2:
About 12 hours after experiencing my first symptoms, I got a fever between 100 and 101. I had chills and body aches. It hurt my eyes to look up and sideways. My bones, muscle and joints hurt all over my body, especially in my neck and shins. The congestion and dry cough remained consistent.
In the morning, I got on FaceTime with my doctor. At this time, testing was limited in Los Angeles, so my doctor had me self-quarantine as if I did have it. She prescribed me Tamiflu, an antiviral medication commonly prescribed for the flu. My doctor said if I had the regular flu, this would help to reduce the symptoms I was experiencing.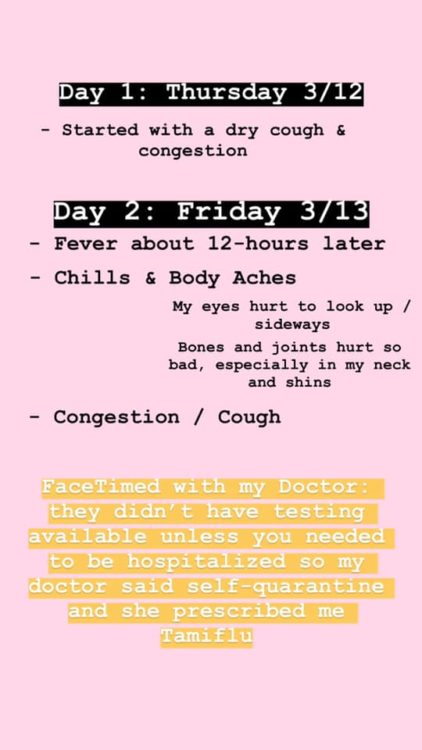 Day 3:
On day three, my symptoms included fever, chills, body pain, congestion and dry cough. My boyfriend, who I live with, got the virus on this day, two days after I started showing symptoms. We had the exact same symptoms – however, his headaches were worse than mine, but my congestion was worse than his. It took me three days longer to recover than him, even though it seemed like I got it first. While sick, neither of us left the house at all — not even to grocery shop. Our doctors instructed us to stay quarantined until they cleared us to leave.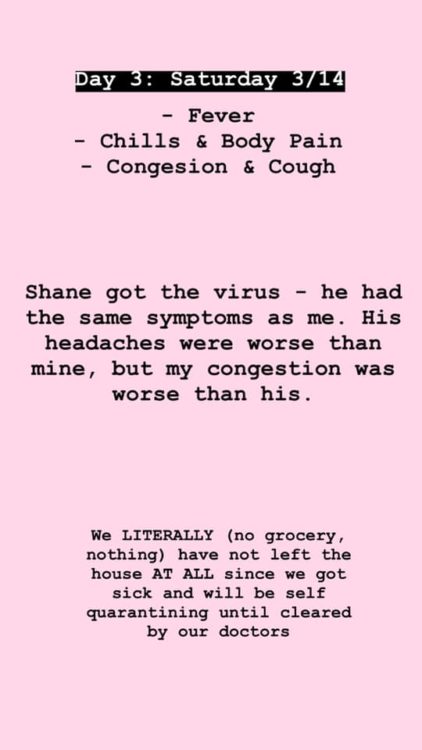 Day 4:
My fever was gone when I woke up, and I was left with a mild headache. The congestion and deep cough were still present in my lungs. It definitely went in waves, though. I would normally feel great from 10 a.m. to 2 p.m., then take two steps backward. However, the first three days were the worst. My fever never came back.
Day 5:
Woke up lethargic, still had the congestion and cough. I had an on-and-off mild headache. I lost my sense of taste and smell, and so did my boyfriend.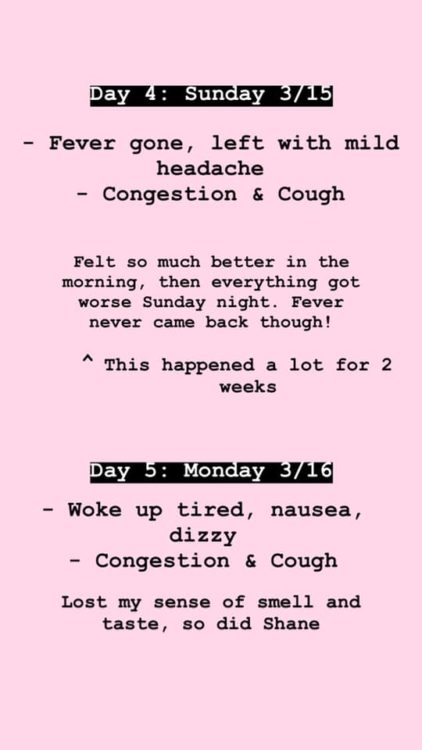 Day 6:
I was expecting to keep getting better, however this was not the case. My congestion got worse and I started to feel a pain in my lungs. I never had shortness of breath, but I had a tickle in the center of my chest.
Day 7:
My chest pain continued and I started feeling very anxious. In the morning, I FaceTimed with my doctor. She thought I might have an infection in my lungs from not using full lung capability. She prescribed me prednisone. As soon as I took the first two pills that afternoon, I started feeling horrible. I fainted that night. Paramedics checked me out – they couldn't find anything. I think it was a combination of medicines in my body, being sick and not eating/drinking enough. I hit my head on the tile floor, which might explain some of the dizziness going forward. I stopped taking all medicine.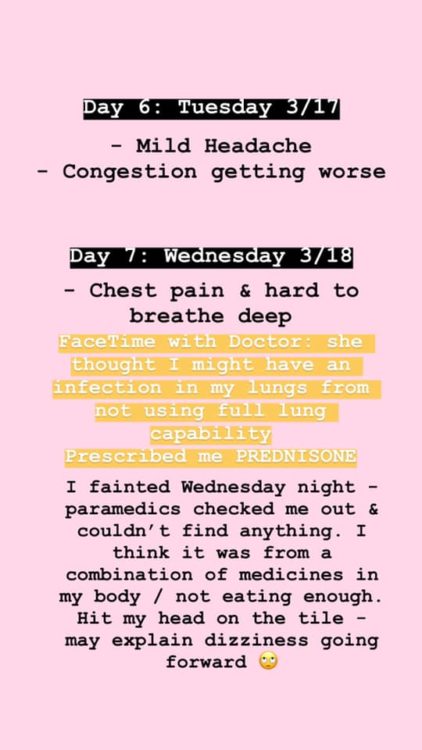 Day 8:
Due to the events from the previous night, I was finally able to get tested for COVID-19. I went to my primary care doctor to get tested, who I had been in touch with since the symptoms started. My doctor explained to me that since the virus originates in the canal between the nose and throat, cells have to be removed from that canal to be sent for testing. My doctor stuck a large Q-tip up my nose and swabbed it around for 10-15 seconds. It didn't hurt, but it was very uncomfortable. Since there are no local testing facilities (that I know of) in L.A., the test was sent to the CDC and I had an expected wait time of four to seven days to hear results.
Day 9:
I felt 75% better. I was very dizzy, had a mild headache and had waves of nausea. I had painful congestion.
Day 10:
I felt 80% better. I was still dizzy, and was still experiencing a mild headache and waves of nausea. I was still congested, but the pain was gone.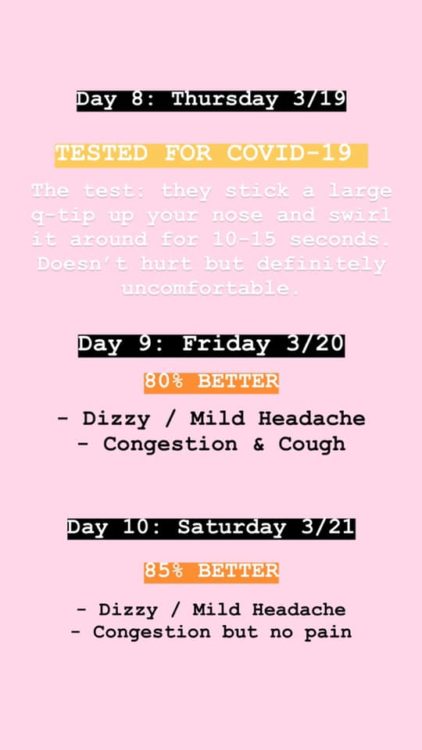 Day 11:
I felt 85% better. I had congestion but no pain, slight dizziness and nausea. My taste came back, but my smell was still gone. 
Day 12:
I felt 90% better. I had slight congestion, slight dizziness and intense waves of nausea. I was out of breath easily, but it was not hard to breathe. 
My test results came back positive, four days after being tested. My doctor gave me two recommendations about when I would be allowed to discontinue my self-quarantine, based on the CDC's guidelines. Below are the CDC's guidelines for discontinuing isolation after having COVID-19:
At least 3 days (72 hours) have passed since recovery defined as resolution of fever without the use of fever-reducing medications and improvement in respiratory symptoms (e.g., cough, shortness of breath); and,

At least 7 days have passed since symptoms first appeared.

My doctor also said, "Patients who have recently recovered from COVID-19 have high levels of immunity in the form of antibodies in their blood." I believe that I am immune to the virus for now, but will still be extremely careful since research is still being done on whether or not getting COVID-19 will prevent you from getting it in the future.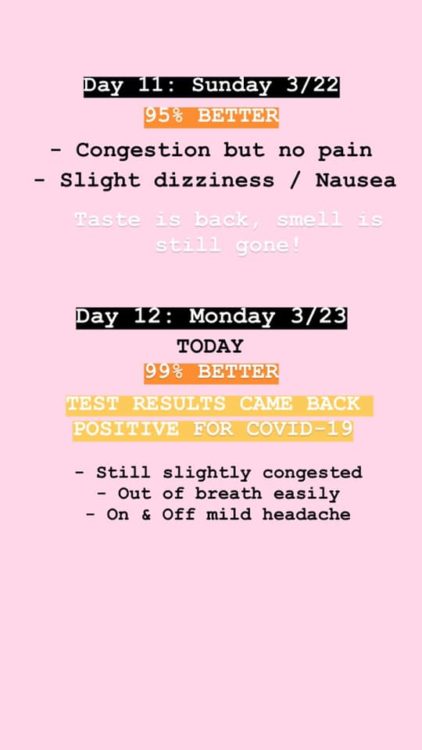 Day 13:
My nausea and dizziness got worse over the next two days. I rested a lot.  
Day 14:
My congestion was nearly gone, however anxiety levels in my chest were high. 
Day 15:
I finally felt around 99% better. My smell came back a little bit. 
Day 16:
100% better. 
Now that I'm recovered, I want to share some tips that helped me cope while I was sick with COVID-19.
Stay hydrated.

Eat a lot (carbs, healthy fat, protein) so your body has enough fuel to fight off the virus. There is no cure for COVID-19, so you just have to let your body go to work to get healthy again. I personally decided to double/triple my calorie intake. After I fainted, I made a protein/fruit/veggie smoothie first thing in the morning and added an English muffin with almond butter to every meal. I believe it really helped.


Take Tylenol at the recommended dose as often as possible. Though the World Health Organization previously announced people with COVID-19 shouldn't take 

ibuprofen to manage their symptoms, WHO now says they don't discourage taking it. I also personally recommend 

Mucinex Fast-Max (Day and night combo). 

Consistently drink hot liquids, as it can help soothe your throat. 

Do laundry for your sheets and clothes every day. Also make sure you are changing your clothes every day. The COVID-19 virus is thought to live on surfaces for longer than we'd expect.

I recommend taking a hot shower or bath twice a day.

Stay isolated for as long as you can to stop the spread. If you can, limit the number of times you go to the grocery store by buying larger amounts for yourself/family members. Find someone to help you out if you are sick – including picking up prescriptions/medicines.

Go for walks around your house to keep your lungs moving and healthy.

I am 24 years old and extremely healthy, but this virus knocked me out for almost three weeks. Obviously I am OK, and I am extremely thankful for my health and my doctors. It doesn't matter your age, the virus is an unpleasant experience and extremely contagious. I (literally) did not leave my house for 16 days to avoid spreading the virus to those who are not as fortunate as I am to have a strong immune system. You are not above getting it or passing it on. Be patient with your body, your doctors and those around you. We are all scared and doing all we can to stay healthy.
Concerned about coronavirus? Stay informed with these articles:
Originally published: March 31, 2020