Helping People With Disabilities Build Online Friendships While We're Stuck at Home
---
Six months ago my daughter Yassy made a new friend named Caden Cox. She attended some of his football games. He was a kicker on his varsity team. They also went to a local dance together. They texted a bit, and that was it. Yassy is pretty shy. They were both busy with their schoolwork, jobs, and he with his football and track obligations. Caden and Yassy are both seniors, and they were included in their high schools. They both have Down syndrome.
This coronavirus pandemic is a tragedy for the world. So many are affected economically, medically, socially, in an educational sense, and in many more intangible ways. My heart and prayers are constantly there for everyone. This piece is not meant to trivialize what is happening in any way.
But I see some positives right now. For one, Caden and Yassy actually have the time to get to know each other. Because of Zoom and their phones, they can see and talk to each other almost daily. They do this one on one, and they have also attended virtual dance parties. It is so wonderful seeing their friendship grow and their social skills improving.
None of this was "planned." It just happened. Along the way, we have learned some things that may be helpful to others with various significant disabilities during this new "Zoom age."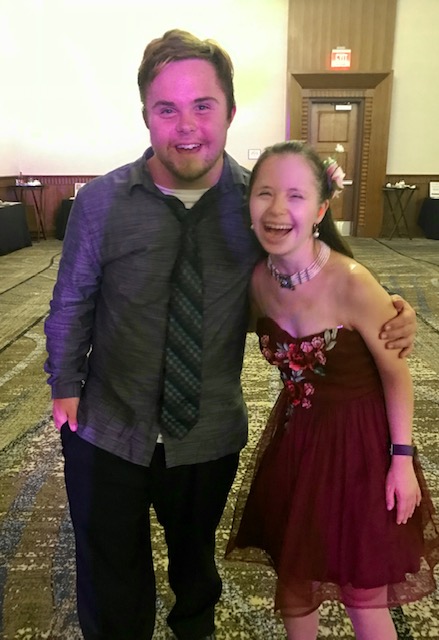 1)  Be intentional. Ask your friends to Zoom with you. Don't wait for invitations. If someone asks, and you want to be friends with them — say yes. Don't turn down opportunities to get to know people and practice your social skills.
2) Be consistent. It takes time to get to know someone. It also takes time to improve your social skills.
3) Make sure your face is showing so the other person can see you. Often individuals are not thinking about this, and their friend has to watch a cut off portion of them.
4) Have your phone with you in case you have a glitch in technology, etc.
5) Write lists of "getting to know you" questions. The dynamics of the friendship don't matter — getting to know anyone is kind of like a first date. You need to know what they like. Who they are. That starts with questions.
6) Make sure to ask "why" or "how" after questions so they can become conversations, instead of one-word answers back and forth. This may mean actually writing down "how" or "why" on your question list.
7)  Once you get to know someone, do some research into what they like to talk about. Caden likes jokes and music, so Yassy looked up some jokes and plays some music when they chat. Another friend also likes music, so she talks about music with her. And another likes celebrity talk, so she is ready for that when they chat. All of this is helping Yassy become more well-rounded.
8)  Practice back and forth skills to help keep conversations going.
9) An advantage of Zoom is the ability to record conversations. Ask your youth if they are OK with you recording their conversation. If they say yes, have some practice chats and use the recordings as learning tools. We did this for two or three conversations max — but they really did help. Of course, now we do not record. Yassy, and whoever she talks to, deserve privacy.
10) Encourage young adults to take responsibility. Make sure they know how to get on a video call, invite their friend etc. Have the young adults schedule future chats, double-checking them with parents if needed.
11) Practice interview skills with young adults via video calls. This is the new normal right now, and our youth with disabilities still need to be working towards their future goals.
So much is being done virtually now, this is most likely changing the world forever in certain ways. My daughter may always be shy, but her conversational skills are growing fast. She and Caden chat almost every day for an hour or more.  I am so grateful she has someone to talk to who is going through the same things; they are both losing the end of their senior year, together in a way. She speaks with some other friends as well, for much longer than she ever used to.
This is all positive. And it may not have happened if the world had not slowed down.  I hope families that are not in crisis mode can take this time to smell the roses and make new friends!
For more on the coronavirus, check out the following stories from our community: