16 Things That Will Restore Your Faith in Humanity During the Coronavirus Outbreak
---
The coronavirus outbreak has swiftly changed everyday life for people all over the world. COVID-19 is a type of coronavirus that can cause respiratory symptoms such as coughing, shortness of breath and pneumonia. Given how contagious the virus is, isolating from others is the best defense currently available.
Of course, social isolation is easier said than done. Though at first it might sound nice, it's hard staying at home all day, missing outing with family and friends and avoiding in-person work or school. If you are struggling to adapt to these changes, you're not alone.
In these hard times, people are coming together to support each other in both heartwarming and practical ways. Here are 16 of these many things that people are doing to help each other and put a smile on our faces.
1. Italians in a nationwide lockdown are singing to lift spirits.
While Italy is on lockdown, Italians are staying connected with one another through music. All of Italy has been on lockdown as the number of COVID-19 cases increase.
2. Now that the Shedd Aquarium is closed to human visitors, penguins get to check out the exhibits.
Penguins in the Amazon?! ????????

Some of the penguins went on a field trip to meet other animals at Shedd. Wellington seemed most interested in the fishes in Amazon Rising! The black-barred silver dollars also seemed interested in their unusual visitor. pic.twitter.com/KgYWsp5VQD

— Shedd Aquarium (@shedd_aquarium) March 15, 2020
These penguins do seem to be having the time of their lives.
3. People are crowdsourcing mutual aid projects to help people affected financially by the coronavirus.
Here is a crowdsourced list of COVID-19 mutual aid projects emerging across the country right now: https://t.co/orJkafAYUz

— love one another (@girlziplocked) March 13, 2020
Mutual aid resources have been shared across the United States and the world to help people who are financially impacted by the coronavirus and have to self-isolate. If you need support or are able to donate, you can see a list of resources here.
4. This Chinese medical team from Wuhan flew to Italy to help control the coronavirus.
This is the medical team from Wuhan responsible for recovering 50K+ patients in just a few months. They're now risking their lives again to help out Italy. Rag on China all you want for the mishandlings early on but you can't deny that these people are true selfless heroes. pic.twitter.com/O3UVXnd6Rf

— Laura Gao ✌️ (@heylauragao) March 13, 2020
Health care professionals in Wuhan managed to decrease the number of cases after months of endless work. Instead of resting, a medical team from Wuhan flew to Italy to help the country cope with the coronavirus outbreak.
5. A 17-year-old created site that updates every minute to help report on the pandemic.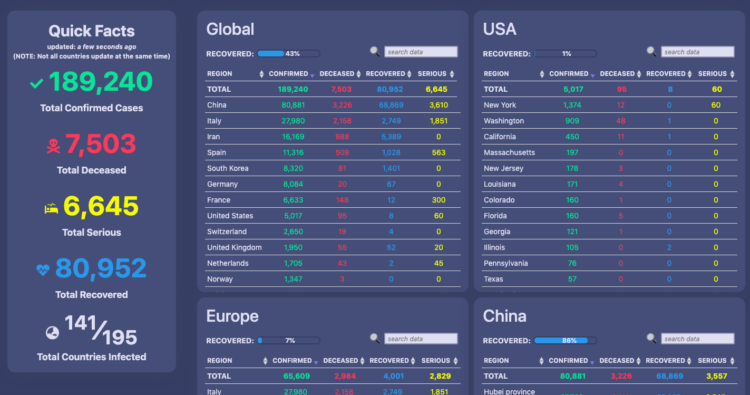 17-year-old Avi Schiffmann created the website nCov2019.live in late December to help track COVID-19 cases. Shiffmann told Times of Israel that he created the website to help people receive accurate information. As of March 10, over 12 million people have visited Schiffmann's website.
6. The Metropolitan Opera is streaming performances for free.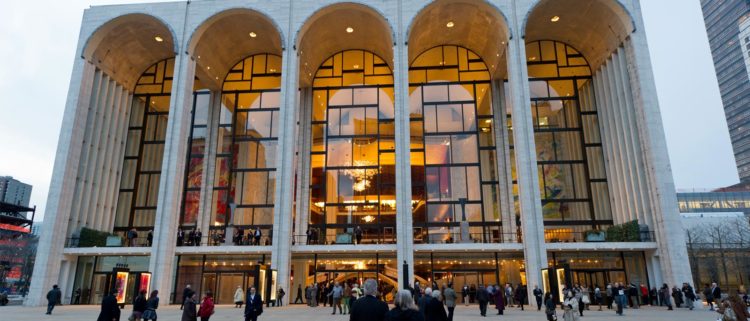 The Metropolitan Opera closed its doors, but they are streaming performances for people stuck at home to watch online. The performances will be available starting at 7:30 EST and will be on their website for 24 hours. Here is a list of scheduled performances for this week.
Thursday, March 19: Verdi's La Traviata (from December 15, 2018)
Friday, March 20: Donizetti's La Fille du Régiment (from April 26, 2008)
Saturday, March 21: Donizetti's Lucia di Lammermoor (from February 7, 2009)
Sunday, March 22: Tchaikovsky's Eugene Onegin (from February 24, 2007)
7. Celebrities read to kids as many schools close around the world.
Josh Gad, the voice of Olaf from "Frozen," and other celebrities like Amy Adams and Jennifer Garner are taking to social media to read children's stories.
— Josh Gad (@joshgad) March 14, 2020
8. People are creating projects like Invisible Hands to help people get groceries and other goods.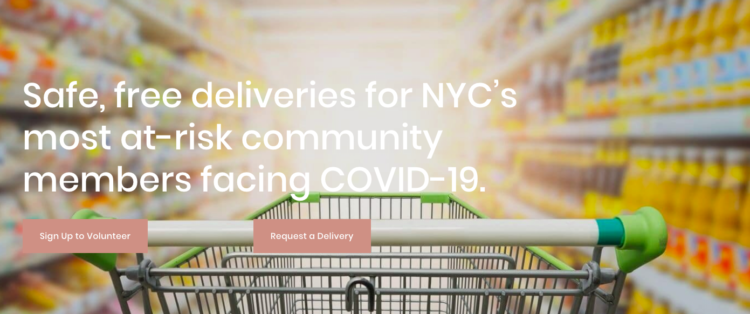 Invisible Hands was created by three twenty-somethings in New York City to help at-risk people in NYC and Jersey City get deliveries for free. You can register to get items delivered or volunteer on their website.
9. Scholastic launched a free website to help children learn while they are home from school.

Scholastic created a free website with resources to help children continue learning while schools are closed. There are four different streams – split into pre-k and kindergarten, first and second grade, third to fifth grade, and sixth grade and above – that focus on day-to-day projects that are "built around a thrilling, meaningful story or video."
10. Lizzo led a 30-minute meditation session on Instagram.
Thanks, Lizzo for making some of us less stressed for a moment. You can watch a clip of her video below.
.@Lizzo shares 30-minute meditation video on Instagram to "promote healing" following the outbreak of coronavirus. pic.twitter.com/rADSVgieKP

— Pop Crave (@PopCrave) March 15, 2020
11. A patron at an Ohio bar gave a $2,500 dollar tip to help employees as their bar closed.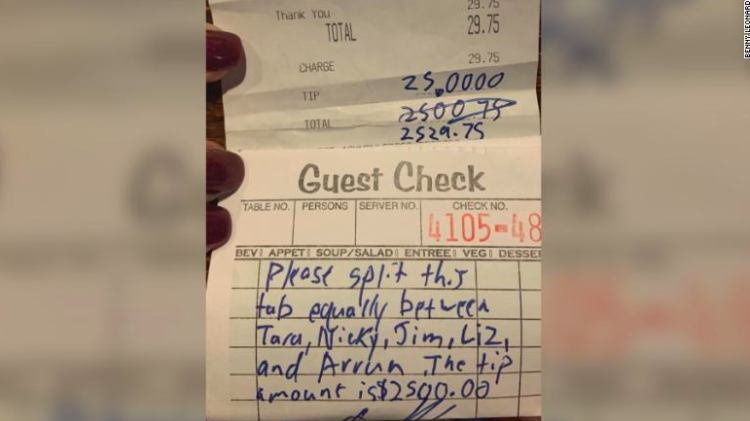 States and cities across the United States are in the midst of closing as local governments shut down non-essential businesses to help limit people's risk of getting the coronavirus. This will likely affect service workers' incomes unless they are able to get paid time off. One person in Columbus Ohio gave a $2,500 tip on a bill to split between waitstaff at a Coaches Bar and Grill.
12. Neighbors are going the extra mile to try and help each other out.
I love this guy and I love New York. pic.twitter.com/EYsfnrbpAI

— Emily McCombs (@msemilymccombs) March 16, 2020
Emily McCombs, a HuffPost editor, shared this message posted in her apartment building.
13. This dog parent sends photos of their dog on walks to residents at a local nursing home.
By request, Scout and I are now emailing photos of our walks to the residents of a local nursing home who are isolating for the foreseeable future. Thought I'd post them here too for anyone who needs a daily dose of dog & countryside. #Scoutwalks #Corvid19uk #SelfIsolationHelp pic.twitter.com/mmiEeYYMpL

— Jenni Williams (@jenniwdog) March 17, 2020
This golden retriever will surely make anyone smile.
14. People on social media remind others to take their medications.
If you're new to working from home, it can be hard to get used to your new schedule and remember everything that you have to do. Fortunately, people on social media are reminding each other to do important tasks like taking medication.
idk who needs to hear this, but if you're new to the unstructured schedule of working from home, remember to take your meds!

— anna borges (@annabroges) March 13, 2020
Here's a tip that may work if you have pets.
Give your cat a treat before you take them at the correct time every time and pretty soon your cat will let you know ????????

— Naomi Freeman (@Naomi_Freeman) March 13, 2020
15. This Instagram list of restaurants across the U.S. you can support by buying their merchandise.
ICYMI my Insta highlights right now are full of cool merch you can buy from SEVERAL HUNDRED independent restaurants, coffeeshops, bakeries, taquerias, bars, etc. across the US, to help them & their staff weather this terrifyingly unstable moment https://t.co/4qvtdBPcNJ pic.twitter.com/N1IwpXFz6T

— Saul Rubinek stan account (@hels) March 19, 2020
Restaurants around the country and in dire shape due to closures, curfews, and decreased foot traffic. Help keep them in business by buying merchandise or a gift card. The products are pretty cool!
16. Everyone who self-isolates plays a part in keeping people who are vulnerable to the coronavirus safe.
Even without official lockdowns, many people are self-isolating to keep people who are immunocompromised or elderly, those who have the highest risk of developing COVID-19, safe.
If you are looking for tips on how to talk to people about why self-isolating and social distancing is crucial right now, here is a helpful Instagram post:
View this post on Instagram
While the coronavirus outbreak is proving to be an incredibly stressful time, it is good to see people looking out for each other. Have a way to help out or a kind moment you want to share? Let us know in the comments below.
Concerned about coronavirus? Stay safe using the tips from these articles:
Originally published: March 19, 2020