Patient Denied Prescription Refill Due to COVID-19 Thanked for Her 'Sacrifice'
---
A Los Angeles woman with lupus was denied a refill of her hydroxychloroquine prescription because her health care provider was "preserving" the medication for people "critically ill with COVID-19." She was then thanked for her "sacrifice" and "understanding."
Hydroxychloroquine (brand name Plaquenil) is an anti-malaria drug prescribed for people with autoimmune conditions like lupus and rheumatoid arthritis due to its anti-inflammatory properties. The drug recently gained national attention when President Donald Trump suggested hydroxychloroquine showed promise for treating COVID-19.
There is little evidence to support this claim and several people have died from hydroxychloroquine/chloroquine overdoses. Trump's claim has also led to people hoarding hydroxychloroquine, causing a medication shortage for people who rely on the drug to treat chronic illness.
Q: "Is there evidence to suggest that [hydroxychloroquine] might be used as a prophylactic against COVID-19?"
Fauci: "The information that you're referring to is anecdotal. It wasn't done in a controlled clinical trial, so you can't make a definitive statement about it." pic.twitter.com/dEjtBNMGeA

— CBS Evening News (@CBSEveningNews) March 20, 2020
BuzzFeed News reported on Wednesday that a 45-year-old woman with lupus, Dale, learned her provider Kaiser Permanente halted her refills of hydroxychloroquine for the time being. The note Dale received, which was obtained by BuzzFeed, added most people who take the medication build up levels of the medication that can last in the body for up to 40 days and she should not ask her doctor for a refill.
"Please do not contact your physician about an exception process to get a refill, as prescriptions will not be filled even if written by your physician," the note reads, adding:
Hydroxychloroquine does build up a level in the system that stays in the body for an average of 40 days even after the last dose is taken. If you do run out of medication and feel your condition is significantly worsening, please contact your doctor to discuss alternative treatments.
Kaiser Permanente then thanked Dale for her "sacrifice" and "understanding" of the new policy.
"Thank you for the sacrifice you will be making for the sake of those that are critically ill; your sacrifice may actually save lives," the note told Dale. "We appreciate your understanding, and you will be notified of any changes in the policy as they happen. We all hope this will be a short-term situation."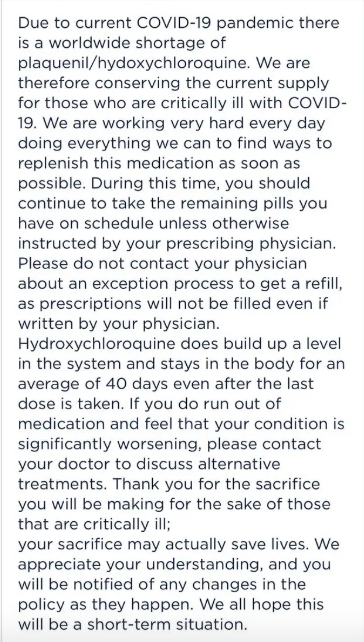 For people with lupus and other chronic illnesses, hydroxychloroquine reduces symptoms caused by overactive inflammation. Unlike other immunosuppressant medications like prednisone, hydroxychloroquine also acts as a disease-modifying drug, lessening the likelihood of disease flares.
"For many people with lupus there are no alternatives to these medications," the Lupus Foundation of America said in a statement, adding:
Hydroxychloroquine or chloroquine are the only methods of preventing inflammation and disease activity that can lead to pain, disability, organ damage, and other serious illness. An increase in lupus-related disease activity not only significantly impairs the health and quality of life of people with lupus but will also place further strain on health care providers and systems in a time of crisis.
Dale, who said she has been taking hydroxychloroquine for 10 years, said she was worried about a lupus flare that could make her even more susceptible to COVID-19.
"I am already immunocompromised and not taking this medication will likely put me into a lupus flare, making serious complications from COVID more likely," she told BuzzFeed News. "The fact that they thanked me for my 'sacrifice' is disturbing. I never agreed to sacrifice my health and possibly my life and cannot believe that I am being forced to do so."
Other chronic illness patients have reported difficulties getting their prescriptions for hydroxychloroquine filled in the last week as well. Mighty community member Megan C. shared she had to reach out to several pharmacies to get her hydroxychloroquine prescription refilled.
"I called every pharmacy with no luck. I was told by one pharmacy tech that doctors were prescribing it to themselves, friends, and family as a preventative which is causing a shortage," Megan said, adding:
I shared an article on Facebook and a friend who is a pharmacy tech called me after reading it telling me that her pharmacy had it in stock, but holding it from the public. She was able to fill me a 30-day supply, but she said that all of the hydroxychloroquine is being diverted to hospitals until further notice. Nobody knows if we will be able to fill our meds in the next coming months.
When reached for comment, Nancy Gin, regional medical director of Quality and Clinical Analysis at Kaiser Permanente, Southern California, told BuzzFeed News the health care provider is tightly controlling its supply of hydroxychloroquine to make sure the sickest patients, including those with COVID-19 or acute lupus, have access to the medication. Gin reiterated she hopes this is a short-term solution.
"Kaiser Permanente physicians and pharmacists are also working together on an evidence-based approach to identify alternative therapies for patients with lupus," Gin said, adding:
Extensive experience and research show that hydroxychloroquine builds up in the body and continues to work for an average of 40 days even after the last dose is taken. By then, we expect the drug manufacturers to have ramped up production to meet the increased demand. Until then, we are no longer refilling routine prescriptions to ensure we have adequate supply to care for our sickest patients.
Concerned about coronavirus? Stay safe using the tips from these articles:
Header image via Sharon McCutcheon/Unsplash and BuzzFeed News
Originally published: March 25, 2020