How One Teacher Inspired Me to Embrace My Hard-of-Hearing Identity and Succeed
---
Like many little girls in the post-Title IX era, I dreamed of playing college sports. I was determined to make this dream become a reality. Part of this was sibling competitiveness with my brothers, but the reality is that I was strongly committed and dedicated to my goal.
Early in my senior year of high school, my dream became a reality. I accepted a scholarship to play NCAA Division II basketball at Merrimack College in North Andover, Massachusetts.
During my freshman year at Merrimack, I received an invitation to try out for United States of America Deaf Basketball (USADB). Traveling to these tryouts and accepting a roster spot provided my first exposure to the deaf community and its rich, vibrant culture. Sensing that this might become a major life change, I enrolled the following summer in an American Sign Language (ASL) course at a local community college. My sixth sense was correct: While I enjoyed my time at Merrimack, my experience at the USADB tryout and my ASL class inspired my decision to transfer to Gallaudet University, a NCAA Division III school in Washington, D.C., and the only university in the world designed for deaf and hard of hearing people.
Gallaudet was, in a word, transformational. For the first time in my life, I was surrounded by people like me. I acquired ASL quickly and relatively seamlessly, and excelled in the classroom. Of course, I continued to play basketball, amassing more than 1,000 points in just two seasons, for a total of 1,700 points at Merrimack and Gallaudet combined.
But that was not all. I was inspired to join two more sports: soccer and softball. I had played both before at a highly competitive level and throughout high school; however, the first two years of my college career were strictly basketball-focused. At Gallaudet, I was able to get back to my roots in soccer and softball, and excel in them just as I had on the basketball court.
In just two years, I received dozens of awards and honors, highlighted by being named the Gallaudet Athletics Department Student-Athlete of the Year twice; receiving the College Sports Information Directors of America (CoSIDA) Academic All-America honors in all three sports, including being named the CoSIDA Division III Women's Basketball Team Member of the Year; North Eastern Athletic Conference (NEAC) Women's Basketball Player of the Year; NEAC Rookie of the Year in softball; NCAA Woman of the Year nominee; and multiple all-conference selections. Needless to say, I am beyond proud of all that I was able to accomplish.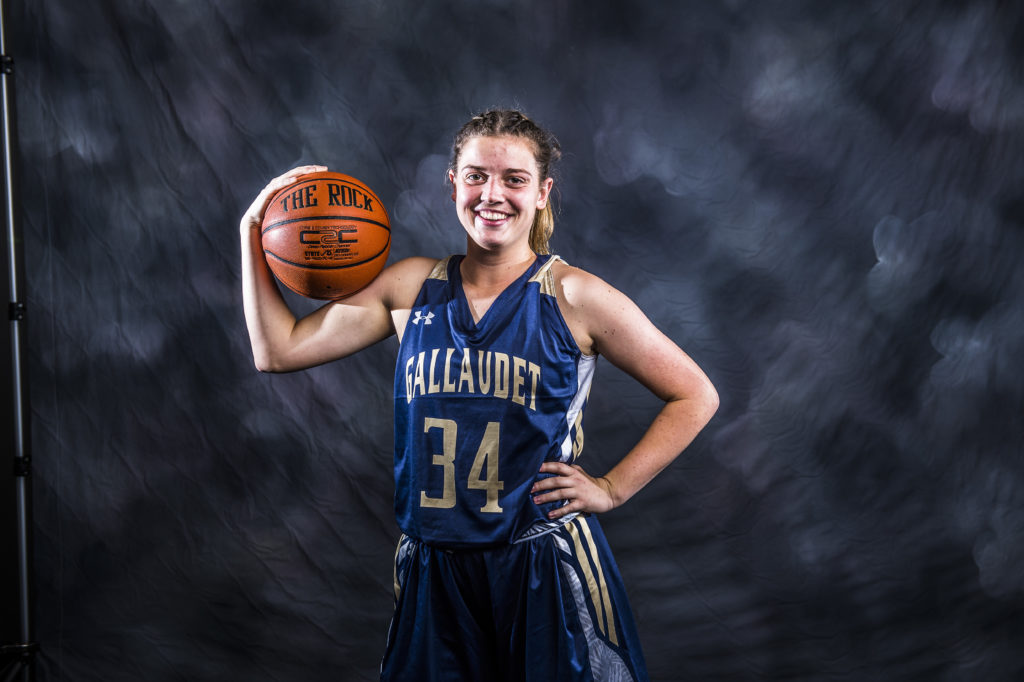 Looking back, how did I get to where I am now? When I was one year old, I was diagnosed with a bilateral moderate to severe hearing loss. Undeterred, my parents always encouraged me to excel, stating, "You can do anything that anyone else can do." They were right, as parents usually are.
Still, despite my academic and athletic successes, I always knew that I was a little different from others. As a young girl in my town's public education system, I was always on the shy side, wearing my hair down at school to hide my hearing aids. During my elementary years, an itinerant teacher of the deaf, Teresa Piper, worked with me to deconstruct my insecurities regarding my hearing loss. She helped me learn about my hard-of-hearing identity. A turning point for me was a presentation she required me to do for younger students at my school on the topic of hearing loss.
It was at this point that I learned that it was OK to be different, and my whole perspective on being hard of hearing changed. Instead of being insecure, I became proud.
Mrs. Piper became my inspiration for many future endeavors, both academically and athletically. She also inspired me to embark on my current career path: a graduate degree in deaf education so that I can give mainstreamed deaf and hard-of-hearing children the same type of support she gave me. Largely because of Mrs. Piper, I have become a strong, confident, independent individual. I am eternally grateful to her.
My parents, along with Mrs. Piper, strongly influenced my academics. However, one might wonder where athletics fit into this scenario. As a hard-of-hearing athlete, I remember looking for someone like myself in the various college sports programs and professional leagues across the country. They were few and far between. There was Tamika Catchings of the WNBA Indiana Fever; there is Emma Meesseman with the Washington Mystics. I wanted to be like them. My naturally competitive nature combined with the idea of wanting to be that role model in sports that I did not have when I was younger drove my athletics career forward.
My athletics career became more than competing for myself. I felt that I was also competing for all of the young kids just like me. As a result, I worked hard to be the best possible athlete I could be, from going to camps, practices, individual workouts, dribbling in the kitchen (much to my parents' dismay), and so much more to ensure that I became better every day. Whenever I was taught a new skill, I pushed myself to be the best at it.
Mrs. Piper's influence and inspiration guided me through high school and my early college years. However, my transfer to Gallaudet University in 2017 added a new level of desire and inspiration to my career and athletic goals. My experience at Gallaudet put me more in touch with my hard-of-hearing identity through the acquisition of ASL and relationships with peers who had similar experiences to me growing up. This journey also further justified my early goal of giving back to children in mainstream settings.
The lessons and experiences I have had throughout my life, especially my time at Gallaudet, have prepared me well to pursue my next dream. However, my biggest tool is my go-getter attitude, in which I believe I am capable of anything. And with that, I leave you with two pieces of wisdom: First, find a mentor, someone who inspires you, like Mrs. Piper did. Second, believe that whatever you want to do, you can and will do.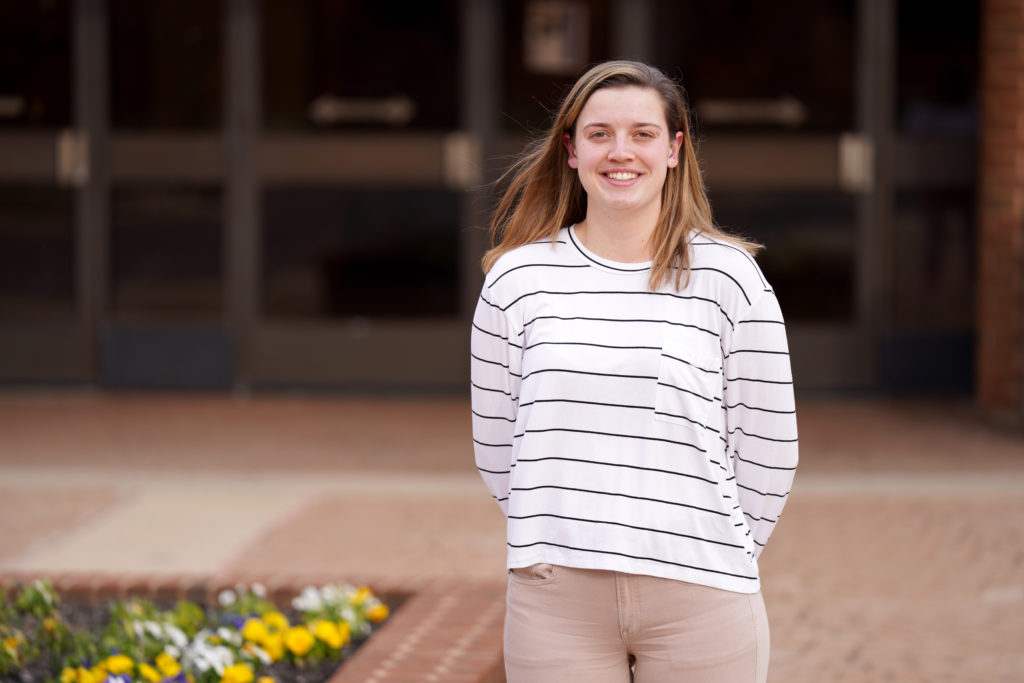 Hannah Neild is a first-year graduate student in the Department of Education at Gallaudet University.
Originally published: February 8, 2020