How a Documentary About Deafness Is Making Film More Accessible for Neurodiverse People
---
Filmmaker Irene Taylor Brodsky first considered making a documentary featuring her son, Jonas, when he began losing his hearing as a toddler. It wasn't until he was 11 years old, however, that the perfect opportunity presented itself thanks to Jonas, Beethoven and Brodsky's deaf father, Paul. The resulting film — "Moonlight Sonata: Deafness in Three Movements" — is also a lesson in how to make movies more accessible to the neurodiversity and disability communities.
"Moonlight Sonata" follows Jonas from the moment he decides to learn Ludwig van Beethoven's famous song of the same name on the piano. At the same time, Brodsky explores deafness through Beethoven's struggle while writing "Moonlight Sonata" alongside a snapshot of Brodsky's father as he ages and shows early signs of dementia. The documentary is a beautiful memoir that many in the deaf community will relate to.
The documentary first premiered during the Sundance Film Festival in early 2019 and will premiere on HBO this December. What really sets the movie apart is what Taylor Brodsky calls "creative captions" that make this documentary — and others she works on — more accessible for people who are deaf, blind or benefit from different types of sensory input. The Mighty interviewed Taylor Brodsky to learn more about "Moonlight Sonata" and how she opens up the world of cinema to be more accessible for neurodiverse people.
Here's what Brodsky told us:
Editor's note: This interview has been edited and condensed for content and clarity.
Why 'Creative Captions' Are an Important Part of 'Moonlight Sonata'
We worked very hard on the captions of the film. We call them creative captions because they are not only translating the dialogue, they are creating an aural picture soundscape for the viewers. And we also think that this helps people with limited hearing. We think it helps people who are neuroatypical who really benefit from having the double input of the sound and the language describing the sound. We know from research, we know from anecdotal observations in other areas of the arts, particularly in theater, that if you reinforce certain things, your audience takes away much more. These are things that deaf people and people who are neuroatypical really value and it gives them a more comprehensive experience. And that's really what we're looking for.
What we're trying to do is use "Moonlight Sonata" as a vehicle to reach audiences and really talk about in our communities some of these messages about how deaf and blind people do not feel welcome in theaters because audio description is still something that is not enforced. It's not something that has to be provided. And open captions is not something that most theaters want to do. But then even when they provide open captions, the open captions are not done very well. They're not done very thoroughly. They're not done very thoughtfully. They don't describe what you're hearing, they just describe what someone is saying. And so we really are trying to expand for the creative culture. We're trying to expand their idea of what captioning means.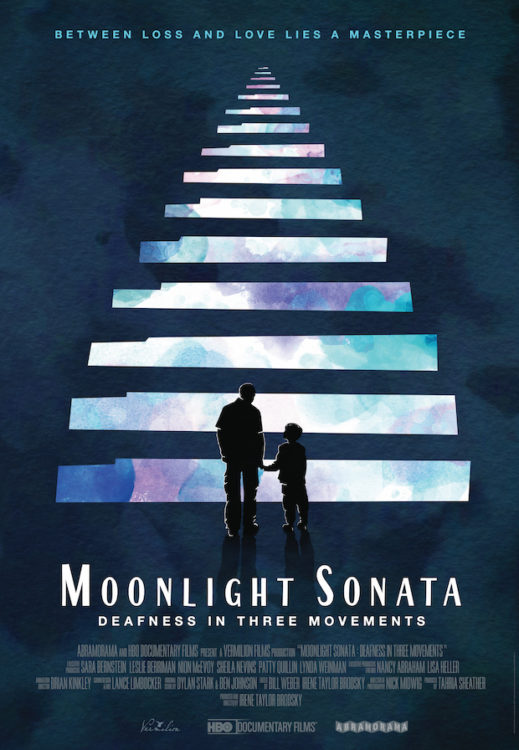 Rethinking Accessibility at the Movies
Anyone who's a parent of a kid who's atypical might be dealing with a school system where they have to work on an IEP, an individual education plan. One of the things that I think all of us parents understand that it's so infuriating and so frustrating is that these models work from a deficit model. So they're trying to bring these kids up to a standard but once they start to exceed the standards in the services go away. In other words, it's getting them up to a benchmark, but that is not continuing to support their educational needs so that they can really go into the stratosphere. Well, every other kid who's typical has the opportunity to go into the stratosphere, but our kids often are curtailed. We're told in the name of resources and services, that the state is just responsible for bringing them up to a benchmark.
Well, I think that's where we've historically been in the last five years: Oh, hallelujah. We have closed captioning. We have closed captioning devices in movie theaters. We have it on HBO, and that's great but the thing is, the directors, the creative people who are making these films, are really just bringing the deaf and blind audience up to benchmark. They're just telling them what's being said, they're just telling them the screenplay, but they're not giving them the cinema. What we're trying to do here is get rid of this deficit model, like where accessibility means bringing people up to the benchmark standard of what should be communicated, but I say we need to bring people up and elevate them beyond that.
Look for "Moonlight Sonata: Deafness in Three Movements" in select theaters through October and on HBO this December. You can watch the trailer below:
Header image via Abramorama