11 Things I Wish People Understood About Being Deaf or Hard-of-Hearing
---
Next time you encounter a D/deaf or hard-of-hearing person, keep some of these facts in mind for successful communication. They may thank you for it!
1. Yes, we can still drive.
We only have problems with our ears. In fact, many deaf people are naturally observant, and they can be great drivers.
2. Some D/deaf people can speak.
Just because a D/deaf person is not speaking doesn't mean they are incapable of doing so. Speaking is a choice for many deaf people, as some prefer to communicate via American Sign Language (ASL) only. Sign language is not universal. Some other forms of sign language include British Sign Language  and French Sign Language.
3. Some can still hear.
Hearing loss is a spectrum. Some people like me cannot hear anything without cochlear implants. My dad and brother, on the other hand, can hear some with the help of hearing aids. Then you have people whose hearing loss is so mild they may not even realize it.
4. A lack of hearing does not necessarily mean lack of intelligence.
While there are some syndromes that may be associated with hearing loss and intellectual challenges, the sky is the limit for D/deaf and hard-of-hearing people. Deaf people can go to school to be doctors, lawyers, teachers — just about any profession imaginable! There are some restrictions with certain jobs in the military or law enforcement, to name a few (for safety reasons). I always tell the children I meet who are just like me to "Keep your chin up and charge the mountain!" and never let someone tell you that you can't do something  because of your hearing loss.
5. Communicate with us directly when possible.
We know it may be tempting to look at our interpreters or family members to help communicate, but we often want to communicate with you. We are still humans with feelings and communication capabilities. Some suggestions for communicating include: a pen and paper to write things out, gesturing, basic sign language (if you know it!), and if absolutely nothing else is a possibility for communication, we can attempt to lip-read. However, it is believed only 30 percent of the English language can be lip-read, so it is not always very effective.

6. Deaf people do not necessarily use Braille.
Braille is intended for those who are blind. We do not necessarily use Braille unless we are blind, too.
7. Not all deaf parents have deaf children.
While my brother and I were born deaf/hard-of-hearing as a result of our father's genetic hearing loss, this is not always true, and there is actually a special name for hearing children born to D/deaf parents. They are referred to as children of deaf adults (CODA). Often, they can be bilingual in both English and ASL.
8. D/deaf and hard-of-hearing people communicate in many different ways.
If the hearing loss is mild enough, the individual may just prefer spoken English. For those with little-to-no hearing, some may still communicate via spoken English with the assistance of high-powered hearing aids or cochlear implants. It seems to me that the majority prefer sign language, because it forms a special culture of people who share a language. The sense of community in the Deaf culture is very strong. ASL is a very pretty, visual language, and I like to encourage people to at least learn how to finger-spell.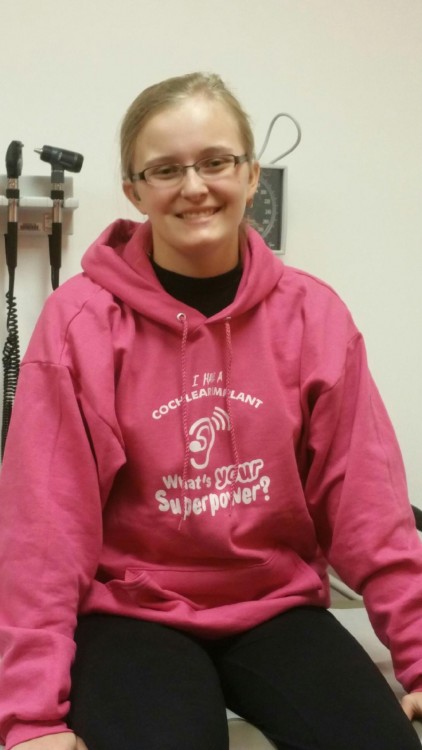 9. Cochlear implants are not a cure.
As a bilateral cochlear implant recipient for nearly six years, I can tell you that cochlear implants are not a cure as many may believe. They have their limitations, are capable of breaking or malfunctioning, and while some people like me can have amazing results from years of hearing practice, not everyone may be as lucky. When I take my implants off at night or to shower, I am just as profoundly deaf as I was before the implants.

10. The D/deaf don't have to be "fixed."
This is a controversial point that has divided the Deaf and hearing worlds for years. I made the decision at the age of 12 to receive my implants. My parents did not make the decision for me. Hearing aids and cochlear implants are just two of the many options available to D/deaf/hard-of-hearing people. I personally lip-read, sign and primarily use spoken English depending on who I am interacting with at any given moment.

11. "Never mind."
A D/deaf or hard-of-hearing person may tell you that the most annoying thing they hear on a regular basis is "Never mind." Some people may only be willing to repeat things a certain number of times before they finally give up. This can be extremely frustrating, because whatever the person was trying to say at the time was clearly of importance to them, but when you can't hear the message, it's as if suddenly it doesn't matter.
Follow this journey on The CRPS Ninja Chronicles.
The Mighty is asking the following: Create a list-style story of your choice in regards to disability, disease or illness. It can be lighthearted and funny or more serious — whatever inspires you. Be sure to include at least one intro paragraph for your list. If you'd like to participate, please send a blog post to community@themighty.com. Please include a photo for the piece, a photo of yourself and 1-2 sentence bio. Check out our Submit a Story page for more about our submission guidelines.