What to Know If Your Depression Feels Beyond Words Right Now
---
Editor's Note
If you struggle with self-harm or experience suicidal thoughts, the following post could be potentially triggering. You can contact the Crisis Text Line by texting "START" to 741741. For a list of ways to cope with self-harm urges, visit this resource.
I'm going to be very blunt with you; it wouldn't be fair to you if I wasn't. I am not in a good place right now. Just, not at all. I am not exaggerating when I say that none of the medications I am on are working. I am not exaggerating when I say I am having the biggest swing into depression that I have ever had. I am not exaggerating when I say nothing in my life right now seems to be working out. I'm tired (physically and emotionally), I'm feeling alone, I've lost hope, I'm experiencing my first heartbreak in terms of a romantic relationship I was really excited about, my future is so uncertain and completely out of my hands. Right now, life isn't a pretty picture for me.
I have very few people in my life that I can vent to about things like this. But even before, when I did talk to them, it made me feel better. Now, it doesn't even seem like venting and talking things out works anymore. My chest hurts with the pain I'm experiencing, a pain I shouldn't be going through.
It's a pain of internal struggle. It's a pain that won't be solved with over-the-counter pain relievers or Band-Aids. It's a pain that is beyond words. It hurts, and it hurts so much, and I can't do anything about it.
And you know what? I don't have the luxury of even trying to do anything about it. I'm a full-time college student, so I have classes to deal with. I have a job I need to support myself. I work in a research lab as an assistant. I don't have time to try to fix these problems. And that is the problem.
During the day, I run on pure "this needs to get done" energy. I just go into work mode. But when I come home, when I put my homework away, and I just sit, alone, it's like I'm getting stabbed in the heart. It's like something has just gripped onto my life and is squeezing it like a balloon until it pops.
Why am I telling you all this? It's not to complain, it isn't to garner pity, it isn't for anything other than this: For those of you who struggle with major depressive disorder (MDD), bipolar disorder or anything else that could bring you into depression, I'd be willing to bet you can understand some of these feelings. I hope you read that and saw yourself in some of it, because you know that you're not alone in being in a place where you just can't express what it feels like. People who have never experienced depression or any kind of mental illness try their best to empathize, and those are the people we need in our lives. But it's different. Every one of us is unique, and we have unique stories and struggles, so my depression is not like your depression. But I'm pretty certain someone is reading this and can understand what I'm talking about. That feeling, that itch, that you can't describe or fix.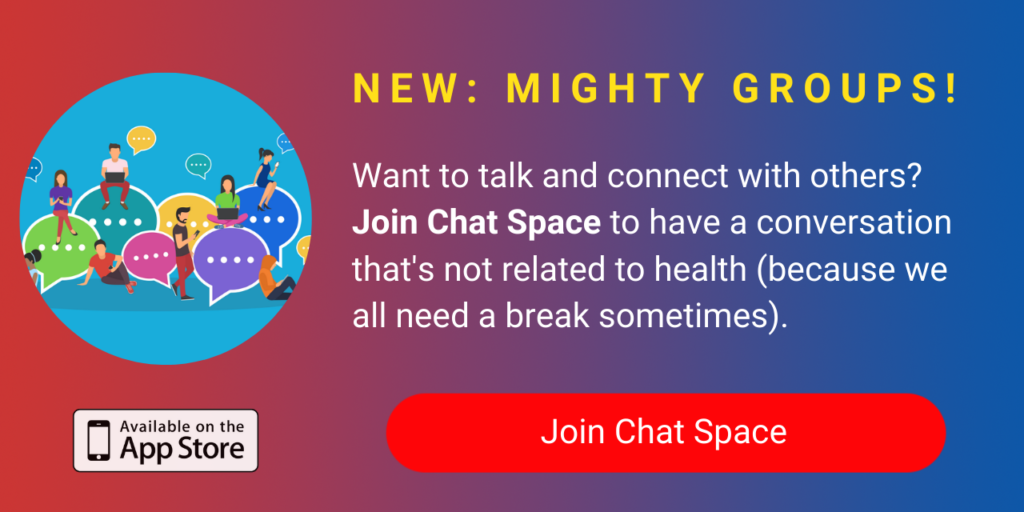 This is all very negative so far. Honestly, being positive right now is hard for me, and if you're going through depression right now, it might be hard for you to stay positive as well (hint: you don't need to be positive all the time, so don't hold yourself to that standard and be kind to yourself when you need to be sad for a bit). But, here is the silver lining. Your feelings, your depression, your sadness, they may be beyond words. They may be beyond your own understanding. They may feel never-ending. I don't know exactly what you're going through, but I do know that you and I are kindred spirits.
Even if you don't have a diagnosed mental illness, even if I don't know you personally — you and I, we're family. We are a family of people who, at times, can't understand the things they feel and go through. A family of people who are in pain and can't explain why. We are a family of people who can sit together, cry together, hold each other, and weather the storm together. We are family, we are a chosen family of people who can't really ever be fully understood by people outside of our world.
As a kindred spirit, someone going through probably one of the worst times of my life, someone who loves you and cares about you, whoever you are, I know you are stronger and braver and better than whatever challenge you are facing. You deserve everything you want and need in life right now and forever. You know how I know you have what it takes to get through this? Because you have so far, and you probably have before. You can do this. You. Can. Do. This. You will come out the other side of this. Right now, you may be in pain, and it hurts me to think about even one more person in this world feeling the way I am. Pain sucks, it really does. But there's nothing inside or outside you strong enough to take you out of the fight. There's nothing you can't overcome. That doesn't mean you can't or shouldn't use your support system. But they are part of you and how you battle challenges. You can do anything. I may never know you, I may never see you accomplish your dreams, but I have such confidence that you will, that I can feel my depression lifting just knowing you are going to get the life you want and deserve. Keep going; I believe in you.
Getty Images photo via Sasin Paraksa
Originally published: November 19, 2020