10 Gifts to Give Your Friend With Depression (and a Dark Sense of Humor)
---
Editor's Note
We hope the products below help you or a loved one in your health journeys. Just so you know, The Mighty may collect a share of sales from the affiliate links on this page. As an Amazon associate, we earn from qualifying purchases.
For probably as long as I can remember, I've been told I have a dark, negative, sometimes-inappropriate, harsh, etc., etc. sense of humor. When I started struggling with depression, I developed an even darker sense of humor. Though most people in my life seemed to believe my humor was "something I should work on," it actually helped me cope with the mental health struggles I was facing. If this sounds like you or someone you know, you're not alone! All dark humor fanatics are welcome here at The Mighty.
Getting a gift for a loved one with a dark sense of humor can sometimes be difficult (we can be super picky — take it from me!), so we created a gift guide to help you out. If you're looking for a non-traditional gift for a friend who has a dark sense of humor (and depression), you've come to the right place.
And let's be honest, if you clicked into this gift guide to see what gifts you'd like for yourself (caught ya!), feel free to send this on to your loved ones for any relevant holidays — birthdays, holidays, Groundhog Day, whatever.
A word of warning: as is the case with all gifts, know your audience. A lot of these gifts could be interpreted as irreverent, hurtful and maybe even offensive to some. If you're thinking of giving a gift on the riskier side, it might be worth evaluating how it would be received. What a shame it would be to hurt someone's feelings when you're trying to show them love!
P.S. If you're looking for more touchy-feely gifts, check out this supportive gift guide for a loved one with depression.
Here are 10 gifts perfect for your depressed friend who has a dark sense of humor:
1. T-Shirts Perfect for Crying in Public and in Private!
Isn't it cool how depressive episodes decide to show up at the most inopportune times? Whether your friend is a public crier or is more of the "stay indoors and cry" variety, we've got the perfect shirts for them. Order your loved one a "Netflix and cry" shirt. Who needs to "Netflix and chill" anyway?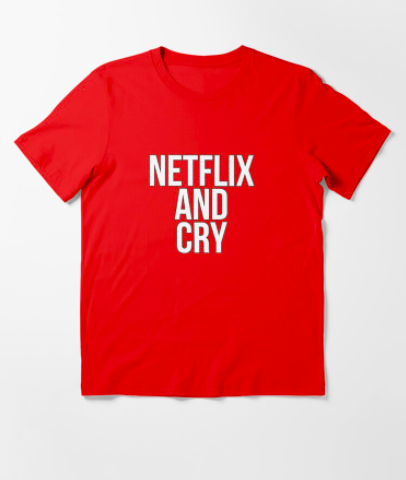 Our Pick: "Netflix and Cry" T-Shirt 
2. Affirmation Cards for People Who Hate Daily Affirmations
One of the most annoying things folks tell people with depression to try is daily affirmations — even more annoying is that they can actually help sometimes. If the thought of daily affirmations makes your loved one want to throw something, consider getting them these funny affirmation cards. To give you a sense of what these cards are like, on their "Don't Take It Personally" card, it says:
If someone starts to speak unkindly to me, I'll remember that they've got something going on that has nothing to do with me. Like maybe they just pooped their pants. Yes, that's probably it.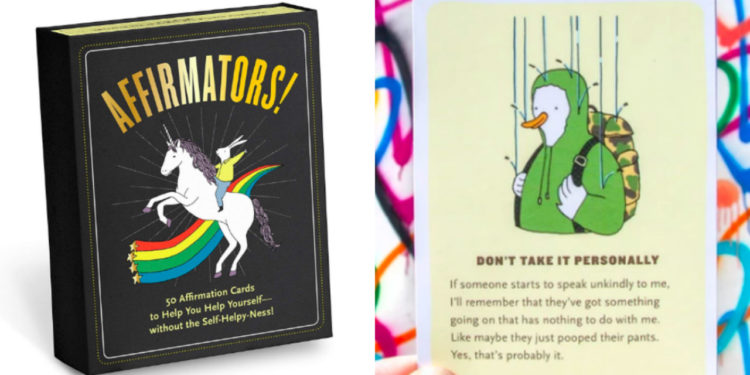 Our Pick: Affirmators Affirmation Cards 
3. A Sassy Mug for Making Digs at Others From the Comfort of Your Office Chair
Everyone in your life deserves a sassy mug, and your friend with depression is no exception! We have two lovely options here. One about the benefits of medication and the other a snarky dig at those annoying people who post endless "inspirational" quotes. If you can't let people know how you really feel, at least you can passive-aggressively let them know by positioning your mug in their general direction!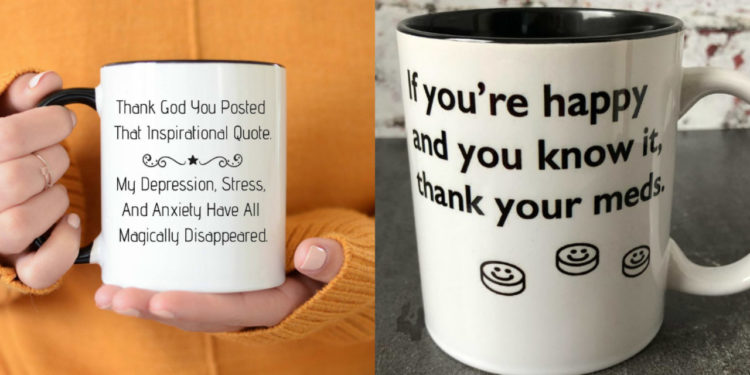 Our Picks: Toxic Positivity Makes Me Barf Mug and "If You're Happy and You Know It, Thank Your Meds" Mug
4. A Slightly Insulting (and Accurate) Pillow
It's no secret depression can make us feel irritable sometimes. If your friend struggles with irritability, consider getting them this hilarious "Salty Bitch" pillow. Plus, people with depression are always tired, so they can use this pillow to take a much-needed nap. Functional and fashionable. Can't argue with that.
P.S. Remember what I said about knowing your audience earlier? Make sure your friend is a super BFF before giving them a gift like this. Don't want to hurt their feelings.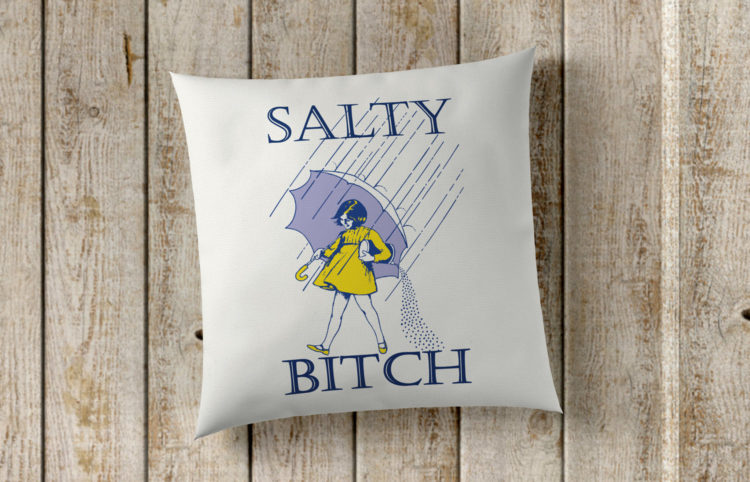 Our Pick: "Salty Bitch" Pillow
5. A Sarcastic Card to Show You Care
The only thing better than getting a sentimental card from a loved one is getting a sarcastic one! We recommend this seasonal depression one, as well as this "hating other people" card. It's important to remember darkly humorous people like sentimental things too sometimes. Consider writing a heartfelt note inside a funny card.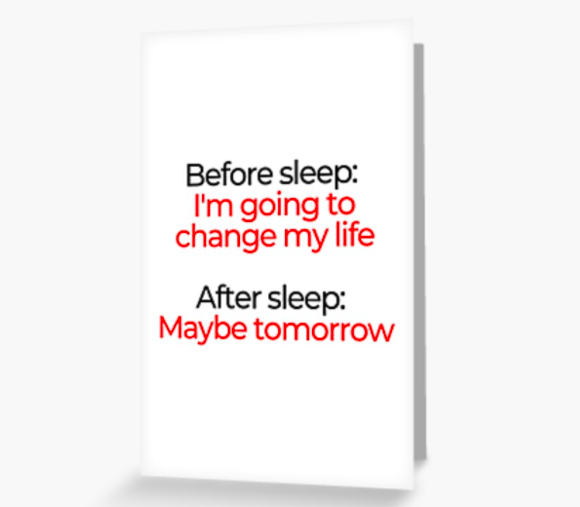 Our Pick: "Before sleep: I'm going to change my life. After sleep: Maybe tomorrow." Greeting Card
6. An Emergency Chocolate Bar for Depression Crises
When we're feeling down, sometimes indulging in comfort foods can help — and what's more comforting than chocolate? For the chocolate-lover in your life, we recommend this funny chocolate bar for emergencies, complete with a hammer to break the glass.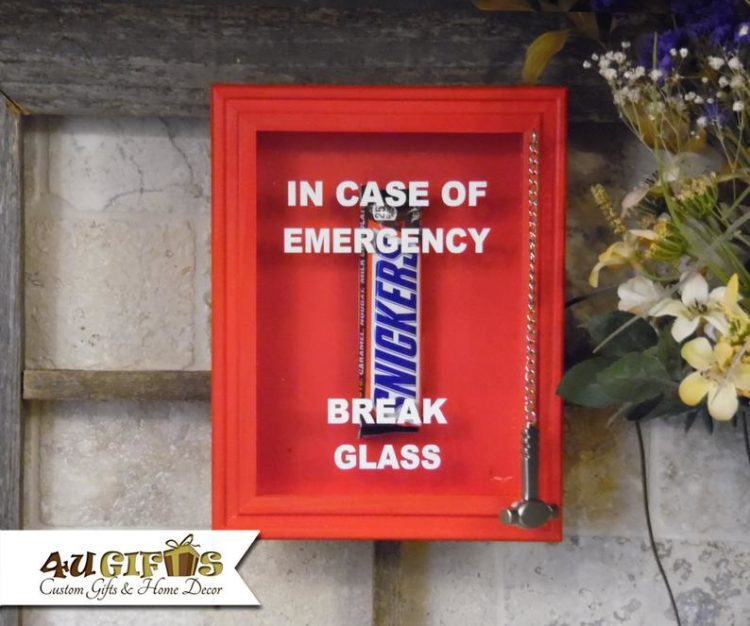 Our Pick: In Case of Emergency Break Glass Shadow Box With Snickers Bar and Hammer 
7. An Irreverent Journal
Help your loved one make journaling fun with this hilariously-titled journal: "Find Your F*cking Happy." With funny quotes and guided journaling prompts, your loved one will start to feel better as they write out what's going on.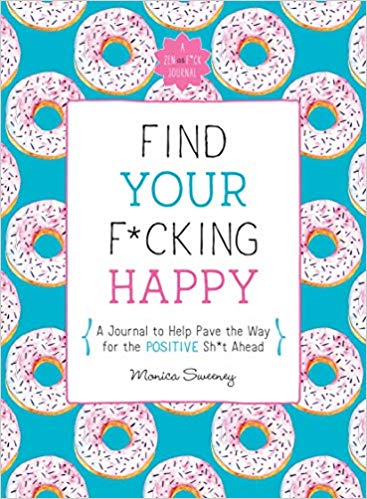 Our Pick: Find Your F*cking Happy Journal
8. Cheery Home Decor With a Not-So-Cheery Message
When you're not feeling cheery, sometimes being surrounded by bright wall art can give your mood a lift. But instead of giving your loved one artwork full of cheesy inspirational quotes (cliche much?), opt instead for darkly humorous gifts.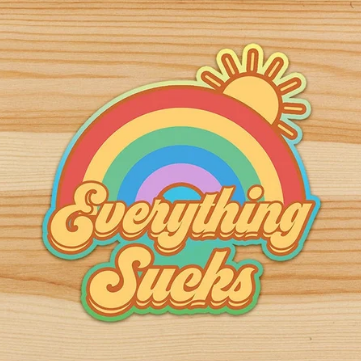 Our Picks: "Everything Sucks" Rainbow Sticker and Penguin Books Humorous Art Print
9. A Self-Aware Depression Sticker
Nothing like a little "Office" humor to spice up your loved one's life. Your loved one will adore this Michael Scott sticker, as well as this "more espresso less depresso" one. A little humorous sticker can go a long way.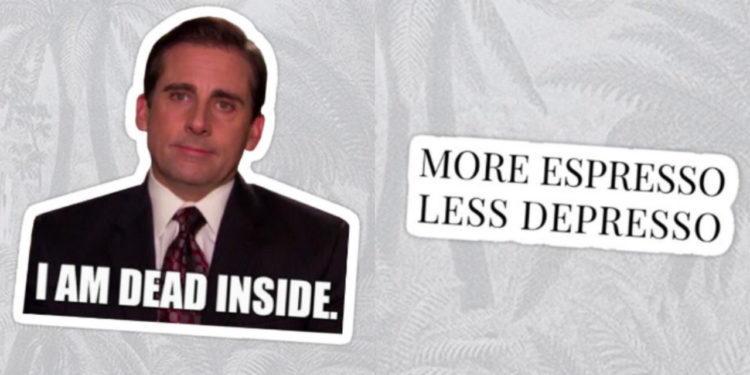 Our Picks: Michael Scott "I Am Dead Inside" Sticker and "More Espresso Less Depresso" Sticker
10. Serotonin Cookie Cutter
If you can't give your loved one with depression what they really want (ahem, no more depression), at least you can give them a cookie cutter. If you want a little boost of "happy," a serotonin cookie might be just what you need. 

Our Pick: Serotonin Molecule Cookie Cutter
What would you add? Tell us in the comments below.
Originally published: November 14, 2019