Google's Latest Feature Wants to Help You Diagnose Your Depression
---
Google knows people are using its search engine to gain insight into their health, and now it's rolling out a feature that may cut down the amount of time it takes to get diagnosed with depression. On Wednesday, the search giant announced it partnered with the National Alliance on Mental Illness (NAMI) to help U.S. mobile search users screen themselves for depression.
Now, when you search for "depression" you'll be given the option to take the PHQ-9 questionnaire, a screening test doctors and therapists routinely use to diagnose depression.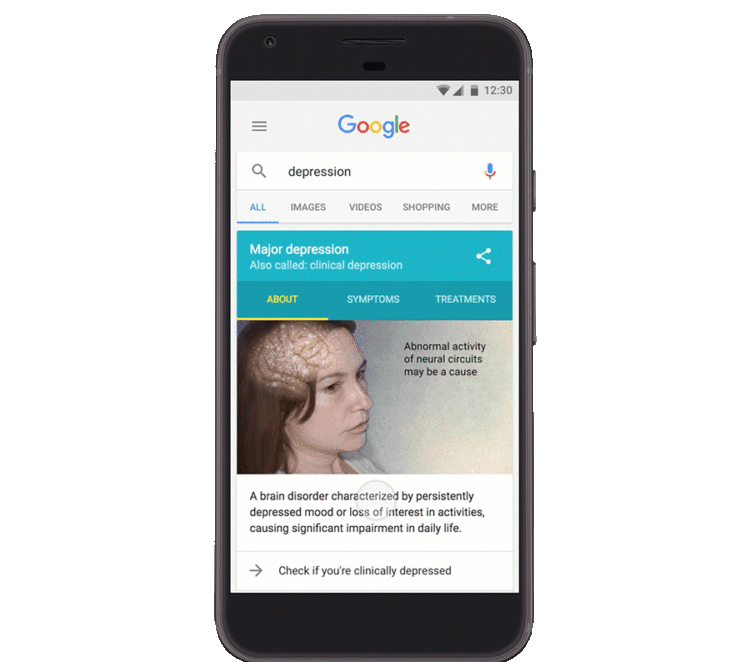 "Statistics show that those who have symptoms of depression experience an average of a six to eight year delay in getting treatment after the onset of symptoms," Mary Giliberti, JD, chief executive officer of NAMI, said in a statement. "We believe that awareness of depression can help empower and educate you, enabling quicker access to treatment. And while this tool can help, it's important to note that PHQ-9 is not meant to act as a singular tool for diagnosis."
While getting a diagnosis is a great first step, using a questionnaire without feedback from a professional offers little beyond confirmation you probably need to see a mental health professional.
"This sounds like a really good idea that can quickly help people work out whether they are having low moods or feeling blue, [or if they] may have more serious and enduring problems that could be alleviated by seeking help," Marjorie Wallace, of the U.K. mental health organization SANE, told New Scientist. "Our concern [however] is that raising expectations of help can be disappointing."
According to NAMI, only 41 percent of American adults living with a mental health condition received mental health services in the past year. So while NAMI and Google hope that "more people will become aware of depression and seek treatment to recover," people need more than just a computer-generated diagnosis to get help, especially since symptoms of depression can make self-care difficult.
If you have depression or think you are depressed, and are looking for affordable therapy options, here are some resources that can guide you in the right direction: 
If you or someone you know needs help now, visit our suicide prevention resources page.
If you need support right now, call the National Suicide Prevention Lifeline at 1-800-273-8255, the Trevor Project at 1-866-488-7386 or text "START" to 741-741.
Originally published: August 24, 2017