How I Am Reclaiming My Body From Hate and Mental Illness
---
Editor's Note
If you struggle with self-harm or experience suicidal thoughts, the following post could be potentially triggering. You can contact the Crisis Text Line by texting "START" to 741741. For a list of ways to cope with self-harm urges, visit this resource.
If you live with an eating disorder, the following post could be potentially triggering. You can contact the Crisis Text Line by texting "NEDA" to 741741.
"How am I reclaiming my body?"
My friend Haley asked me this for a challenge she started. This challenge is the whole reason you are even reading this right now. I ponder the question. A few answers pop up, then I push them away thinking they are too personal, so I say I will go to back to thinking about it later. I mindlessly watch TV and zone out, but the tantalizing question keeps whispering in my ear, and finally an hour later, I confront it.
I reclaim my body every day I no longer cut its beautiful, unique shade of carmel- honey-brown-sugar skin and in return, the counter on my phone applauds me by tallying another day clean. I reclaim my body with every morsel of food I eat to nourish it. Is it fun to have to force yourself to eat sometimes? Or realize it's 10 p.m. and you've gotten through another day without food and find satisfaction in that, but also sadness because it's not fair to yourself? Absofreakinglutely not. With every sip of water I drink, my body silently thanks me.
Every cigarette I don't smoke anymore and pollute my lungs with is a victory after seven years of wasted money, stinking clothes and rotting breath. I reclaim my body when I remind myself it is mine and nobody else's and that I am in control from here on out. It's revolutionary when I have the small "it wasn't your fault" moments and feel I no longer have to feel like a victim. They are few and far between, but those are moments to be cherished. I reclaim my body when I see myself as more than my physical body and include my beautiful, brilliant, creative and afflicted mind as part of my whole self. I am not the sum of my physical parts.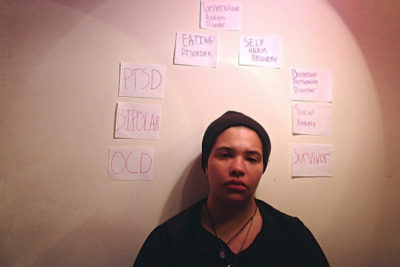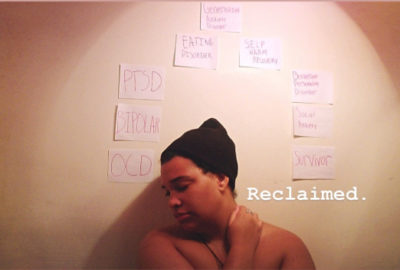 Even in the moments when I all I can see are is damaged parts; the fat, hideousness, disgust, shame, laziness, loneliness, mental illness and sickness that swallow me whole, I try to salvage the idea I am not a failure. I am intelligent, well-spoken, educated and have an alacrity and appetite to learn more and more about the topics that interest me. I always say, (especially when it comes to dating) "I would rather be respected for my mind than my body." Body shapes and sizes are ephemeral, intelligence is forever. I reclaimed my body and soul when I declared my trans identity and express that in a plethora of ways because the fluidity of my gender expression is infinite. On August 8, 2016 I surgically reclaimed my physical body.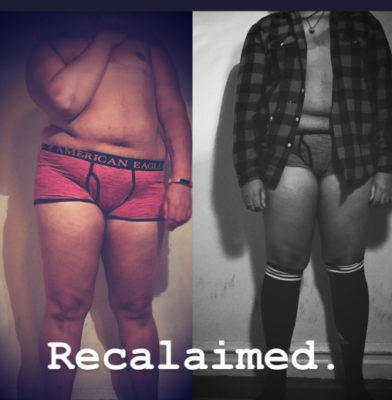 I reclaim my body when I write because all the neurons and synapses in my brain are firing at once. When words surge at the speed of light out of my fingertips and onto a page and simultaneously thoughts erupt out of my brain like lava exploding out of a volcano — I must find a way to express myself because spoken words won't suffice. My body is reclaimed when I speak about my mental illness because I can use my brain (a seemingly endless mocking dichotomy of strength and weakness) as a beacon of hope for others because I am articulate, open and honest. I can show my scars, tell my stories, share the trauma and what led me to who I am today. I use my lips I once hated because people, men, used to make sexual comments about them to share my message of hope.
I am reclaiming my body when I go to therapy two times a week to work on the skewed and sometimes illogical beliefs I hold about myself and my body. I am challenged by a brilliant therapist to really look at myself and thoughts and notions about myself and the world and question if what I am thinking or feeling is coming from an emotional place or a place of logic.
I am in a perpetual state of evolution.
Original photos by author
Originally published: December 9, 2019