Wrabel's Powerful Instagram Post Is a Reminder to Check In on Your 'Smiley' Friend's Mental Health
---
Singer/songwriter Stephen Wrabel is not a household name (yet), but you've probably heard one of his songs. BuzzFeed ranked "Ten Feet Tall," his 2014 smash with Afrojack, as one of the 35 best pop songs you may have missed that summer, and his new EP "We Could Be Beautiful" has garnered a lot of praise (including Kesha's) this year. His most recent single, "The Village" made headlines for its powerful response to President Trump's proposal to ban transgender troops from military service.
If you follow the 28-year-old on social media, you'll find he's often open about his own personal struggles — the silly and the serious. He's particularly open about his mental health, but today he shared a message we feel is particularly important.
On World Mental Health Day (October 10), he posted an Instagram story that showed a kind of rawness we don't always see online (full transcript below):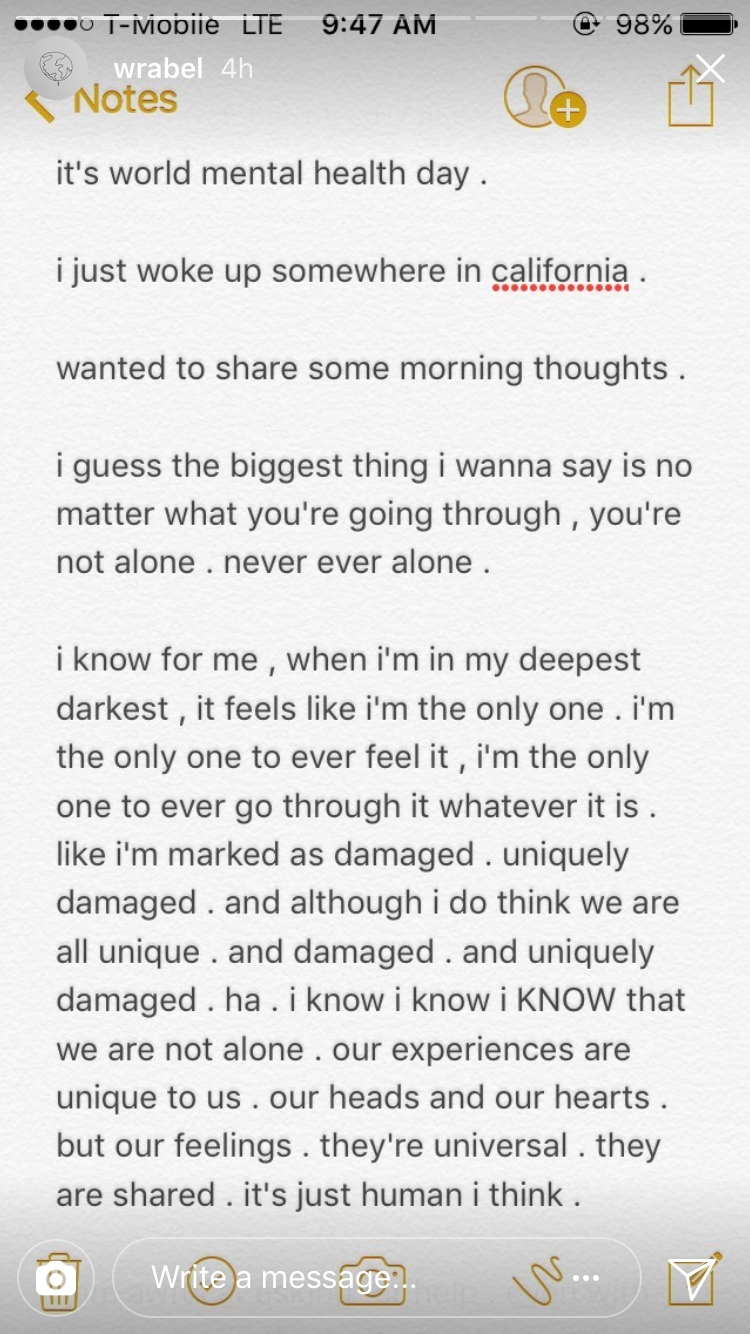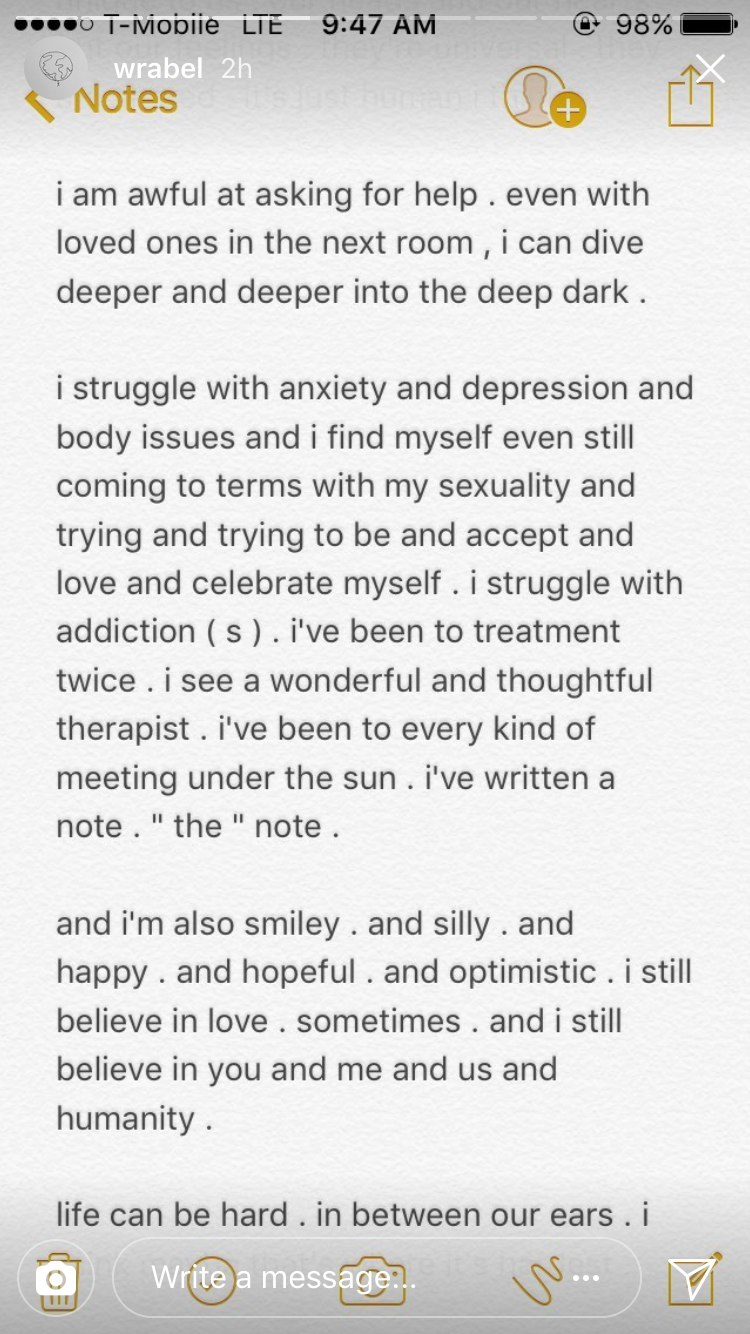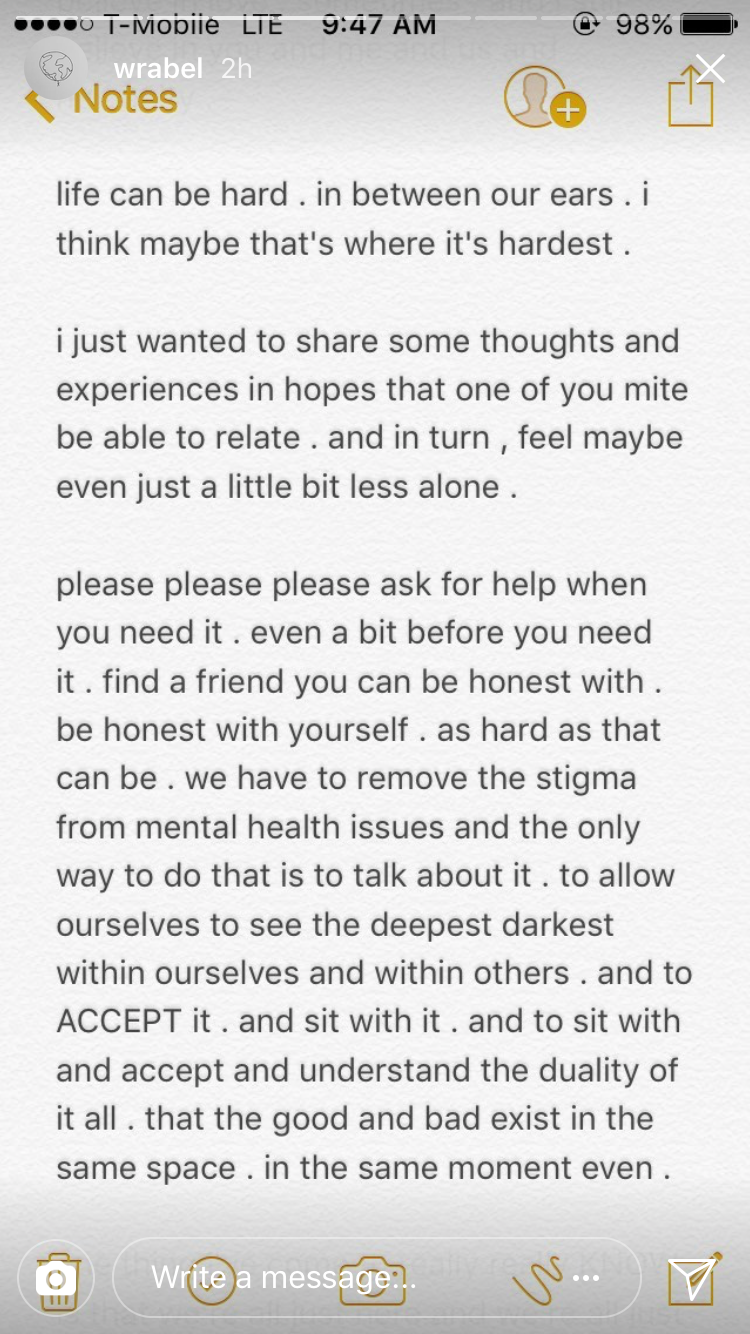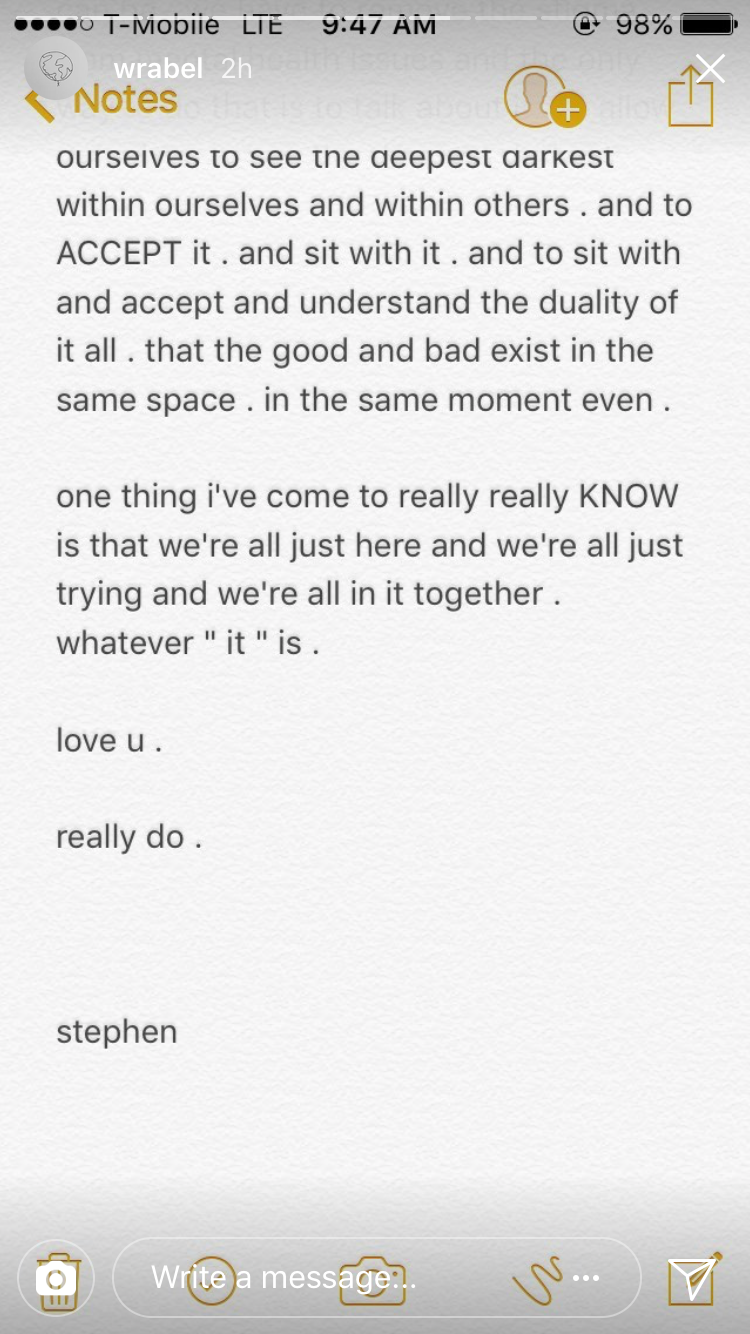 His full note read:
it's world mental health day .

i just woke up somewhere in california .

wanted to share some morning thoughts .

i guess the biggest thing i want to say is no matter what you're going through , you're not alone . never ever alone .

i know for me , when i'm in my deepest darkest , it feels like i'm the only one . i'm the only one to ever feel it , i'm the only one to ever go through it whatever it is . like i'm marked as damaged . uniquely damaged . and although i do think we are all unique . and damaged . and uniquely damaged . ha . i know i know i KNOW that we are not alone . our experiences are unique to us . our heads and our hearts . but our feelings . they're universal . they are shared . it's just human i think .

i am awful at asking for help . even with loved ones in the next room , i can dive deeper and deeper into the deep dark .

i struggle with anxiety and depression and body issues and i find myself even still coming to terms with my sexuality and trying and trying to be and accept and love and celebrate myself . i struggle with addiction (s) . i've been to treatment twice . i see a wonderful and thoughtful therapist . i've been to every kind of meeting under the sun . i've written a note . "the" note .

and i'm also smiley . and silly . and happy . and hopeful . and optimistic . i still believe in love . sometimes . and i still believe in you and me and us and humanity.

life can be hard . in between our ears . i think maybe that's where it's hardest .

i just wanted to share some thoughts and experiences in hopes that one of you mite be able to relate . and in turn , feel maybe even just a little bit less alone .

please please please ask for help when you need it . even a bit before you need it . find a friend you can be honest with . be honest with yourself . as hard as that can be . we have to remove the stigma from mental health issues and the only way to do that is to talk about it . to allow ourselves to see the deepest darkest within ourselves and within others . and to ACCEPT it . and sit with it . and sit with and accept and understand the duality of it all . that the good and bad exist in the same space . in the same moment even .

one thing i've come to really really KNOW is that we're all just here and we're all just trying and we're all in it together .

whatever "it" is .

love u .

really do .

stephen
We're grateful to artists who remind us mental health issues don't discriminate, and that we need to remember to check in on our "smiley" friends, too.
If you or someone you know needs help, visit our suicide prevention resources page.
If you need support right now, call the National Suicide Prevention Lifeline at 1-800-273-8255, the Trevor Project at 1-866-488-7386 or text "HOME" to 741-741. Head here for a list of crisis centers around the world.
Photo via Facebook