When Teenage Heartbreak Turns Into Depression
---
I kept my head down during my freshman and sophomore year of high school. Looking back, I did have what I'm able to recognize now as anxiety — the constant feeling of unease, like I was walking on eggshells. I would replay conversations in my head well into the night, wondering if I had said and done the "right" things. I would go over a million "what if" situations I might encounter the next day. Despite this, I functioned fairly well, had a few close friends and continued to get good grades. To people who knew me well I was energetic and social. To everyone else, I was quiet and shy.
It was junior year when my life turned upside down. Midway through my first semester, I experienced my first devastating breakup. That ugly crying, binge-eating, teenage-blockbusters-are-written-about-this kind of thing, breakup. It threw my already precariously balanced mood into chaos. Suddenly, well-controlled anxiety became an overbearing monster, weaving itself into every thought I had during every second of the day. I fell into a depression so deep, it's still difficult for me to describe. 
Of course breakups are sad and grieving is normal, but it didn't go away. I didn't feel better after eating a pint of ice cream and having a sleepover with my best friends like the teen movies said I would. Food became repulsive and sleep was something that never seemed to come. Day after day, I woke up with a pit in my stomach. I did the minimum required of me to get through the day and then went to bed, exhausted and hopeless. This went on for months. At some point, I stopped taking my ADHD medicine because it didn't seem to matter anymore. School was an afterthought, just something I had to check off of a list before I could get back into bed again. My previously impressive grades held no meaning to me anymore.
I began experiencing panic attacks at school. I would feel paralyzed and overwhelmed. The unstoppable cascade of thoughts and questions would fill my head and my chest tightened like my body was actively trying to suffocate me. Now I know the clinical term for this is "a sense of impending doom." I think that describes it well.
Thoughts would swirl in my head: Where are my friends going to be? What if I can't find them before school and I'm alone? Am I going to run into the ex? Is a teacher going to call on me? What if I have another panic attack? Would people see me freaking out? Where would I go? What would I say?
I could not make myself face these fears, so I tried to avoid them however I could. I started ditching school just so I wouldn't have to face it. 
I felt silly. My logical mind was telling me I shouldn't be so upset about a high school breakup. I had no reason to feel what I was feeling, so I tried to push those feelings away. I tried to bury them any way I could. I began smoking marijuana regularly in an attempt to numb my pain. I just hated myself.
No one seemed to understand it wasn't about a breakup anymore. My depression was all-consuming, with no single cause. People would say things like, "I know it hurts now, but time heals all wounds," "He's not worth your tears, it just wasn't meant to be," and "When you're older, you're going to wish your biggest problem was a high school breakup." It made me feel like my feelings weren't valid, like I was just being a hormonal dramatic teenager. No one acted like what I was going through was real.
I felt like I was defective. I felt pathetic. The harder I tried to get rid of the feelings, the more they boiled inside me. I was buzzing with so many negative feelings, I felt like I was going to break open if I didn't find a way to get them out.
I began self-injuring in the form of cutting. I hid this from almost everyone around me.
I shut out my family and eventually my friends because I knew they didn't understand the pain I was feeling. How could they when I didn't even understand it? At some points I felt so hopeless I had serious thoughts about killing myself.
Everything caught up with me near the end of the school year when my mom got a call from the school about my numerous absences and suspected ditching. She and my dad sat me down, and after trying to attempt indifference, I finally broke down crying. I told them everything — about the cutting, marijuana, ditching and the feelings I was having. I still remember wearing a sweatshirt and pulling it tighter and tighter around me as I sobbed, as if it was the last thing keeping me together when everything else was falling apart.
To this day, I cannot thank my parents enough for what they did for me. They took me to a counselor, getting me the help I needed but was too ashamed to ask for. Through counseling, an antidepressant medication and a carefully controlled encouraging environment, I began to see small improvements in my condition.
I came clean with my teachers, giving them a general rundown of what had been going on. Fortunately they were willing to work with me, and helped me get my grades up in the last few weeks of the semester. It was nowhere near my straight-A record, but they helped me pass all of my classes, including AP and honors classes, with at least a C.
Over the summer I had time to focus on making myself healthy and happy, both physically and mentally. By the time August rolled around and the beginning of senior year began, I had carefully put the pieces of my life back together. I was starting to rebuild my self-esteem.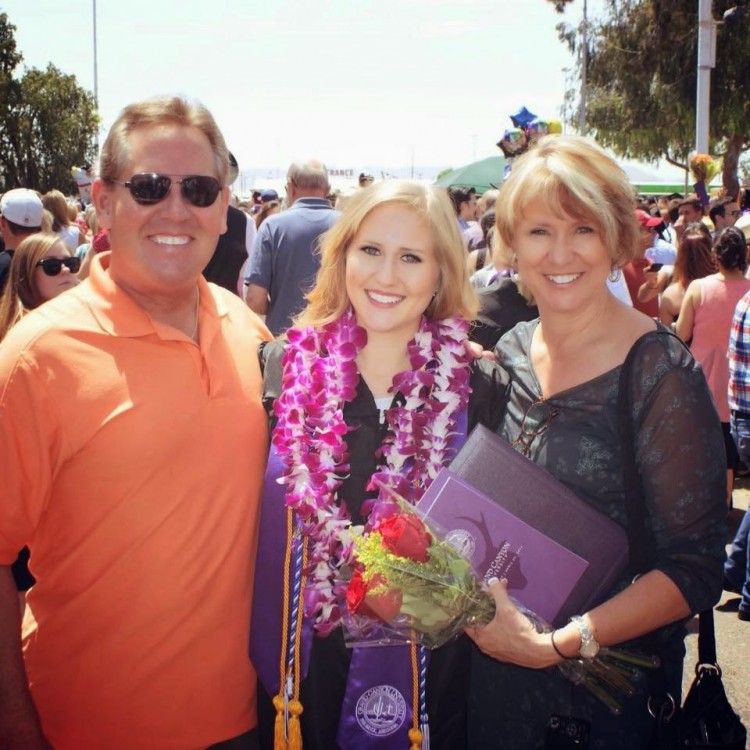 I had a fantastic senior year and made wonderful friends I'm still in touch with to this day. I went on to get my bachelor's in nursing from Grand Canyon University. In January I was honored with the title of Miss Mesa 2015, and I went on to compete for Miss Arizona with a wonderful group of women I greatly admire and respect.
I faced many fears to achieve these things, but I've never regret a chance I took. From applying to my dream graduate school with a 12 percent acceptance rate, to going out on stage in a swimsuit, even though someone might see the scars I still have, each act took a different kind of strength. I'm no longer ashamed of my scars or my struggles with ADHD, depression and anxiety, and I don't want anyone else to feel ashamed about their struggles either.
The fight is not over and it will never be. A battle against your own mind is sneaky and tricky. It makes you second-guess yourself every day.
But I want you, whoever you are, to see mental illness does not discriminate. It can affect people of every race, gender and family background. You can't tell by looking at someone what struggles they're facing. 
And if you're fighting a war against your mind, you shouldn't give up. I see the potential in your life, the good you have yet to do and the lives you have yet to touch. I want you to know you matter.
I encourage you to share your story. If we can help one person feel like they're not fighting this battle alone, we will be one step closer to living in a world that does not stigmatize mental illness. That will make all the difference.
If you or someone you know needs help, see our suicide prevention resources.
If you need support right now, call the Suicide Prevention Lifeline at 1-800-273-8255.
Originally published: July 9, 2015