Hailey Baldwin Bieber Reveals Genetic Condition After People Make Fun of Her Fingers
---
Hailey Baldwin Bieber set the record straight on Wednesday after seeing so many people make fun of her "crooked" pinky finger in recent red carpet photos with her husband, Justin Bieber.
Bieber took to Instagram to set the record straight. She started a series of stories saying, "let's get into the pinky conversation" with a photo of her hand and bent pinky finger. She responded saying she's made fun of her fingers "forever," so she said she "might as well just tell everyone else why they're so crooked and scary."
In a now-deleted Instagram story captured by The Daily Mail, Bieber shared the Wikipedia page for ectrodactyly and explained she was born with the condition.
"I have this thing called ectrodactyly and it causes my pinky fingers to look the way they do," Bieber wrote. "It's genetic, I've had it my whole life. So people can stop asking me 'wtf is wrong with her pinky fingers' here is what's wrong!"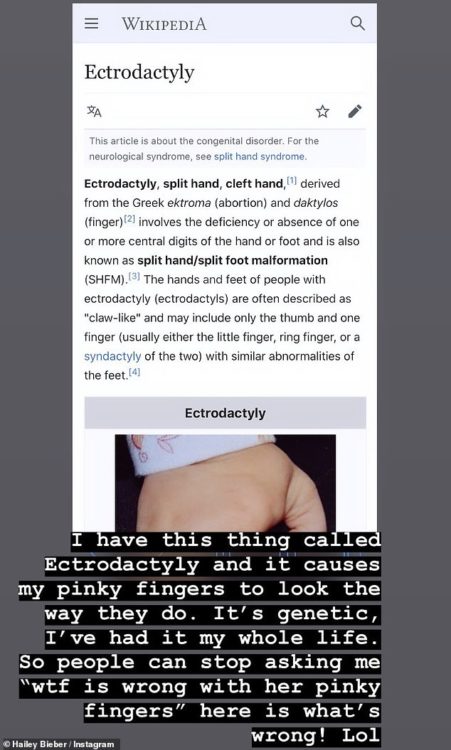 Ectrodactyly is a genetic condition that causes differences in one or more finger bones, one or more fingers or the whole hand. The term is often used interchangeably to refer to another genetic condition, ectrodactyly–ectodermal dysplasia-cleft lip (EEC) syndrome, colloquially known as split-hand or lobster claw, however, the two conditions are not the same.
Bieber admonished those making fun of her in a final Instagram story, saying, "So in conclusion please stop roasting me about my pinkie fingers."
Image via Wikimedia Commons/Daniel Jackson
Originally published: January 29, 2020