20 Clothing Brands That Work for Individuals With Down Syndrome
---
My 11-year-old daughter has Down syndrome and is particular about the feel of clothes. She has some sensory issues, which means anything with tags or uncomfortable seams won't work. Even leggings have to feel "just right." She is my kid who won't wear jeans. Not even a chance!
Besides the "feel" of clothes, we also struggle to find clothing that fits her right. She is shorter (which is characteristic for many people with Down syndrome) but she needs bigger sizes to fit her, which results with pants and sleeves that are too long. We also run into "form-fitting" clothing, which really only works for one body type and ignores the fact girls come in all shapes and sizes (am I right?).
Another issue we run into is finding pants that fit comfortably due to my daughter's "belly." This "belly" is simply a of result low muscle tone in her stomach muscles. Individuals with Down syndrome often have similar issues. It is pretty common for my daughter to tuck her pants under her belly as she does not like the feel of fabric pressing tight against her stomach.
For some people with Down syndrome, any clothing brand works. However, I know there are some individuals like my daughter who find it a little bit more challenging to find the "right" clothes. This is especially difficult when you are into fashion, because finding fashionable clothes that feel and look good becomes a challenge.
I reached out to my friends in the Down syndrome parenting community and asked if they had similar issues finding clothing for their kids and what brands of clothing they recommend. One thing several parents brought up was purchasing capri pants that could be the right length to wear as regular pants for some individuals with Down syndrome. They also recommended three-quarter-length sleeves as long-sleeved shirts. I also found out many parents hem shirts and pants due to length. So keep that in mind.
Here are the community's recommendations for clothing brands that work: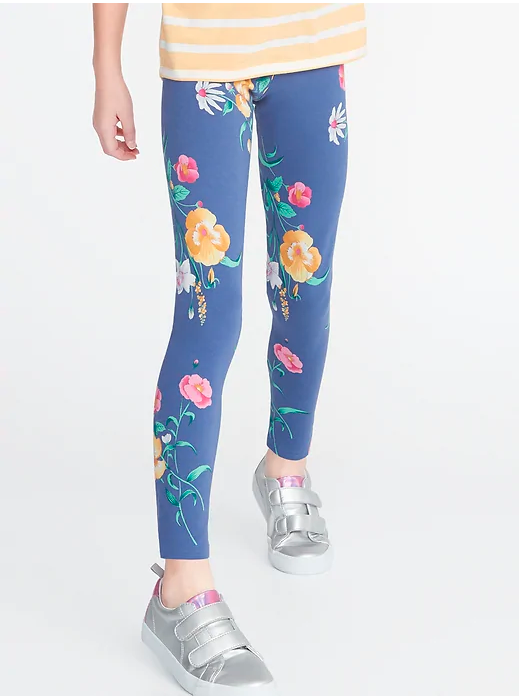 Recommended: Leggings and jeggings
Old Navy's leggings have stretchy waistbands that fit girls who may need more room in their midsection or who prefer to wear their pants under their belly due to sensory issues. For many individuals with Down syndrome, the capri-size leggings are the appropriate length of regular pants. Target's jeggings are also stretchy and have adjustable waistbands. The jeggings are not as stretchy or roomy as the company's regular leggings.
"We like Old Navy leggings and jeggings. My daughter has sensory issues and a little bit of a belly we need to accommodate." — Linda N.
"I buy capri leggings from Old Navy." — Maresa V.
"We do Old Navy leggings and jeggings." — Ange W.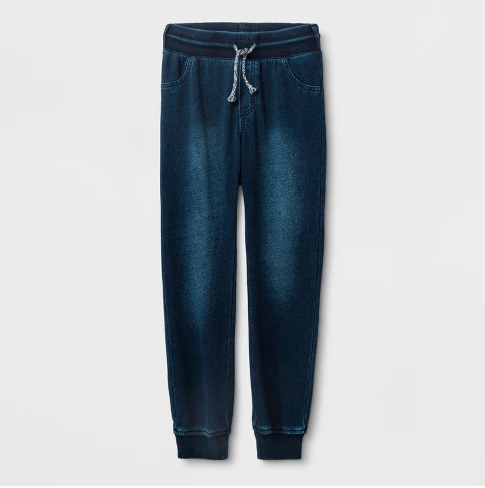 Recommended: Cat & Jack's adaptive line, including leggings, jeggings and joggers
Target's Cat & Jack provides an entire line specifically for kids with sensory and mobility issues. The clothes have no tags and flat seams. Their elastic waistbands allow kids more independence in getting dressed. They also offer socks and shirts with built-in bodysuits.
"I love the Cat & Jack line from Target. My son isn't a jeans fan, so I get him the joggers." — Stephanie L.
"We finally found some easy cheap jeans at Target from Cat & Jack that look great! They have a very wide elastic waistband and are stretchy. They look great!" — Marissa P-L.
"I'm digging Target's new adaptive line. Affordable and comfy. Awesome design features for those in wheelchairs too." — Shasta M.
"Target has cute capris that we get that are soft cottony denim yet the length we need for jeans in the next size up and have the elastic adjustable waist. So they pull up and down instead of using the button and zipper." — Anna W.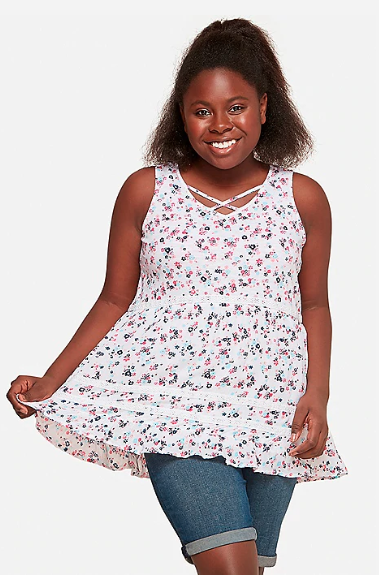 Recommended: Jeggings and plus sizes, starting in size 12
Justice is a popular fashion brand for tween and early teen girls. The brand is conscious that girls come in all shapes and sizes so its clothes run up to size 18/20 and it also has plus sizes. The company's plus sizes, which begin with size 12, offer more room in the midsection while the length of the arms and legs are the same as regular clothing.
"Justice carries plus sizes — same leg and arm lengths but fuller. Allows girls of all sizes to wear the same fashion as their friends." — Jennifer P.
"We like the Justice brand because of the bigger waistband." — Holly B.
"Justice! They have plus sizes also… and their jeans are so nice… the jeggings!" — Jeanette M.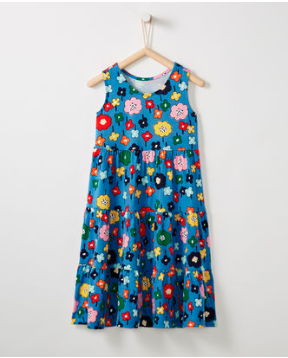 Recommended: Tunics and dresses
Hanna Andersson offers high-quality clothing for kids. Its tunics and dresses tend to have an empire waist, which is typically fitted to just below the bust before flowing loosely, which allows for more room in the midsection. The company's tunics are flowy and have the right length to provide full coverage of a tummy.
"I like Hanna Andersson. Clothes are sooo soft and last a long time." — Christine H.
"I love Hanna Andersson for tunic style dresses and leggings." — Stephanie L.
"I love Hanna Andersson outlet and buy all I can right after Christmas at their huge sale for the year. Most things last several years because of the cut and high quality. Great briefs too." — Anna W.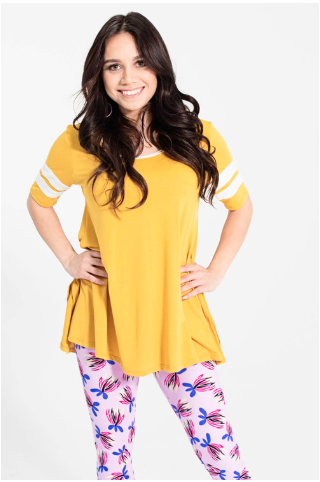 Recommended: Leggings and tunics
Popular brand LulaRoe is best known for its stretchy, soft and comfortable leggings. The brand also offers tunics that are comfortable, flowy and work well for the bodies of women (and girls) with Down syndrome.
"Lately we have been successful with LuLaRoe. My daughter loves leggings and LLR has longer tops to cover her belly. She especially likes Irma and the Perfect Tee. She can wear these to school and they still look nice for church. " — Renee P.
"Lularoe! There are so many different ways to wear their stuff." — Sundaye H.
"Lula leggings have been a saving grace under soft tunics every day." — Emil G.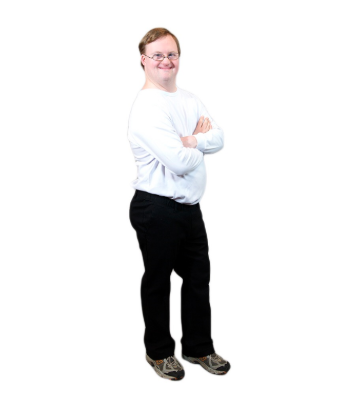 Recommended: Down's Designs — pants designed with the body type of people with Down syndrome in mind
NBZ Apparel's clothing was designed by a grandparent of a child with Down syndrome when they recognized there were no jeans in the market that fit her granddaughter's body comfortably. The brand has expanded to not only jeans, but other pants as well. The pants are cut with higher backs and lower fronts that fit comfortably under the belly.
"Down's Designs jeans are great for my son." — Machelle W.
"I love Down's Designs for my son with Down syndrome." — Ginger M.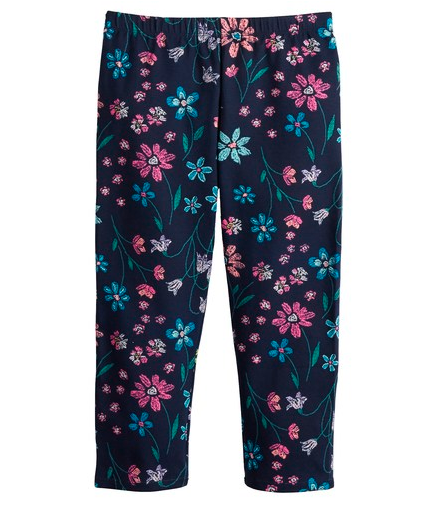 Recommended: Sonoma leggings
The Sonoma brand of leggings sold at Kohl's has a stretchy waistband that fits girls (and women) who need more room in their midsection. The leggings also tuck in comfortably under the belly for those who prefer to wear them that way.
"Kohl's has a brand of jeggings (Sonoma) that fit [my daughter] well." — Cathy T.
"I have found that leggings from Kohl's, the Sonoma brand in the girls apartment, is very comfortable." — Stephanie R.
Recommended: Leggings and men's pants
Walmart offers affordable soft leggings with stretchy elastic waistbands. The retailer also carries joggers for men and women. In addition, Walmart has many other pants with elastic waistbands, which can be a better option instead of clothing with zippers and buttons.
"Spanky (yoga) pants from Walmart." — Sara W.
"Leggings with wide waist bands from Walmart — they are soft and comfy for my [daughter] who is 16." — Audrey S.
"We have found Walmart brand clothes have always fit the best. My guy with Down syndrome is 20 and Walmart is our go to." — Summer H.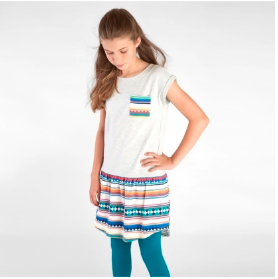 Recommended: Tunic-style dresses and leggings
Tea Collection offers quality clothing in fun styles for kids. Its leggings are thicker than other brands and they have elastic waistbands. The brand's tunic-style dresses are flowy and offer enough room for girls of all sizes.
"Tea collection has tunic style dresses and good thick leggings. If you catch them on sale, it's a great buy." — Stephanie L.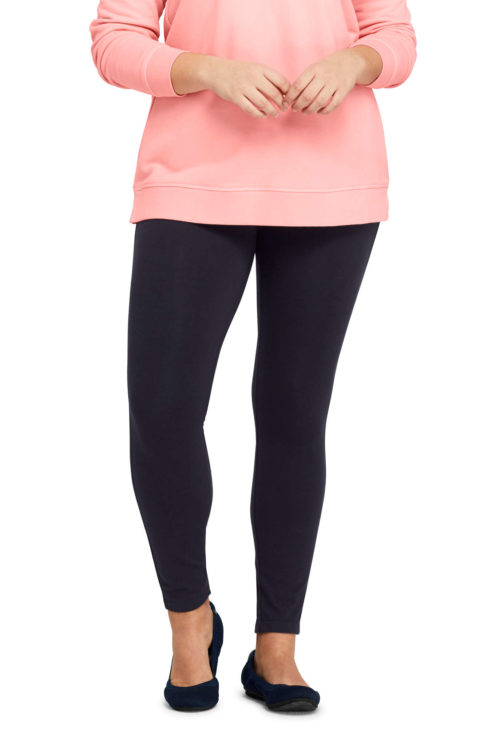 Recommended: Lands End's adaptive line and adaptive line of uniforms
The Land's End adaptive line of clothing replaces buttons with magnets underneath buttons and the brand is sensory friendly. The line includes leggings, tunics and pull-on jeans. Its regular line also has leggings and tunics that work well, and many options come in plus sizes.
"Lands End has a universal line that is made with magnets hidden within the clothes under buttons. My son loves the shirts!" — Kate W.
"My 10 year old daughter lives in Land's End leggings and tunics." — Susan H.
"We have done really well with Land's end. The pull-on jeans are comfy and my daughter also likes the leggings and tunic style dresses." — Barbara D.
"My girl likes Land's End and I find the leggings in particular are very well made." — Mary C-L.
"We use plus size girls leggings from Land's End." — Vivian L.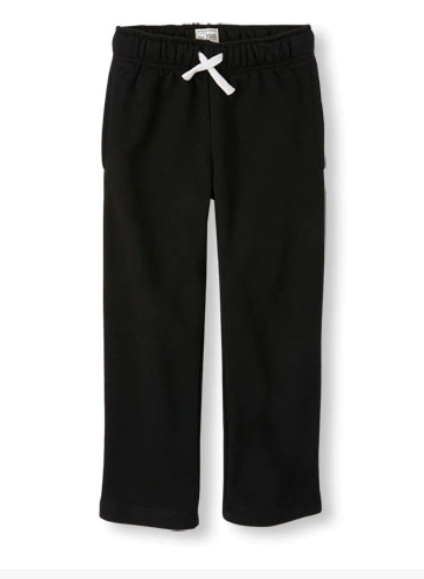 Recommended: Elastic waist pants and leggings
Children's Place is a good option if you have younger kids and are looking for pants that fit well. The company has a wide assortment of leggings with stretchy waistbands and a good variety of pants with elastic waistbands for boys.
"I have found the boot cut jeans from Children's Place fit my daughter well. She hates jeans and those are the only one's she'll wear." — Courtney E.
"We've had good luck with Children's Place leggings." — Emily M.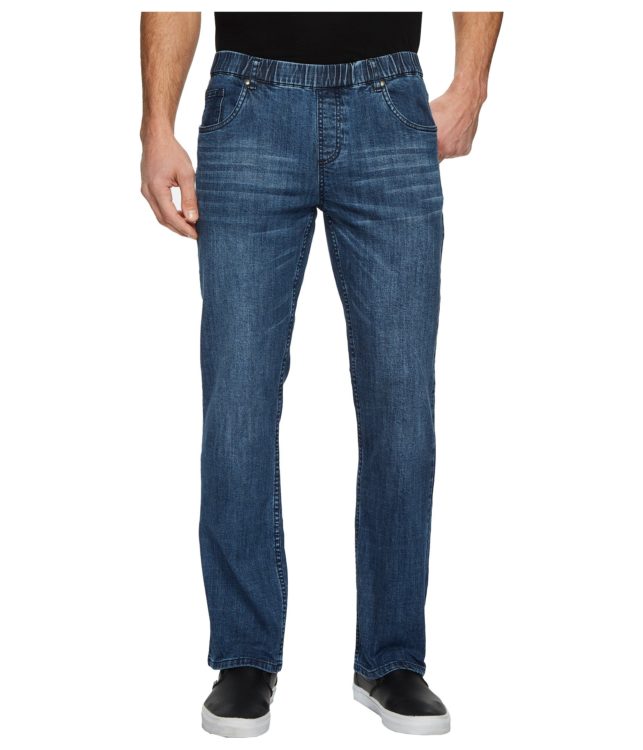 Recommended: Anything from Zappos Adaptive.
Zappos Adaptive sources products that are functional, fashionable and meet all types of needs. Zappos Adaptive aims to connect people with products that make life easier.
"Zappos Adaptive. They have some sensory clothing." — Barbara G.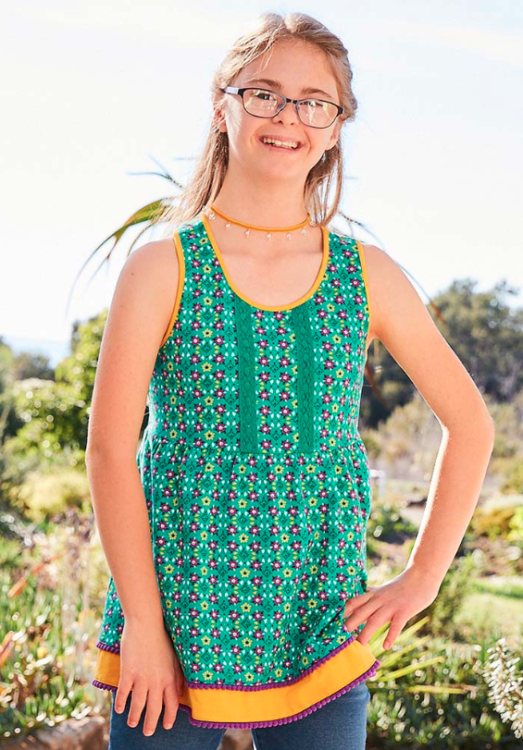 Recommended: Tunics, dresses and pants
Matilda Jane is a favorite for many people, and the brand works well for girls with Down syndrome. Its tunics are flowy, as are the dresses, many with empire waists that flow loosely over the midsection. Matilda Jane also has pants with elastic waistbands that are easy to put on.
"Matilda Jane clothing has really great shapes and features that work so well for our kids. 3/4 sleeves, empire waists, most pants and shorts are elastic waist. The tunics, shorties, dresses are great. Capri leggings also. And very soft durable materials. You can repurpose dresses to be tops for when she grows taller which we do because she has no waist, and kind of a belly." — Ann R.
"Lots of clothing from Matilda Jane. Super cute! Their clothes feel comfy too. I just wish they had more boy clothes when mine were younger." — Sarah M.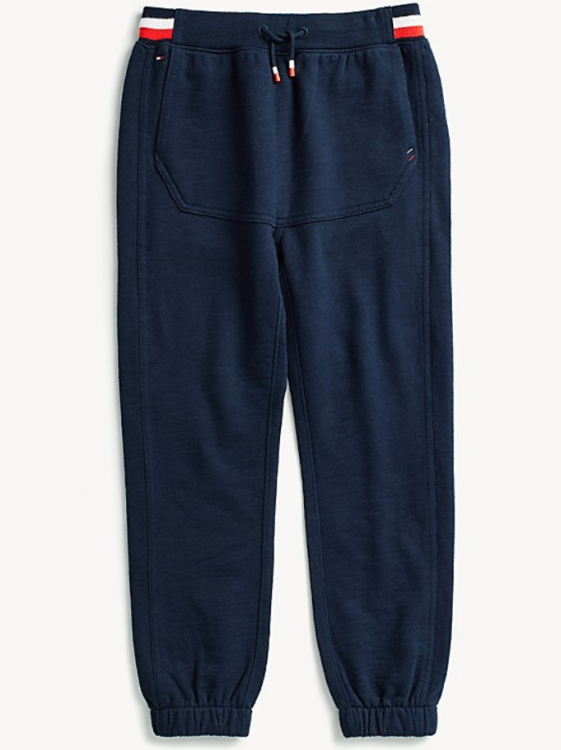 Recommended: Anything from the company's adaptive line
With Tommy Hilfiger's iconic red, white and blue style, its adaptive line features its classic look with magnetic and velcro closures that make getting dressed easier for kids and adults. The company also offers options for people who use wheelchairs.
"Tommy Hilfiger now makes an adaptive line of clothing. This means closures are made with magnets and Velcro, so kiddos like mine can easily learn to dress themselves. I am grateful for these innovations that give my son the confidence he deserves!" — Amanda Booth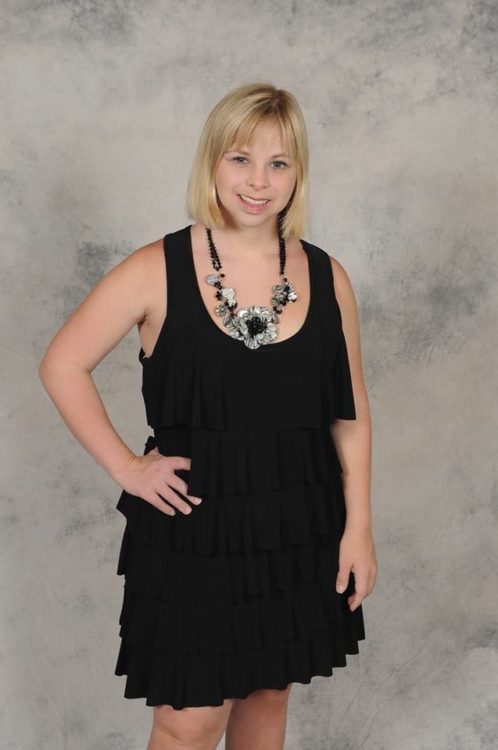 Recommended: Entire line is created specifically for people with Down syndrome
Ashley by Design is owned  by Ashley DeRamus, who has Down syndrome. DeRamus knew how frustrating it was to find clothes that fit her body type, so she started her own business in order to provide fashionable options geared specifically for women with Down syndrome, but her clothing is enjoyed by all women. DeRamus' line includes tops, leggings, dresses and plus sizes.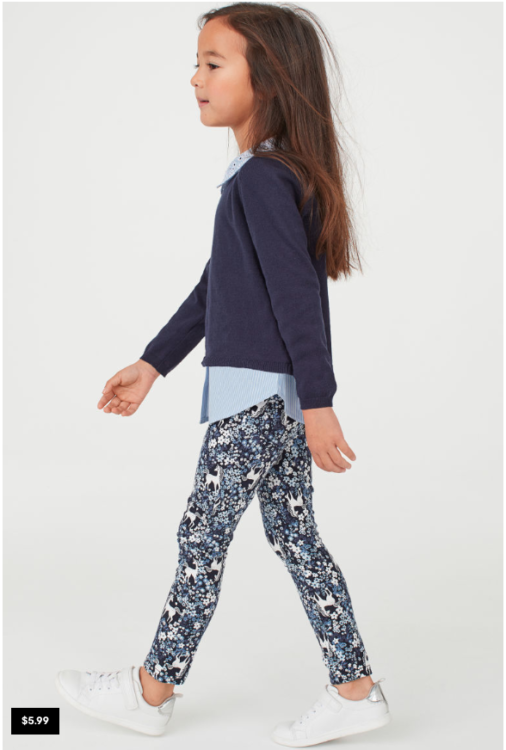 Recommended: Leggings and jeggings
H&M's leggings have stretchy waistbands that fit girls who may need more room in their midsection or girls who prefer to wear their pants under their belly due to sensory issues. For many individuals with Down syndrome, the capri-size leggings are the appropriate length of regular pants.
"H&M carries leggings and jeggings, which are roomy and not itchy." — Linda N.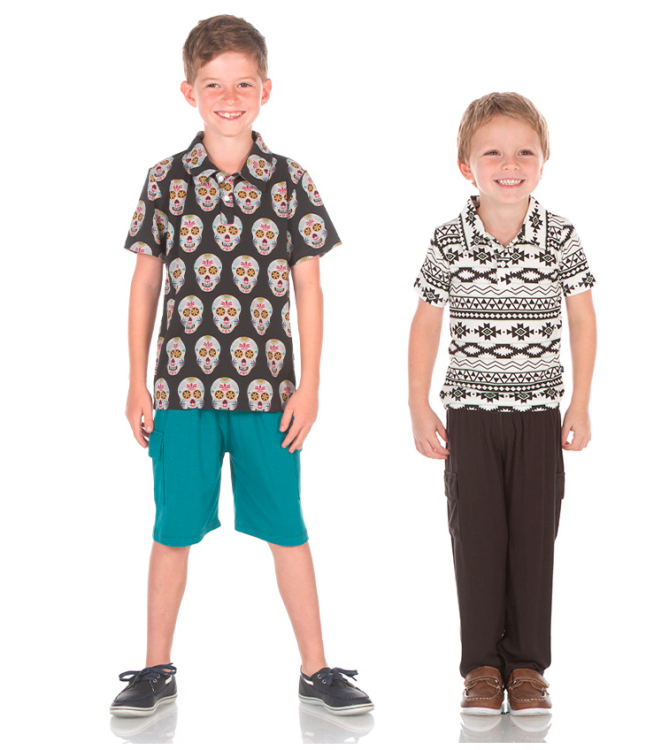 Recommended: Pants
The Kickee Pants brand is made of super soft material, which is perfect for kids who are especially sensitive to the feel of clothing. Many of its dresses have empire waists and it has several pants and shorts options with elastic waistbands, including a wide range of options for boys.
"There's a brand called Kickee Pants that's all viscose from bamboo… It's incredibly soft. As far as I know, they also don't have tags." — Deanna H.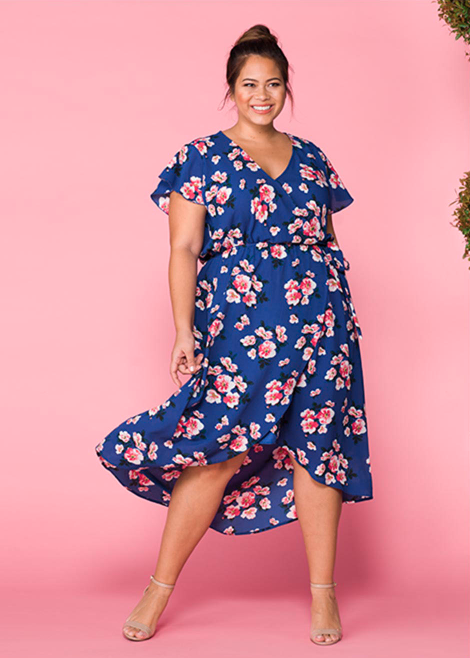 Recommended: Petite leggings and dresses
Ross is a clothing retailer that carries racks and racks of discounted clothing at its in-store locations. Many people have been successful at finding clothes browsing through the racks of Ross' petite section. Of course what you find at the popular retailer will vary, but it's worth checking out.
"I've done well with leggings and dresses from Ross. If I can find petite capris or leggings, all the better. Some still have to be hemmed." — Jawanda M.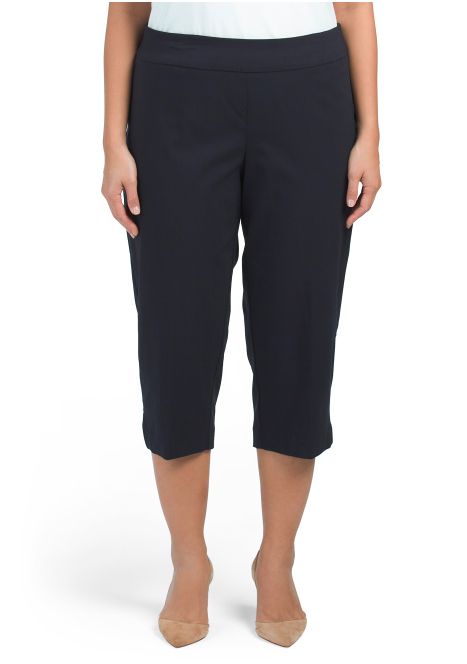 Recommended: Capri pants and three-quarter-length sleeve shirt
TJMaxx typically offers an assortment of discount clothing options that will vary with each visit. Browsing through TJMaxx may offer some good options, particularly if you can find capri pants with a wider waistband. Whether you find good options will likely be hit or miss, but the store has great prices when you find some great options.
"We found amazingly soft leggings at Meijer grocery store in Women's. Also TJ Maxx, juniors, has 3/4 length shirts and Capri pants." — Chris N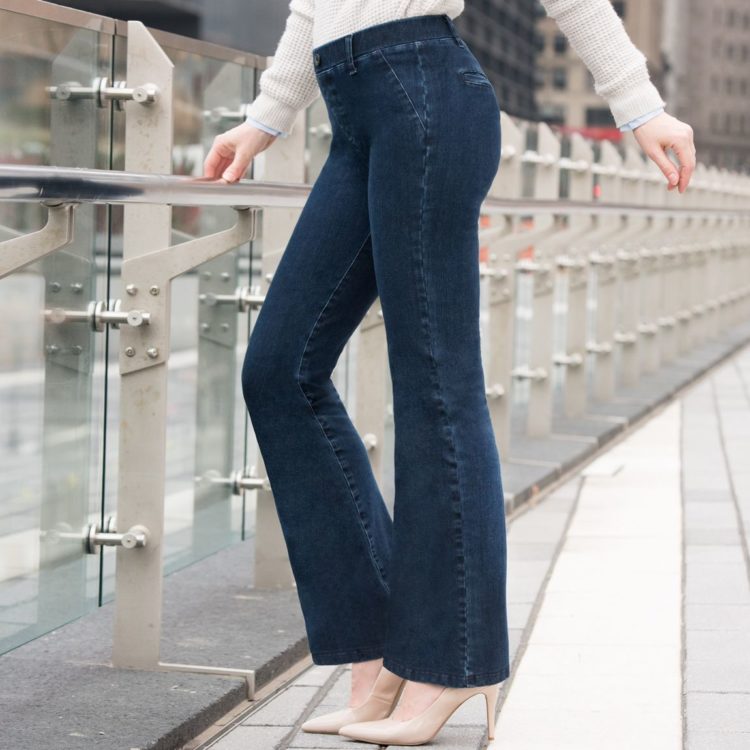 Recommended: Yoga dress pants
Beta Brand offers comfortable yoga pants that look like dress pants. The pants are expensive, but for someone who needs dress pants for work, these are an option. The company also carries yoga pants that look like jeans.
"I buy yoga pant dress pants from Beta Brand. So comfy. They look just like dress pants. They have yoga pant jeans a well. They have different sizes so I can get petite [to accommodate a] short stature." — Amber L.
What brands do you recommend? Let us know in the comments section below!
Originally published: April 8, 2019