COVID-19 Has Made Isolation — and Balance — Daunting for Parents of Children With Disabilities
---
Isolation.
Let's face it. It's nothing new for those of us in the parenting children with disabilities community. Typically we experience isolation because of our own insecurities, feelings of intimidation and lack of confidence; and sometimes it's because others have insecurities, feelings of intimidation and lack of confidence.
But, there is also a third reason — some people, and there are a bit more than I care to admit, are self-absorbed and insensitive and don't know or care about our families' existence.
However, COVID-19 did something pretty interesting. For people all over the world, it leveled out that isolation playing field. The majority of us were all experiencing some similar form of isolation, our typical daily interactions abruptly changed — for all of us at the same time.
Random folks on FB were hosting Zoom mixers and online chat rooms; family dinners, cocktail hours, girls nights, playgroups, dance classes, coffee breaks — were all being done through virtual settings. People were feeling so isolated and uncertain that they reached out to others in newly creative ways. It was actually kind of fun and exciting— drive by birthday parties, "sneaky" parking lot chat meetings, snail mail surprises!
It was like one humongous community of people craving social interactions, acceptance and reassurance among the uncertainty. Not unlike what many of us parents of children with disabilities experience on the regular. There was an interesting ease in feeling comfort and belonging with others, and a noticeable expansion of community during this quarantine. Though it was a time of challenge, it was nice to feel so connected.
But, as the world begins to open up, I am feeling that newfound community shrinking quickly. More and more folks are starting to make different risk/benefit decisions than we, as families in the disability community, are making. And, as they loosen their ties to isolation, ours are stuck where they are.
There are now less virtual events and more in-person events. And though it makes sense that people need these interactions, and I don't begrudge them at all, it is also painful as a parent of a child with a disability. With COVID-19 numbers on the rise again, our family stays firm in our plans to continue social distancing as much as possible. Others are starting to gather, laugh and have fun together —and we can't join them, we aren't ready. Our hearts break seeing our daughter, longingly watching the kids playing in the neighborhood and at the playground — all from a considerable distance. We know how important social interactions are for her development and we are trying to find ways to support it while keeping risks low. It's hard though. Our pool of "safe people" to interact with is small, as most folks have way less social restrictions than we do.
So, we stay fairly isolated, while others carry on with life. That humongous, "we are all in this together" communal feeling is fading fast. No one is to blame, it is just part of the seasons and journeys of life. I understand that. But, I can't help feeling a little disappointed about it.
I remind myself that we make different choices, because that is what works for our family right now. Less exposure means less risk. This is a new virus and there just is not enough data on how to support and manage symptoms effectively, especially for those with higher risk factors. Additionally, if we get sick and hospitalized, who will take care of our child with a disability and volunteer to be exposed to the virus while doing it? I am sure someone would, but we don't want to have to find out.
As parents of children in the disability community, finding the balance, in general, is sometimes hard. Oh, let's be honest — finding the balance for any of us, as parents, is hard! But, in this current environment, we are really struggling and feeling more left behind than ever; because we had that fleeting moment of "we are all in this together" community and now we do not.
It is even more imperative to extend grace to each other now — all of us. It's important to recognize that not everyone makes the same choices in their risk/benefit balance, because not everyone has the same factors at play. And, I am cool with that as long as the choices of others are not putting another person or family in unknown risk (i.e. wear a mask at a public space).
It's also important for us, as parents of children in the disability community, to continue to reach out past ourselves for meaningful connections and interactions. It's going to take effort and creativity! And, I hope others recognize that some of us have a few extra turns and stop lights in our "Coming Out of COVID-19 Quarantine" paths; I hope they decide to circle back every now and again to offer a little company.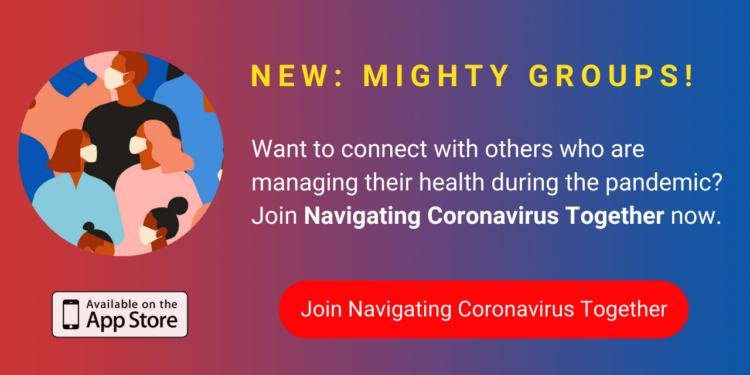 A version of this story originally appeared momuplife.wixsite.com.
Photo submitted by contributor.
Photo credit: NanoStockk/Getty Images
Originally published: August 3, 2020