Researchers Are Developing a Dating App That Would Prevent Genetic Diseases
---
Did you know that Vincent Van Gogh lived with seizures? Or that it's widely suspected that Abraham Lincoln had Marfan syndrome? 
Did you know Steve Riggio, the former CEO of Barnes & Noble, and his wife, Laura, had a beautiful daughter with Down syndrome named Melissa, and that her poetry caught the eye of Pete Townshend from The Who? Did you know his wife turned her poetry into lyrics and recorded songs?
Did you know Sean McElwee, a man with Down syndrome who was denied access to the drama class he wanted to take in high school, went on to be one of the stars of A&E's "Born This Way," which has won several Emmys?
I can't imagine a world without these influential, important people.
I cannot imagine a world where I did not meet my husband and have our two beautiful daughters, one of whom has Down syndrome.
But in a Harvard lab, there are people imagining a world like this. That's right. A "60 Minutes" segment that aired this week featured the work of Harvard gene researcher George Church. Church, who is no doubt a very smart man, has authored 527 scientific papers, has 50 patents and has co-founded more than 35 start-ups, one of which is a dating app. This app compares DNA and screens out matches that would result in a child with an inherited disease. 
This segment — and the development of this app, specifically — left many people in the disability community outraged. A dating app like this, they say, would basically be used for eugenics.
we are being casual about eugenics
we are being casual about eugenics
we are being casual about eugenics
we are being casual about eugenics
we are being casual about eugenics
we are being casual about eugenics
we are being casual about eugenics https://t.co/B8VkSKnhSr

— Nyle DiMarco (@NyleDiMarco) December 9, 2019
Interestingly, Mr. Church lives with narcolepsy himself. In the "60 Minutes" segment, he shares that he employs about 100 scientists and claims many of them are "neuroatypical." He speaks about wanting not just ancestral diversity, but diversity in our abilities. He has a full-time ethicist in the lab and believes in genetic equity. He believes in government oversight in his work and welcomes more of it. 
When the phrase "playing God" is used, he replies with the phrase "playing engineer." When the "complexity of changing human beings'" DNA is discussed, he easily compares it to scientific advances such as airplanes and mechanical advances. 
As the mother of a 19-year-old daughter with Down syndrome, I see this with different eyes. We had at least one relative on one side of the family with Down syndrome. Does this mean my husband and I would have never been allowed to meet via the app? Would our daughter with Down syndrome be allowed to meet anyone on this app? Would her sister be hindered meeting people on this app?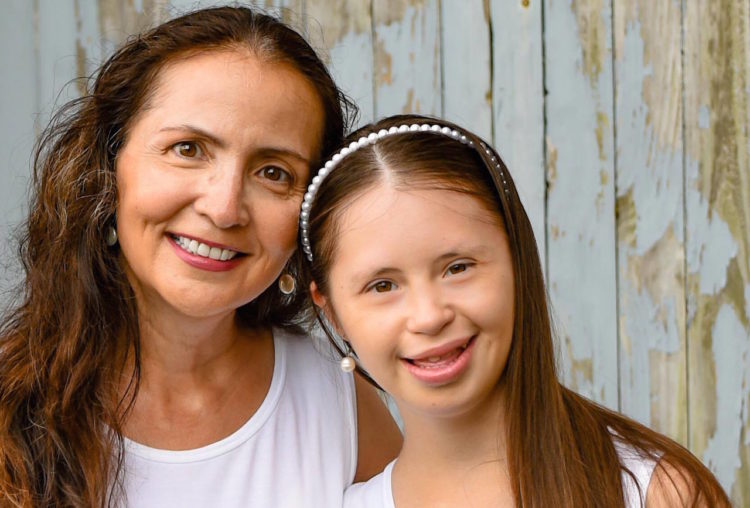 I thought of my daughter's first "crush" in kindergarten named Blake. Blake did not have a disability. What if they grew up together and wanted to be married? If apps like this were normalized, would this be frowned upon?
As my mind was spinning watching the "60 Minutes" segment, I thought of the movie, "Mr. Blue Sky," which shows a man falling in love with his friend, a woman with Down syndrome. You may think a relationship like that is absurd or impossible. A young Syrian dental school student named Sadar Issa is proof that these kinds of relationships are not only possible, but they can produce happy and successful children. Sadar's father, Jad, has Down syndrome. His mother does not. 
While I knew that for my daughter Blake was a temporary childhood crush, it was also a lesson that we truly do not know who our children will end up with in the long run. People deserve to find love, regardless of the genes they carry.
I also worry about a new type of eugenics. One in which only "certain disabilities" are deemed acceptable. Where people go out of their way to avoid having a child like my daughter. Where will this slippery slope start and end? Will the sad, but true, hierarchy of disabilities come into play when this app is programmed and fine-tuned? Will IQ be a large factor determining who is worthy? Even though there are serious flaws with traditional IQ testing? Are we playing God when we literally deny people the chance to even meet based on genetics?  
There is so much to consider with just this one tiny part of Mr. Church's work. But one line from "Mr. Blue Sky" brings me back to earth, and gives me hope. "It's about time we start seeing people for who they are, and not who we think they should be." I hope the researchers at Harvard remember this.
What are your thoughts on a dating app like the one Mr. Church is working on? Let us know in the comments below.
See more of Greta's work on her Born Fabulous Podcast.
Lead image via 60 Minutes
Originally published: December 12, 2019