7 Common Sense Ways to Improve Education for Kids With (and Without) Disabilities
---
My daughter just graduated, and I am going through all her older work to see what needs to be tossed out. I came across this worksheet. Sheets like this are used from K-12 in all subjects.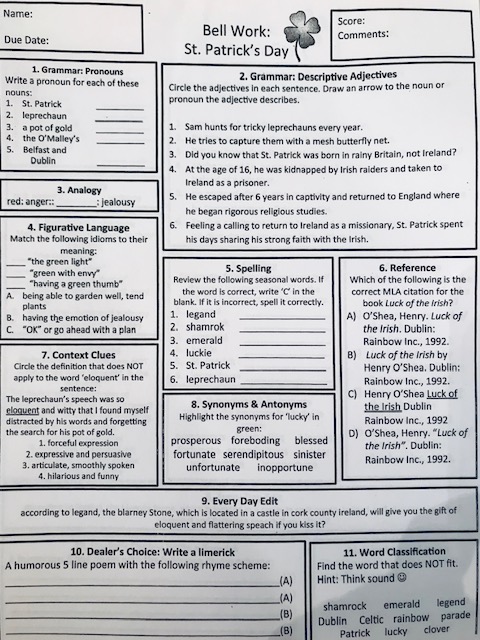 Even great teachers are not perfect. I have had sheets like this come from some great teachers. The fact that their paper and copies are rationed does not help — many feel forms like this are efficient.
They are far from efficient. They are a nightmare for many, with and without disabilities. This "Bell Ringer" is how some students start out the class period. Imagine such a confusing form with such tiny text and minute spaces to write in. That's how you start class?
Estimates are that at least 20% of all students have dyslexia. Add on intellectual disabilities, processing disorders, ADD, other disabilities, vision issues such as cataracts and more, and you see a large percentage of students are greatly impacted and disadvantaged with formats like this.
Most states in the U.S. have standardized testing that students must pass. These standardized tests have benchmarks and practice tests that students take periodically to be ready for the spring tests. These practice and actual tests are clearly spaced, have easy to read print and clear graphics. Education experts know clear presentation must be a part of all standardized tests. Then somehow that same knowledge goes by the wayside in everyday classes.
Now we are in a new age. Virtual learning is becoming the new norm in K-12 and college — at least for this critical time of the pandemic.  While our educators are trying to navigate this transition to online learning, let's challenge teachers and all administrators to rethink everything they do. Use this time to begin a much-needed transformation in education, not just to get by.
1)  Starting with textbooks. Many students learn better from paper books. Textbooks are assembled, approved and purchased by experts. We need to start using them more. In my daughter's K-12 experience she only had one class use a textbook diligently, and that was Latin I her senior year. A great teacher combined with a great textbook made what may seem like a tough topic one that my daughter with Down syndrome and cataracts loved and excelled in — even after school shut down. Math all these years would have been so much easier to pre-teach and help with at home if they had used textbooks diligently. I won't go on, but I know many teachers agree. It is ridiculous to have them reinvent the wheel for each subject, instead of letting them use their creativity to enhance textbook basics.
2) Diligently using textbooks in paper, and online, would help with remote learning. Families or other support trying to help would not be so lost. They may have to brush up on their skills in a certain subject and would have a clear way to do that. Students would have a clear way to catch up if they have to miss one or two sessions.
3) Online games and practice quizzes can be an optional way to support learning. However, teachers need to be aware many of these are often timed. This is not great for many students. For those students, just the idea of that clock going inhibits them — even when they could answer in enough time. Others truly need more time to process. Formatting again needs to be considered. Just because something is online does not mean kids will love it. So deliberate thought about which online games and quizzes you use would help students practice and be successful.
4) Paper. The act of writing notes and material on paper has been shown to have more retention benefits.  Using textbooks would make this easier as students could literally copy from and work from books. Teachers need to be mindful of sending online homework that needs to be printed at home. Not everyone has access to printers or can afford $100.00 a month on ink during an economic depression. Reams of notebook paper are much cheaper than printing in mass quantities.
5) Direct online instruction for students. If online learning is going to continue, I believe all teachers need to engage in making videos, having Zoom classes and offering private tutoring sessions. Special education teachers need to be equal collaborators with general ed teachers in their presentations and Zoom classes. Paraprofessionals can be a great help for families that do not know how to help their children. Speech, OT, and PT should go on virtually in therapy sessions, not just "consults" or "class consults."  If a district is going to be virtual, they need to commit and demand excellence from all. I saw too many special education experts sidelined the last three months of this past school year. That should not be allowed again.
6) Every school division should monitor how their learning is being executed. Principals and assistant principals need to make sure teachers are doing what they should and getting the support they need. This is a great time to enlist teachers who excel at online teaching to help their peers be more comfortable. This is also a time where teachers who do not try, who are not compliant should be noted. Excellence needs to be rewarded, and the rest encouraged, with the worst being clearly documented.
7) Connection matters. A high school history teacher spent weeks this past March and April tracking down every student to make sure they were OK, and that he had a way to connect with him. This was extraordinary. It should be happening more. I will never forget those who directly reached out to us from our school division last spring. Parents and students need that connection.
Some very dedicated teachers in Massachusetts formed MatchUs when the pandemic closed down schools. They enlisted teachers across the country to volunteer to help students and families who needed support, all over the U.S. Many of these families had students receiving special education services. MatchUs plans to help again this fall. Thank you to the four rock star educators who started this initiative that arose out of great need.
It would bring so many great joy if this ridiculous form was posted everywhere as the mantra of what not to do, and was a reminder to think more deeply about materials that are used with all students, not just those with IEPs.
Every single school district is in my prayers now, as they hold the weight of the world on their already tired shoulders. Praying for smart decisions everywhere for all.