The Moment That Revealed My Son's Potential — and My Own Shortcomings
---
I enter the school gymnasium sheepishly, not sure how I feel about coming to watch the kindergarten program. I have my youngest in tow, and we settle into a chair on the far aisle, just in case I have to make a quick exit. All this talk of inclusion is fine until you're faced with the anxiety of wondering how your child is going to fit in, on stage, in public.  Then it becomes nerve-wracking.
I don't know anyone in the school, and I wonder if the other parents know the child with special needs belongs to me. I look around and wonder what they are going to think when they see my son in the group. A shameful thought now, but it takes time to settle into the journey.
He enters in line with the others as he is supposed to, and takes his place on stage. He seems slightly behind during some of the songs, but so far so good. We may make it through.
But then, almost at the end of the program, out of line he steps, and begins to cross the stage. I knew my son couldn't do it. Removing my youngest from my lap, I move toward the stage to grab my escapee. But before I can reach him, he stops in front of the microphone.  And clearly, and proudly, he says, "Thank you for coming to our show.  God bless America."
Three children had a speaking role in the kindergarten program that day and my son, Davis, was one of them. His teacher, Mrs. Bernard, had given Davis a role of responsibility. I had underestimated him. I had not expected the best. I didn't think he fit in. She knew he did.
I will never forget that moment. It was filled as much with my own shortcomings as with my son's potential. I hope I am not the mother I was back then. I pray that in the intervening years I have come to expect center stage, equally, for all children. I know for sure that now when I look out at a group of children, I no longer see the boy with Down syndrome in the mix, I just see Davis. And for that, I thank Mrs. Bernard.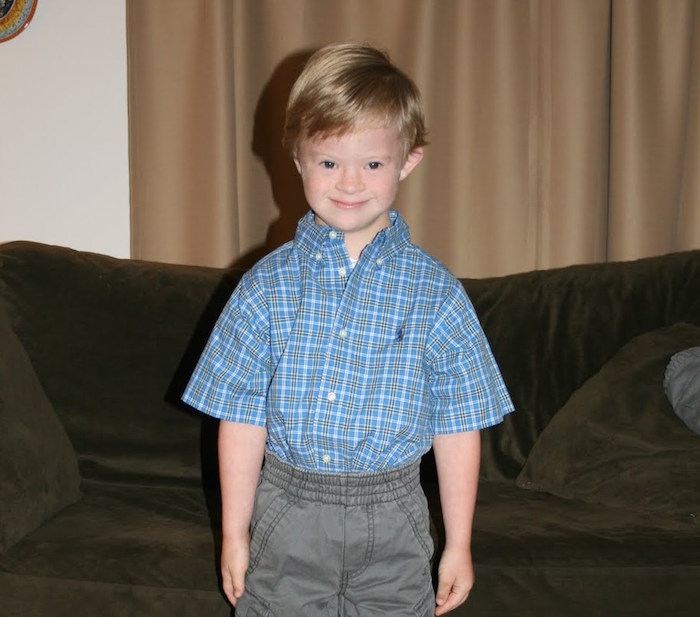 RELATED: What's One Thing You Wish People Knew About Down Syndrome
The Mighty is asking the following: Describe a moment you saw your child's disability and/or disease through the eyes of someone else. If you'd like to participate, please send a blog post to community@themighty.com. Please include a photo for the piece, a photo of yourself and 1-2 sentence bio.
Originally published: May 5, 2015