The Emotion I Try to Conquer as a Special Needs Mom
---
While dreaming of being a mom, I imagined lavishing all my love on a wee one. I'd dress her in frilly dresses, make pancakes with her and talk like best friends. Never having had children, I didn't know what to expect.
I found out having a son (yes, I had a boy instead of a girl) is like having my heart live outside my body. I never knew my emotions would be so tied to my child. What happens to him feels like it's happening to me.
Those feelings can be amplified when you're a special needs mom. There are the euphoric emotions of love, joy and happiness. Then there is the emotion many mothers attempt to conquer: fear. This is my battle. I found myself yesterday clutching my arm in a tight grip. I loosened my grip and realized my anxious thoughts had a hold on me, literally.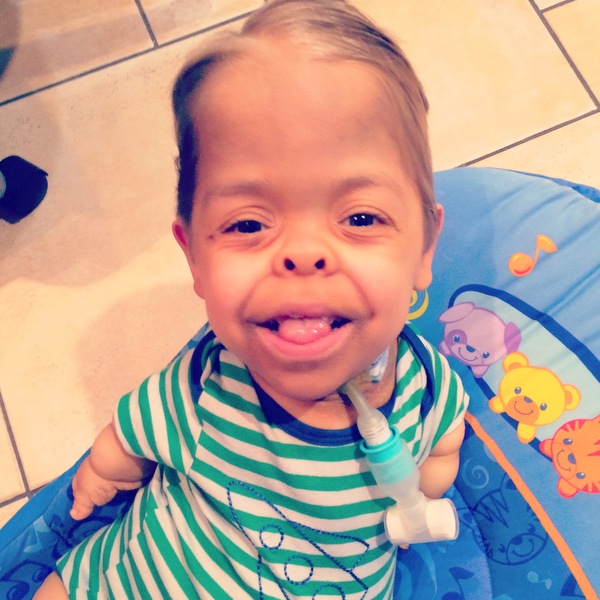 My son's allergy/cold symptoms are the source of my anxiety. An allergy or a cold in most children isn't cause for grave concern, but when your son's primary challenge is respiratory, this momma's heart goes into overdrive.
Memories flooded back to the last time our son had a cold. Sleeping through the night was replaced with suctioning, breathing treatments and medicine in precisely timed intervals. We slept in the living room with all of our clothes on in case we had to rush our son to the hospital in the middle of the night. I shudder even writing about it.
So the runny nose, suctioning, breathing treatments and extra oxygen occupies my mind while remembering that night so long ago. Then a thought occurs to me while I'm in the kitchen. Why am I letting this past event create such fear in me? My son's symptoms aren't like they were that night. I need to stop living in fear and live in the moment instead. I let out a deep sigh.
I can do this. Release the fear and embrace the moment. Wipe his cute little nose, suction and simply love on him. I've been reminded of that a-ha moment in the kitchen several times, bringing much needed calm to my heart.
I wish I could tell you fear was completely banished from my thoughts, but that wouldn't be true. I still hold my breath when he cries inconsolably and check to make sure his nose is running clear. But like a good piece of chocolate that needs to be eaten again and again to remind you how good it is (that's my story and I'm sticking to it), I need to be reminded to live in the present.
Follow this journey on Miracle Mann.
Originally published: September 23, 2015