Demi Lovato Shows Her 'Flaws' on Instagram to Spread an Empowering Message
---
Demi Lovato — who literally sings in one of her songs, "What's wrong with being confident?" — has always tried to be a "body-positive" role model. But as someone who was pushed into the limelight at a young age while struggling with an eating disorder, she's not without her share of body image struggles or moments of mixed messaging. For example, some fans weren't happy when she used her platform to promote a brand of detox tea or when she posted a "before-and-after" picture — which is typically frowned upon in the eating disorder community.
But the singer has said she's focusing on learning to love her body in 2018, and an Instagram story she shared on Thursday night seems to suggest her resolution is still intact.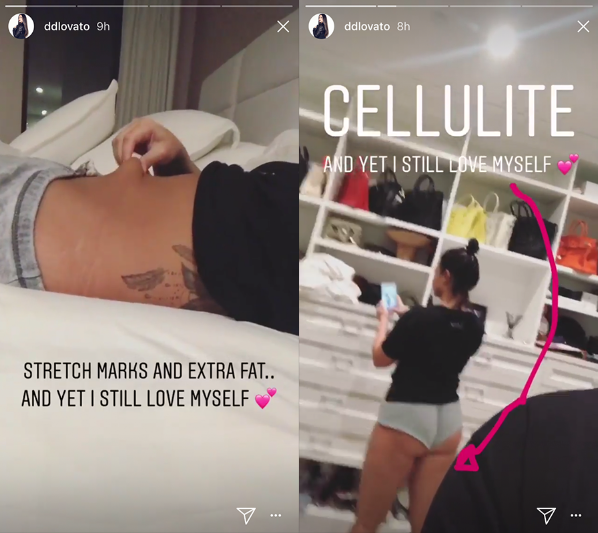 In her story, Lovato pointed out "flaws" on her body  — or at least flaws by society's standards, like cellulite or a lack of "thigh gap" — and accompanied the photos with the phrase, "And yet I still love myself."
"What you see on Instagram isn't always what it seems to be," she wrote. "Let's embrace our real selves. #Iloveme"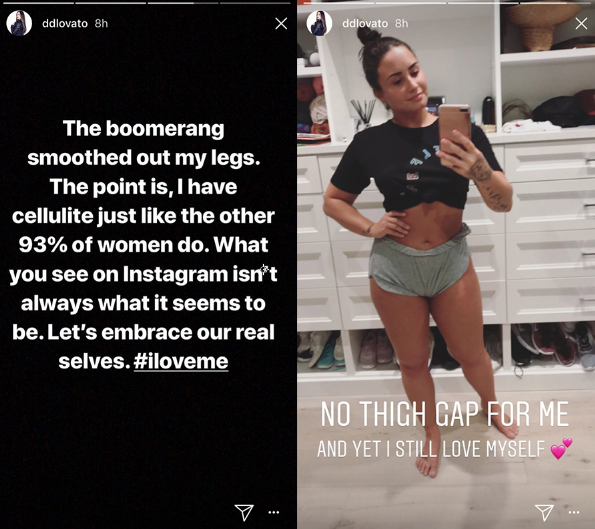 Inspired by her message, some fans have shared their own #Iloveme picture, explaining what Lovato's Instagram story means to them.
#iloveme @ddlovato thank you for showing us how to be confident in ourselves pic.twitter.com/oVNjAcD5b2

— Adrianna (@ayeeedreanna) April 6, 2018
Social Media has morphed our minds to only show what we consider "perfect". The true you is the most beautiful thing in existence.???? #BodyPositivity #ILoveMe @ddlovato @BurnTheStigma pic.twitter.com/ZS4FcsGwX9

— Justine Payton (@JUSTINEP123) April 6, 2018
#iloveme pic.twitter.com/x3NtV7dTRf

— 스시 셔이 ???????? (@shay_shaysoshy1) April 6, 2018
We all could use a little more self-love in our lives. Thanks, Demi, for starting the conversation.
Images via Demi Lovato's instagram
Originally published: April 6, 2018