Google Maps Pulls Calorie-Counting Feature After 'Strong User Backlash'
---
Editor's note: If you live with an eating disorder, the following post could be potentially triggering. You can contact the Crisis Text Line by texting "NEDA" to 741-741.
Google Maps discontinued a new feature Monday night, that showed users how many calories they could potentially burn by walking. The feature, previously available in its iOS app, also told users how many mini cupcakes they could eat in exchange for the calories they burned.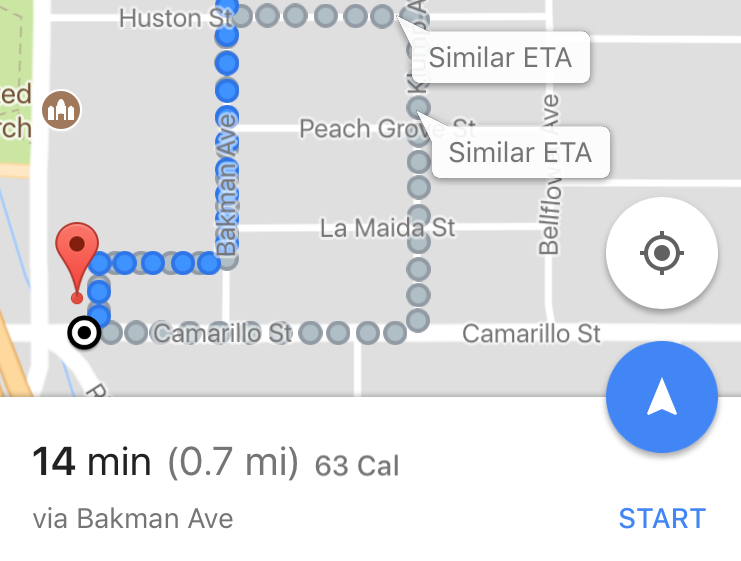 If your destination is relatively close by, Google Maps gives you the option to walk. This route to a nearby Starbucks would supposedly burn 63 calories.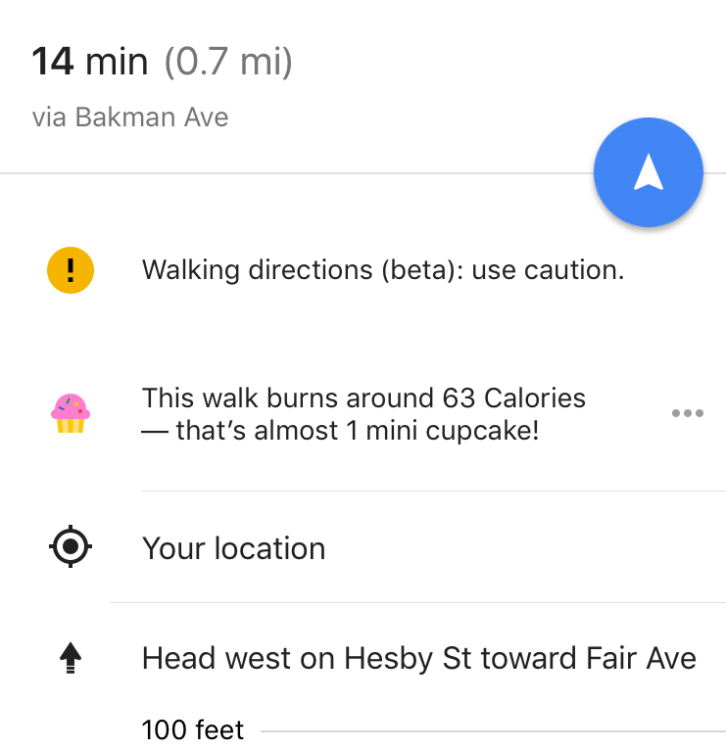 On social media, backlash came from users who said the feature was body-shaming and judgmental, as well as potentially triggering for those in eating disorder recovery.
Also these "calorie estimates" take nothing about you or ur health into account so they're just wildly inaccurate and useless in general imo

— Taylor Lorenz (@TaylorLorenz) October 17, 2017
ty for shaming me for my mini cupcake consumption google maps!!!! pic.twitter.com/nYwNHMJFqa

— Khushbu Shah (@KhushAndOJ) October 16, 2017
Anyone else feel like the google maps mini cupcake feature reinforces the idea that all exercise must be atonement for the sin of eating?

— Megan Westgate (@sosaysm) October 16, 2017
Why does Google Maps suddenly show me calories burned for walking routes (with a picture of a fucking cupcake) and how do I turn it OFF

— Anne Richard (@anneoclock) October 14, 2017
Beyond being potentially triggering or fat-shaming users, the counts are likely inaccurate since calorie counts for individuals rely more on personal information than they do distance walked. Gender, age, weight and physical activity level can all affect how many calories you should be eating or burn doing an activity.
In a statement to The Mighty, Google cited "strong user feedback" as its reason for discontinuing the feature.
If you or someone you know is struggling with an eating disorder, you can call the National Eating Disorders Association Helpline at 1-800-931-2237.
Originally published: October 17, 2017