14 Items Everyone With Ehlers-Danlos Syndrome Should Keep on Their Nightstand
---
Editor's Note
We hope the products below, all recommended by our Mighty community members, help you or a loved one in your health journeys. Just so you know, The Mighty may collect a share of sales from the Amazon links on this page. Prices and product availability are accurate as of publication.
Ehlers-Danlos syndrome means that even everyday physical movements like getting out of bed can be difficult. Fatigue, joint pain and dislocations can make even turning over in bed painful. So EDS warriors often find that it's helpful to keep their most important items close to their bed, so it's within easy reach if they need it and they don't need to spend extra energy getting up, going to their medicine cabinet or the kitchen.
• What is Ehlers-Danlos Syndrome?
• What Are Common Ehlers-Danlos Syndrome Symptoms?
We asked our Mighty EDS community to share their own "nightstand essentials." These are items they find helpful to keep either on or in their nightstand, or at least next to their bed. What would you add? Let us know in the comments below.
Here's what our Mighty community shared with us:
1. Easy Snacks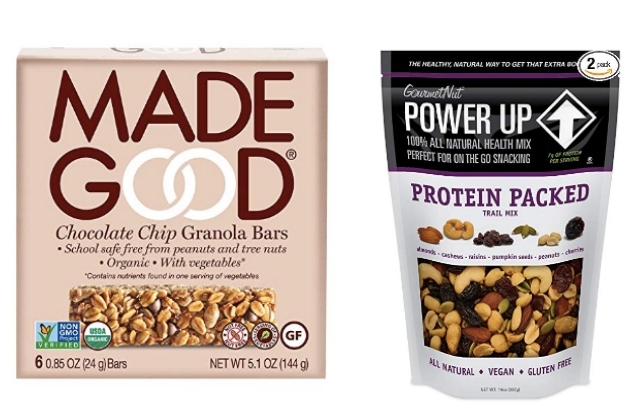 Even if you're too fatigued or in too much pain to get up and cook, you should still be able to grab a snack from bed, especially if you can't take medications on an empty stomach. If you also have postural orthostatic tachycardia syndrome (POTS), you might find it useful to have some salty snacks easily reachable.
"Long-life snacks. Sometimes you just can't get out of bed. Sometimes you need to take meds, realize your stomach is empty and don't have the spoons to get up and make food. Some medications mean that you have to eat before bed and it sucks when you're nearly asleep despite pain and realize you either wake up to eat or suffer in the morning…" Amber Bloomfield said.
Buy the granola bars featured above for $22.74 (pack of 36) from Amazon. Buy the trail mix featured above for $17.99 (pack of 2) from Amazon.
2. Insulated Water Bottle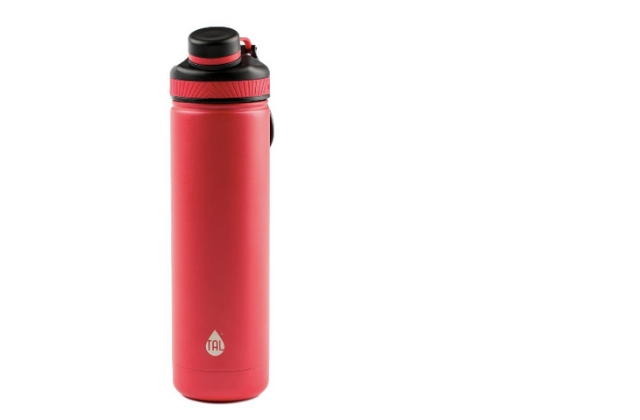 A water bottle is a must for taking medications and staying hydrated, particularly if you tend to wake up feeling dehydrated. But if you use an insulated bottle, you can also keep other hot drinks, like tea, warm for 12 hours, eliminating the need to keep going to the kitchen to warm up your beverage.
"A flask of water (so it stays cool) and another of tea! It can be a real struggle for me to get out of bed on a bad day, never mind going downstairs. So I always make sure I have access to a cool drink and a hot drink each night in case I wake up unable to move," Amy Gunn said.
Buy the water bottle featured above for $11.86 from Walmart.
3. Low-Light Lamp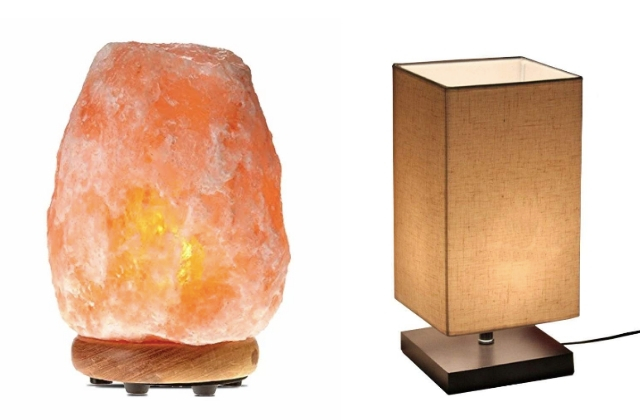 If your EDS or comorbid conditions make you sensitive to light, consider keeping a lamp that emits soft light on your nightstand, so you don't have to rely on a harsh overhead light if you need to get up during the night. Some people swear by Himalayan salt lamps for their relaxing properties; you could also get a bedside lamp with a shade in a warm tone.
"A salt lamp. As silly as it sound, it makes me feel relaxed and helps me calm down before I fall asleep," Sarah Bauer explained.
"A soft calm night lamp that isn't too hard for your eyes but still gives you light enough to see where to step at night…We don't need more clumsy accidents at night," Aili Kirste Strømeng said.
"Water and pain meds are a must! I also keep a salt lamp on so I can find my essentials at night and not turn a bright light on," Laura P HG recommended.
Buy the salt lamp featured above for $9.99 from Target. Buy the table lamp featured above for $19.98 from Amazon.
Want to connect with other EDS warriors? Download the Mighty app to ask questions and share your strategies for living with EDS.
4. Strong Alarm Clock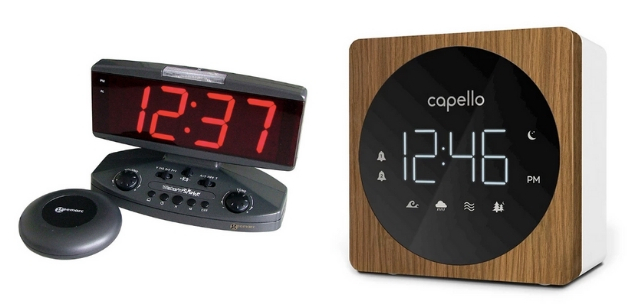 Unfortunately, there are times when you have to get up for doctor's appointments or work. On those mornings, it can be helpful to have an alarm clock that is guaranteed to wake you up, like one with a buzzer, flashing light and/or sounds that don't relax you back to sleep.
"'Wake and shake' alarm clock. I have a sleep disorder (often comorbid with EDS) and auditory processing disorder (part of my autism, another EDS comorbidity). Without this I wouldn't be able to wake up in the mornings," Gabraella Bernadette Howard-Lovell explained. "Sometimes I am unable to sleep due to pain and fatigue but this disability aid ensures I make it to hospital appointments and wake up for essential support meetings. Social services provided the equipment — it flashes, vibrates and produces a sound. All of which I can change the volume and tone of with an extra large visual display."
Buy the wake 'n shake alarm clock (left) for £41.66 from Sarabec. Buy the alarm clock (right) for $23.99 from Target.
5. Braces for Joints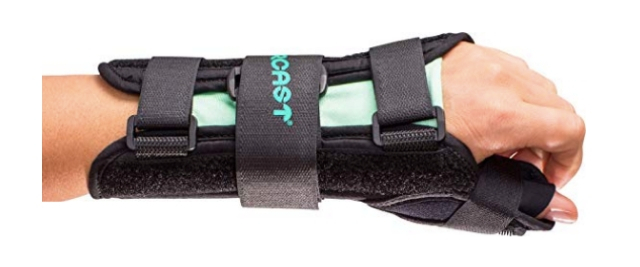 Any EDS-er with hypermobility knows the pain of trying to sleep when every time you change position you dislocate a joint. That's why it may be useful to keep an assortment of braces in your nightstand, so you can quickly grab one if the pain is keeping you up.
"I keep support braces for when my wrists keep dislocating. I do have full braces and wraps as well but I use these the most," Kaylla Renee Steadman recommended.
Amy Marie said she keeps elastic bandages to wrap her ankles or wrists if they are keeping her up.
Buy the brace featured above for $20.56 from Amazon.
6. Handheld Massager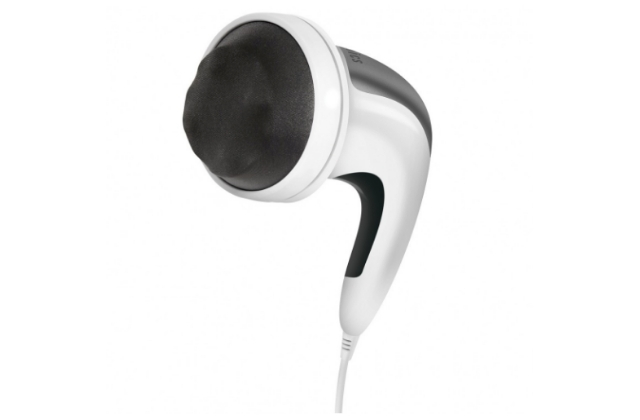 Depending on the type of pain you have, massage may be one of the tools in your toolbox that helps reduce pain. A small handheld massager won't take up too much room and can be easily used in bed.
"If you have sciatica or similar nerve issues, a handheld massager," Bloomfield recommended.
Buy the massager featured above for £29.99 from Homedics.
7. Lip Balm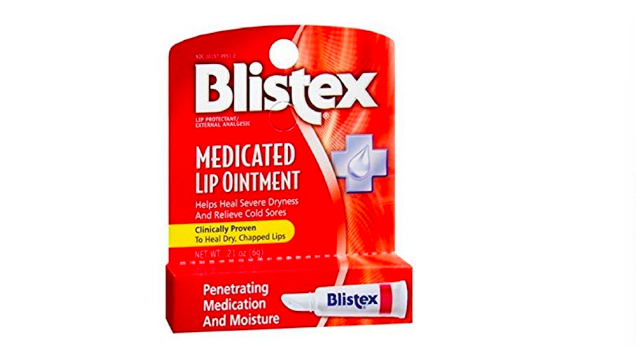 A common symptom of EDS is sensitive skin, which may manifest as dry or cracked lips. Lip balm is easy to grab in the morning and can help reduce discomfort.
"Vaseline, my lips constantly crack especially at night," Alexandra Ellen said.
"I swear by Blistex. I have the medicated balm for everyday use, too," Alesha Brown recommended.
Buy the lip ointment featured above for $12.84 from Amazon.
8. Reading Material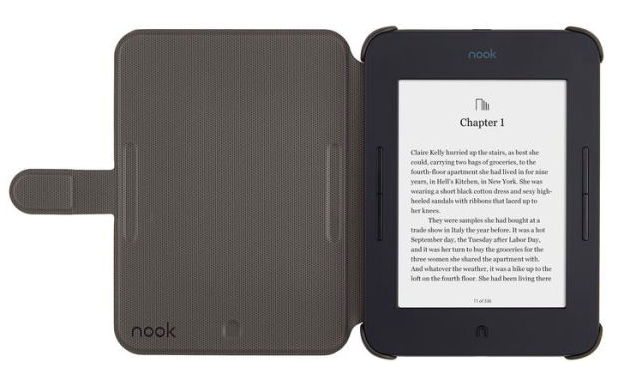 Distraction techniques may not physically treat your pain, but it can certainly help you notice it less. If you want to go to sleep but are in too much pain, reading (either a paperback or an e-reader with a gentle light) can be a relaxing way to take your mind off your pain.
"Reading material helps so the left brain stays occupied as the right brain pops things to rights or coordinate the pullies and levers of the body," Julie Deramo said.
Buy the e-reader featured above for $24.95 from Barnes & Noble. 
9. Trash Can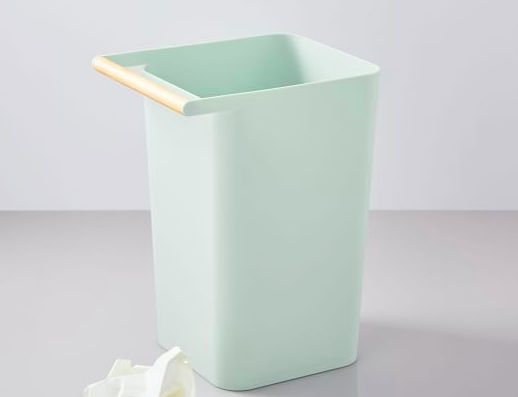 Keep a trash can (with a bag inside for easy cleanup) nearby so you can more easily discard of tissues, food wrappers, etc. It's also important for those who experience nausea and vomiting.
"My EDS manifests in my GI tract so I never know when the nausea strikes. I also keep a small trash can right next to me as well just in case if I start to vomit," Sydney Jones explained.
Buy the trash can featured above for $28 from West Elm.
10. Sex Toy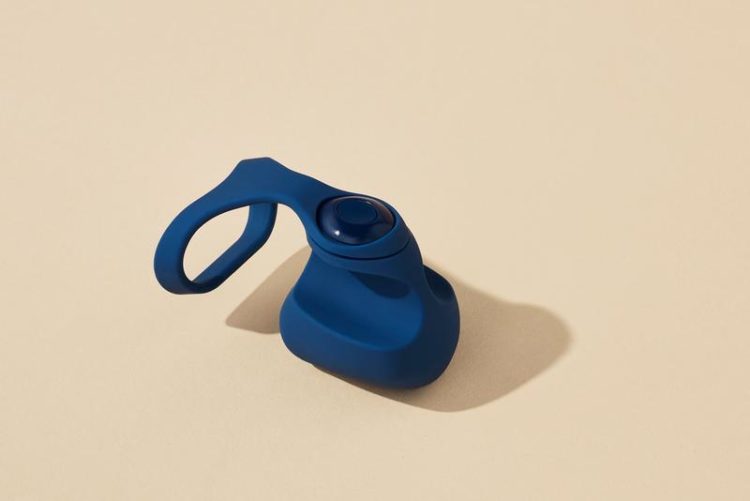 Everyone deserves to have a satisfying sex life. Physical limitations can make things more challenging, but not necessarily impossible, especially with the help of disability-friendly sex toys. Check out more ideas here.
"A sex toy of your choice. We're still sexual beings who deserve to get off, and putting your wrist out of place doing it by hand is so not worth it," Erin Bailey recommended.
Buy the vibrator featured above for $75 from Dame Products.
11. Your Favorite Topical Pain Relief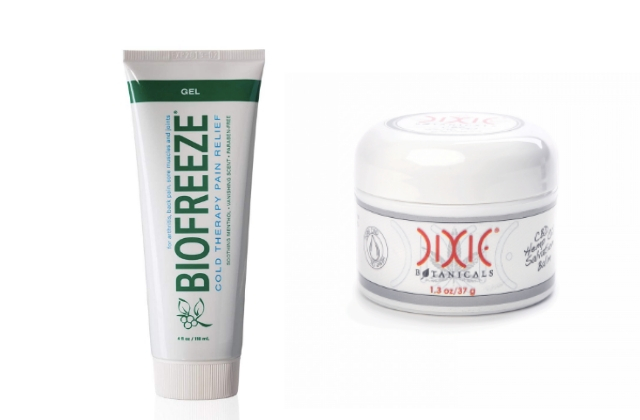 It seems every EDS warrior has their own go-to topical pain relief. Keep your favorite on your nightstand so you can easily grab it if a pain flare strikes.
"I always have water and pain meds, my TENS unit, a heating pad, my muscle stick from Perfectly Posh, and snacks," Blair Hagelgans said.
Buy the Biofreeze featured above for £11.23 from Amazon. Buy the CBD balm for $39.99 from Dixie Botanicals. 
12. Grabber Tool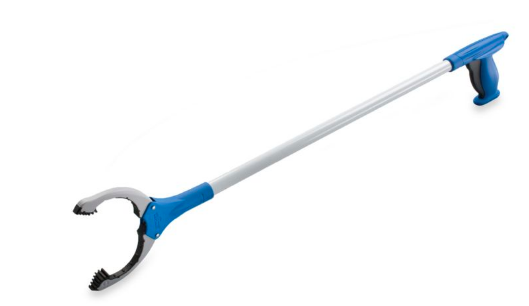 Need something on your nightstand or near your bed, but in too much pain to reach for it? A grabber tool saves you from having to get up or painfully reach.
Ashley Payne said she keeps "a grabber to reach things without much effort."
Buy the grabber featured above for $19.99 from Bed Bath & Beyond.
13. Voice-Activated Home Device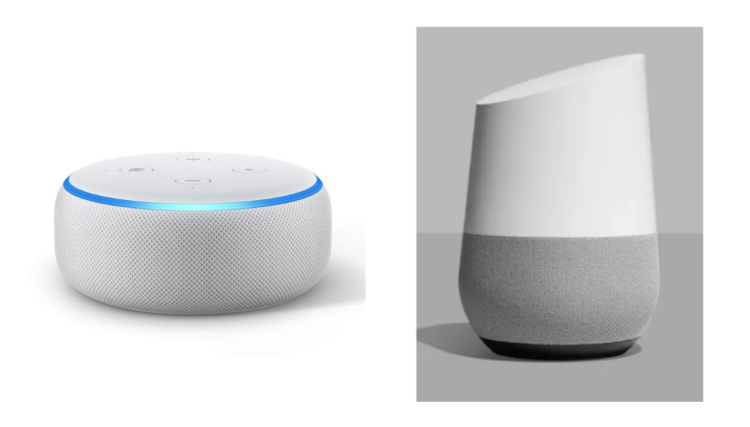 A voice-activated device that can make calls, play music, look up information and set reminders (among other functions) saves you from having to get up and even type on your phone, saving precious spoons.
"A Google Home (or similar) and other units set up in other rooms so you can broadcast to the rest of the house if you need anything or turn lights and anything else connected to it on or off," Lidia Katalin Malone said.
"My Alexa is a savior, I keep her next to my bed and I can't imagine not having one now!" Leah Rachel said. "I can even call my mum or my boyfriend on their Dots with only voice control. Amazing in an emergency!"
Buy the Echo Dot featured above for $29.99 from Amazon. Buy the Google Home $89 from Google Store.
14. Support Pillows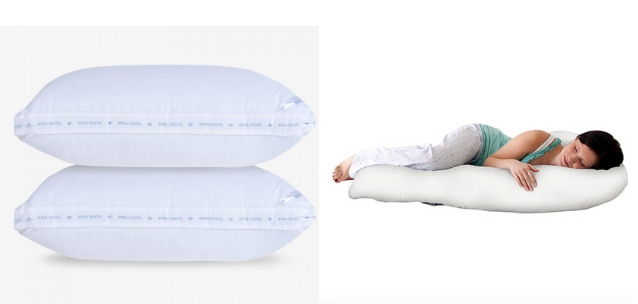 Consider pillows an essential "nightstand-adjacent" item. Have a few options next to your bed so you can grab one to support painful body parts any time of the night.
"Always [have] a stack of pillows and support ones to help stabilize my back, posture, elevate the knee, hold the neck in a position to prevent it linking up and triggering migraines," Terry Ann Harris said.
"I have a rolling desk chair I keep an extra blanket over the arm, memory foam pillow, and my laptop and lap desk on so that I can just roll it over and be ready to go," Lexi Turner suggested.
Buy the pillows featured above (left) for CAD$39.99 from Sleep Country Canada. Buy the body pillow featured above (right) for CAD$69.99 from Best Buy Canada. 
Originally published: January 10, 2019