When We Decided to Get a Feeding Tube Placed for Our Daughter With Growth Issues
---
Two months ago, we decided to have a feeding tube placed in our daughter so she could receive the elemental formula we desperately hoped would help her grow. She was small — 38 pounds at nearly 7 years old. Her growth curve started looking like the downward part of a roller coaster. More importantly, she was increasingly tired, easily fatigued and constantly felt ill. We were so blessed to have a teacher who let her lay her head down when she needed. After school she was exhausted, ready to come home and lay down, often crying with a horrible headache or doubled over with belly pain. For the past couple years this was the norm for her. She never really felt well and never really had energy. We had tried a couple little sports programs, but she never felt well enough to go, or if she did, she sat out most of the time. When she had pushed it a couple times, she ended up vomiting and dehydrated.
I have to admit that for a while I wasn't sure she would ever really feel better.  Sure, she had times and days that were better than others, but for the most part she just didn't feel well. Making the decision to place a feeding tube was the hardest decision we have ever made. What if it didn't work? What if she had some of the complications we knew could happen? What if next month she magically started growing and feeling better? What if, what if? Our doctors gently pushed us to go ahead and try. The surgeon smiled when he talked to her and told her she was going to feel so much better with the feeding tube.
So we did it.
We had the surgery. She woke up, looked at her little tummy and cried. It took everything I had to not break down. Instead, I smiled and reassured her it was going to be all right. And it was. It was one of the best decisions we ever made. Our little girl gained almost four pounds and grew a centimeter the first couple months.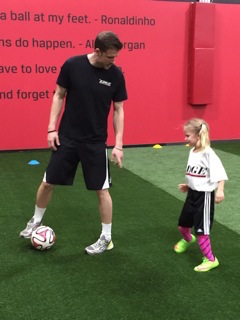 The growth is wonderful, but the change in the way she feels is nothing short of amazing. She has energy and wants to read after school. She makes it through most days without doubling over in pain or enduring a horrible headache. She is happier, she smiles and laughs more, she makes jokes and she runs! She used to sit out in PE often, now she participates and even started a soccer class. While this picture may look like any other kid after a soccer class, to me it means so much more! Her little cheeks are pink (she worked hard!) and she is smiling! She ran her little heart out in the gym and seemed to have more fun than she knew was possible.
We were so lucky to know the owners where she went for her first class. They knew all about her and how hard it was for her to be active in the past. They encouraged her and supported her in her newfound love of action! They made it so much fun and were willing to meet her where she was at — ready but weary! The pink cheeks and big smile make all the worries we had worth it. The bottom line? The feeding tube with the elemental formula has completely changed her life.
Editor's note: Any medical information included is based on a personal experience. For questions or concerns regarding health, please consult a doctor or medical professional.
The Mighty is asking the following: What's one unexpected source of comfort when it comes to your (or a loved one's) disability and/or disease? If you'd like to participate, please send a blog post to community@themighty.com. Please include a photo for the piece, a photo of yourself and 1-2 sentence bio. Check out our Submit a Story page for more about our submission guidelines.