Quietly Chronic: How Eosinophilic Esophagitis Has Affected My Life
---
When I was a teenager, I started choking on most meals. The first time it caused enough problems or embarrassment was at a dinner round my girlfriends house, with her parents. Then it started happening more frequently. It was happening with every meal – at school. I collapsed after a choking fit on my way to a bathroom, and in a rare display of altruism, my "bully" kind of saved my life and got help. Sometimes it felt like my throat was being crushed, and I just couldn't swallow – sometimes it would be a lingering, burning dry sensation. Sometimes it took me by surprise during meals.
When I spent days off sick because of this, my parents were initially sympathetic but slowly tired of the recurrent nature of the problem, and my inability to eat most any meal. My mother suggested it was "all in my head" – I wasn't allergic to any particular thing, and I was in adequate physical health, so they got to a point where they thought I may have been making it up. This didn't account for the pains deep in my throat, the catching nature of anything swallowed, the constant dry feeling, no matter how many liquids I drank.
Eventually, It was deemed enough of a problem for me to be seen by a doctor. I saw my GP, who didn't have any real answers. Just allergy tests, and consolatory shrugs. They eventually referred me to an ENT (ear, nose and throat) consultant. I was delighted to be seen. My mother was still skeptical.
After minor umming and ahhhing, the doctor seemed to have a flash of recognition for something he'd seen at a conference somewhere. He did a bit of research and emailed some of his friends from said conferences, and scheduled to see me again the same week. When I saw him, he sat me down and told me about a little-known and poorly understood condition called eosinophilic esophagitis. He then booked me in for an endoscopy – my first invasive procedure – and the only way to confirm his diagnosis.
Eosinophilic esophagitis (EoE) is a chronic immune condition. It's characterized by inflammation of the esophagus – that being the tube that sends food from the mouth to the stomach. The main symptoms are swallowing difficulty, food impaction, regurgitation or vomiting, chronic heartburn and a decreased appetite. All of this sounded very, very familiar. It is often accompanies other autoimmune and allergic diseases, such as asthma and celiac disease.
Medically speaking, the condition is down to eosinophil-type white blood cells in the lining of the esophagus. They are actually one of the components of your immune system, and combat parasites and infections – but they aren't usually present in the esophagus in such large numbers. They're usually super-active in allergic reactions – and they've decided to be active almost every time I eat.
So what does this mean? Well, it can cause the throat to stricture – so rings, furrows and ridges appear in the throat wall and sometimes cause complete closure of the throat. On a barium swallow x-ray, it looks like you have tight bands around your throat in multiple places. It looks as uncomfortable as it feels. It isn't currently curable, but the symptoms can be regulated with treatment.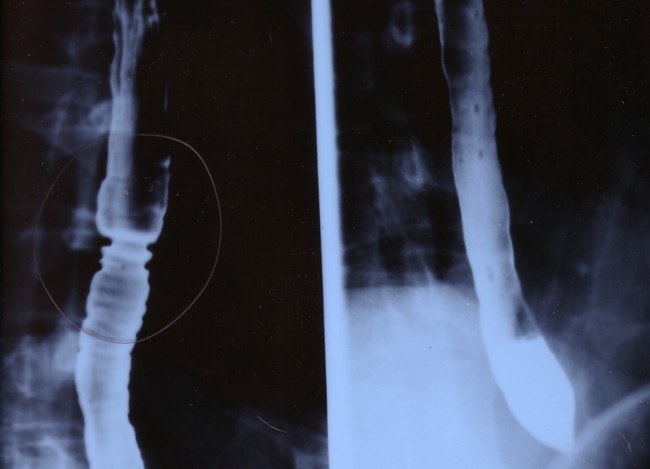 Now treatment consists first of very strict dietary change, usually through elimination to figure out which foods cause problems. Since my case was quite severe, I was put straight to the next part as well – a treatment PPI (proton-pump inhibitors) to reduce the incidence of eosinophils and steroids to control the inflammation. These are both cheap and effective treatments, but more research is currently underway to find even more effective treatments. A treatment for even more severe EoE is manual stretching of the throat.
So now, almost 10 years later, I still live with EoE. It still has a significant impact on my life, and I have often considered having the throat-stretching procedure – but I have managed to regulate it to a point where I barely have to take the medication, and it flares up less frequently, and only severely in times of stress.
The main message of this article is that if you are struggling with physical pain, no matter how internal and invisible it seems, see a specialist. EoE is one of many complex chronic disorders, and it is important for patients (and their families) to listen to the gastroenterologist or ENT specialist, and to gather advice on managing EoE and it's symptoms. You may need to have endoscopies to figure this out, but this is a painless, uneventful procedure (that I somehow managed to sleep through). You may need to consult a allergist or immunologist to find out if allergies are playing a role, and they can tell you if you need to avoid certain foods and manage related problems like asthma and allergic rhinitis. It's a pretty good idea to see a registered dietitian, too. There may be some stigma around you explaining your symptoms to love ones or teachers, but the validation of a medical professional is a surefire way to end any of that silliness.
Long story short, your immune system is just too good.
We want to hear your story. Become a Mighty contributor here.
Thinkstock photo via splendens.