A mom captured this seriously sweet photo of her son with an accommodating Santa.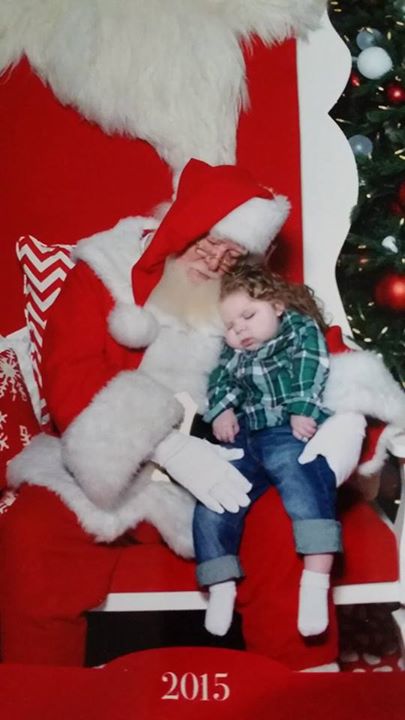 Samantha Wade took her 2-year-old son Ryland to see Santa at a mall in Ohio, but then he had a seizure right before he got to see St. Nick. Ryland has epilepsy and can have anywhere from one to six or more seizures a day depending on many factors including the atmosphere and the amount of sleep he got.
Despite being completely exhausted from his seizure, Ryland's mother was still determined that he would have the chance to see Santa. Undeterred by the fact that he couldn't even open his eyes once he was in his lap, the sweet santa decided to play along and feign sleep, allowing Wade a precious holiday picture.
Wade posted the photo to The Mighty's Facebook page on Monday. With it, she wrote:
I just wanted to share this photo. We took my son Ryland to see Santa Claus today at the mall. It was an event for kids with special needs, and it took place before the mall opened. It was very quiet and relaxing, the perfect environment for a child who needs more of a calming experience with Santa.

Ryland had a seizure before we went, and this one took a toll on his energy, but nothing would stop him from meeting Santa! When I set Ryland on his lap, he wouldn't open his eyes for anything… but Santa immediately cuddled with him and very quietly talked to him for awhile. When it came time for a photo, he pretended like he was snoozing along with Ryland, making for one awesome picture and a very memorable moment for us!

Sometimes you just gotta go with the flow, and I'm so glad Santa Claus did.
"When people see the photo, I want them to realize that just because he has daily seizures, and some really deplete his energy, we do our best to go about our day anyways," Wade told The Mighty in a Facebook message. "Whether it be running errands, visiting family, or sitting on Santa's lap, he deserves every opportunity that's presented to him and we'll do everything we can to make that happen. We refuse to keep him cooped up in the house, regardless of seizures, and if he happens to sleep through what we're doing, that's just life with Ryland, and we've learned to go with the flow."