What Life Looks Like When You Have Seizures Every Day
---

Living with epilepsy is like a dream. A surreal dream. Each new day, I can't help but wonder if everything that's happened to me is all true. I have refractory epilepsy (also known as uncontrolled or intractable epilepsy). It is difficult to control this form of epilepsy with medication. Each person with refractory epilepsy goes through their own unique ordeal. For me, every day, I experience absence seizures, which last a few seconds and cause a lack of awareness that looks like I'm "blanking out," and complex partial seizures (also called focal impaired awareness seizures), which cause involuntary movements in addition to the lack of awareness. My seizures are usually accompanied by blurred vision, and other times there are also problems with speech, sometimes preventing me from performing ordinary tasks such as walking or speaking properly.
Occasionally, I experience seizures that causes an aura such as an awkward odor like burning wires or soap; other times, I will black out and awaken to a massive headache and have to be told what happened. These types of seizures tend to be an exhausting occurrence and it takes me an entire day or two of recovery to fully recharge.
When I was diagnosed with epilepsy, I had no idea the extent it would impact my life. In order to ensure my safety, I could no longer drive myself to and from where I wanted and needed to go. Due to the amount of seizures I continued to have, I could no longer work a job outside the home. I discovered that caffeinated foods and beverages aggravated my seizure activity so I had to refrain. To sum it all up, I had to restructure my life for the betterment of my health.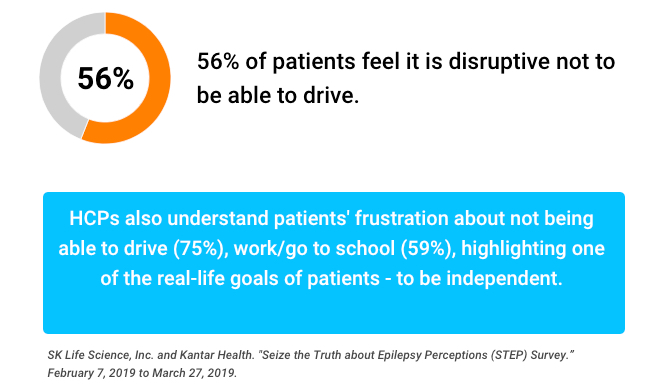 One example of how I've done this is accepting that I now need assistance to do the simplest of tasks, for example driving, cooking, or at times showering, since it is not uncommon for a seizure to occur even then. I need my husband, a family member or friend to be there with me, and sometimes take over for me as I complete these tasks in order to protect me from harm if I have a seizure. Holding sharp objects like knives when I cook dinner is a risk. And I need to be a passenger rather than a driver, which took me a while to emotionally come to terms with because I felt as though a chunk of my independence had been stolen away. There are good days and bad days — some days I have more seizures, some days I have less, some days I can get away with no seizures at all; however, I chose not to take any chances and allowed help into my life. I could not understand why this condition had entered my life and why I was left to pick up the pieces of an existence that had been flipped upside down.


Rather than shut down and give up, I decided to fight back. I visited websites, reached out to others who are affected by epilepsy (patients, family members, friends and caregivers) on social media, and had extensive conversations with my doctor. This motivated me to research my epilepsy and learn how to live the best life I could with this condition. I discovered that it would be a long and trying road forward. Several hospital visits, tests such as MRI's, EEG's and VEEG's, medication changes and dosage adjustments worked for a period of time and then failed.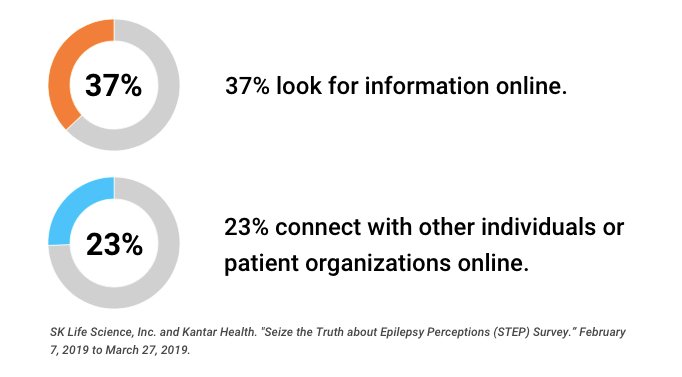 Though determined, I also felt somewhat like a hindrance to my spouse and family, who so lovingly stood by my side and went out of their way to help me throughout the tireless process to halt my seizures. I was comforted to hear them say that being a hindrance to them was absolutely not true and they would go to the ends of the Earth to help me rid this "unwelcome guest" from my life.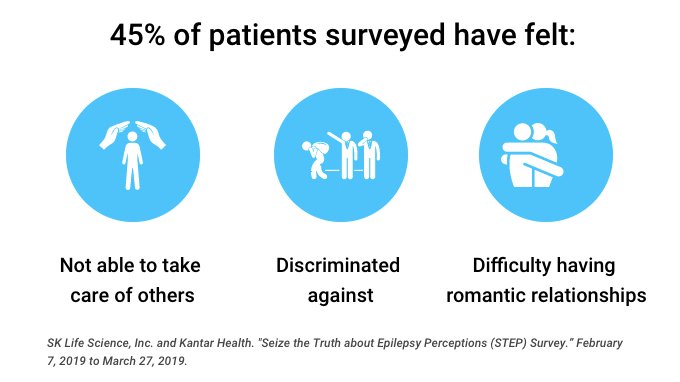 Still, to this day, after undergoing several tests, medication changes and adjustments, my seizures persist. Every single day. Epilepsy may be difficult to control. Some people with this form of epilepsy do indeed find the right combination of medication that works for them. Some find the right therapy, such as brain surgery, vagus nerve stimulation, responsive neurostimulation, medical cannabis, the ketogenic diet, etc. I am not a candidate for brain surgery; however, I do have the other options listed above that I can try. There is hope yet.
Having epilepsy is not something I anticipated, but it has helped make me stronger and wiser. Though taking handfuls of medication morning, noon and night, in an attempt to hold back my seizures, can be daunting, I am reminded of how far I've come and feel optimistic about what lies ahead.
I encourage all who are pausing to read this article to know that a stumble in the road of your journey is not the end. Let it empower you to continue forward with more determination and courage. You are not the only one taking on this challenge. All of us with epilepsy walk with you.
Despite the fact that I have epilepsy and I know that it is a tough uphill battle, requiring me to continuously search for ways to calm my seizures when medicines don't always work, there are still options and that gives me hope. I will never ever give up.
I hope that this helps other people living with epilepsy. Give it all that you've got and don't ever give up.
To find out more results from the epilepsy community survey, download this new infogram based off findings from a new national survey, called "STEP: Seize the Truth about Epilepsy Perceptions",1 conducted by Kantar Health and developed by SK Life Science, Inc.: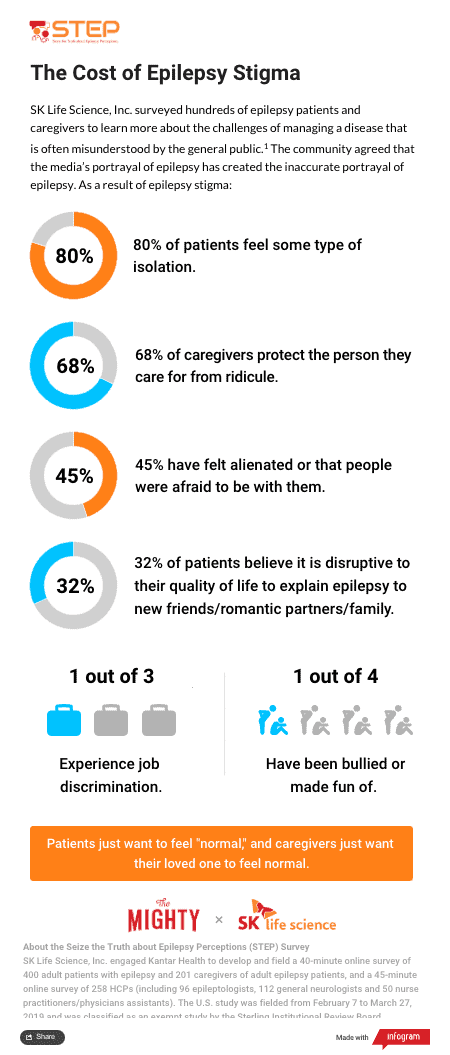 ______________________
1 SK Life Science, Inc. and Kantar Health. "Seize the Truth about Epilepsy Perceptions (STEP) Survey." February 7, 2019 to March 27, 2019.