6 Years Ago, a Phone Call From Our Pediatrician Changed Our Lives Forever
---
"I should come over and talk about the test results in person," our son's pediatrician said over the phone that Sunday night in January, almost exactly six years ago. I knew what his words meant, and I collapsed on the stairs in my parents' house, where my son and I were staying for the weekend while my husband was away.
The rest of the evening is a blur with pockets of clear memories that stand out. I called my husband to tell him the news — that our son had familial dysautonomia (FD), a genetic disorder which has affected less than 700 people worldwide. My father drove my son and me back to our apartment, and my sister called to let us know they were there for us for whatever we needed. We were entering unknown territory and only knew that it wasn't someplace we wanted to be.
During the next few days we began to gain more knowledge about his disease — some things positive, some things heartbreaking. He would be delayed, his lifespan would most likely be shortened, he would have constant medical concerns. But we were told that he is made up of more than his FD genes – he has our good genes too.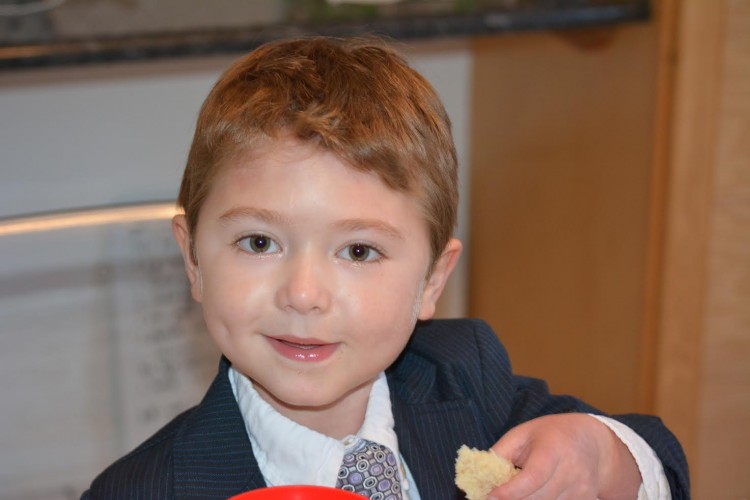 I don't know if we would have been able to hear this advice six years ago, but I wish we would have somehow understood that we had to both trust others and truly trust ourselves. We've grown to trust other FD families, who are the only ones who go through what we go through, even though each child is different. We've learned to trust therapists and doctors and those with opinions who think outside the box. We've learned that we would be our son's best and sometimes only advocate.
We learned the hard way, time and again, that we shouldn't always follow what experts recommend or insist upon. We were comforted and reassured and guided, sometimes down paths we didn't want to take. Time and again we had to regroup, reach out for help, listen to our instincts and forge our own way. It's possible that no matter how we heard this lesson, we wouldn't have learned it until we lived it.
Our son has grown into a smart, loving, funny and sociable kindergartener. He has more than his share of bad days but is learning to trust himself in understanding how he feels. We know that with the level of love, support and knowledge we have now, his future will remain optimistic, and anything will be possible if we trust in him and in ourselves.
For all of January, The Mighty is asking its readers this question: If you could go back to the day you (or a loved one) got a diagnosis, what would you tell yourself? If you'd like to participate, please send a blog post to community@themighty.com. Please  include a photo for the piece, a photo of yourself and 1-2 sentence bio.
Want to end the stigma around disability? Like us on Facebook.
And sign up for what we hope will be your favorite thing to read at night.