Chronic Spotlight Series: How Dr. Robert Katz Has Improved My Life With Chronic Pain
---
Who is Dr. K.?
Many of you have asked to hear more about him since my first post about my "secret sauce." Grab your shades, because after over a year of your questions, it's time to bring this lifesaver into the spotlight.
For those of you who are new to this series, let me give you a little background. I have seen 10 – yes, 10 – rheumatologists since being diagnosed with fibromyalgia, chronic fatigue syndrome, Sjogren's syndrome and now, rheumatoid arthritis. Nine of those doctors told me to take x, y and z meds, quit my job and accept my new life.
Then there was number 10, Dr. Robert Katz, rheumatologist at Rush Hospital.
I'll never forget our first visit. By this time, my ever-present optimism had become worn and frail from doctor after doctor guaranteeing an imminent downward spiral. I had been strongly discouraged from having expectations of living a "normal life," and I was starting to lose hope. I was close to defeat, exhausted and on the verge of an ugly cry, when after my exam and confirming my initial diagnosis of fibromyalgia, Dr. Katz looked at me and said, "I can help you get your life back."
I choked back an ugly cry, but this was for a totally different reason: I believed him.
Before I go on, I bet you'd appreciate a few fun facts about the man with the plan. Here are a handful – if your name is Inigo Montoya.
Robert S. Katz, MD
– Professor of Medicine at Rush Medical College and Northwestern University's Feinberg School of Medicine
– Leading expert in the field of rheumatology, with experience in both research and patient care
– Named in the U.S. News and World Report's Top Doctor rankings, considered to be among the top one percent of doctors in his specialty nationwide
– Included among the top five percent of United States physicians according to his website
– Selected as a Top Doctor in Chicago by the International Association of Healthcare Professionals
Dr. K. has since delivered on his promise. Because of his approach, I've been able to hold on to who I was… who I am… I've been able to keep my full-time job, travel (for work and play), stay on the board of Bright Pink and share my story on stage, in this blog and in my upcoming book. One more thing, and most precious to me, is my marriage. Now, don't get me wrong, there are very dark days because of my conditions, but because of my treatment with Dr. K., we've kept the strain and stress that chronic illness has on my marriage at a manageable level.
Not only is he an exceptional doctor and human being, he's also proof that not all practices are created equal. I want to share what a visit to Dr. K.'s office looks like with you. If you're not happy with your current medical team, I hope this inspires you to keep looking for better help and never, ever settle.
From the moment you enter his office, a soothing feeling washes over you. Something about the space assures you that you're going to receive amazing care here. Maybe it's the warm colors and the beautiful Buddha carving that's so calming to the nerves. It may be the stacks of books and cushy couches, or it could just as easily be Blanca, who greets you as a friend and who's helpful and knowledgeable as you fill out the patient papers she's passed to you. She gently encourages you to "over-share" so the team can see you from every angle.
Once in the exam room, Jessica, Dr. K.'s nurse, pays you a visit. With compassion and care, Jessica goes through your paperwork, listens intently and takes a lot of notes. She's easy to talk to and open to conversation about any symptoms and offers her expertise right from the beginning. Never once have I felt rushed or worse, not believed.
Soon following, you meet the Grand Poobah herself, Alice, a.k.a. my guardian angel. Alice runs the entire office, assists with Dr. K.'s work and is basically a magical being. She knows how much I dislike going to the doc (I don't like the reminder of my many conditions) and makes any uncomfortable situation comfortable. She takes sincere interest in both my husband and I, and she knows how to brighten my visit — every time. And her knowledge about chronic pain, fibro, Sjogren's and RA is unparalleled.
Now for the finale of the visit — the man, the myth, the legend — Dr. Katz! He walks in the exam room with a huge smile on his face. You would never know by his demeanor that every exam room is filled and there are quite few patients in the waiting room. He's cool as a martini.
He walks you through your pain chart which looks like this,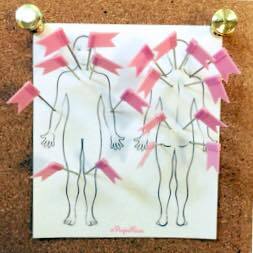 and begins to talk about new treatment options. This happens every single visit. Why? Because Dr. Katz is one of the three doctors who invented the 18 point trigger test. He's tuned in like no other doc I've met; even the slightest shift in pain means something to Dr. K.
This man has been treating and researching fibro, chronic pain, lupus and RA for over three decades. It's his passion and his legacy. What's so refreshing is that he's never done learning, never done trying new treatments and has never doubted my painful reality.
I shudder when I imagine my life, had I settled on any of those first nine rheumatologists. It was an exhausting journey to find Dr. Katz, but if I gave up before finding him, I would've been giving up on myself, my family and friends and my future.
I really hope this inspires you to ask yourself the tough questions. Are you getting the care you deserve? Are you making progress? Are you being believed? Because if you're not, keep looking. And don't ever, ever settle.
This post originally appeared on The Huffington Post.
We want to hear your story. Become a Mighty contributor here.
Originally published: July 17, 2017