What I Hope My Son Learned at Our Family's First Food Allergy Awareness Walk
---
My family and I participated in our first FARE Walk for Food Allergies last fall. It took place at the beautiful Oatlands Plantation, located in Leesburg, Va.
My 4-year-old son was diagnosed with life-threatening food allergies on Christmas Eve 2014. I asked some friends for advice and turned to the Internet to learn more information. The Food Allergy Research & Education (FARE) website was one of the first places I found, and I still count on them for important information and daily updates. So when I heard there was a FARE Walk for Food Allergies, I signed my family up immediately. I was excited to support their event, and to show my son how many others have food allergies, and how many others care.
I want to show him that he can be a strong, vital person and still have food allergies. I also want to show my children how important it is to support this cause and try to make a difference.
When we arrived at the FARE walk, it was cold and a little damp. But that feeling was quickly diminished by all of the love and hope I felt in the sea of participants. Hundreds of families and friends gathered, and hundreds more supported them through their generous donations. I said to my son, "Do you see all these people?" He looked around and nodded his head yes. I then told him, "Most of them have food allergies just like you. You are not the only one, and you will never be alone. You have their support, and you have the support of everyone who loves you. And that will never change." I don't know how much of his 4-year-old brain grasped what I was saying, but I will repeat it like a broken record for the rest of my life.
I think I was the most excited about the walk beforehand, but when we got there, that all changed. It was very well organized, there was a DJ playing, and many booths set up all over with information and/or allergen free food samples. We were even given a few nice t-shirts. A highlight was Mike the Magician who performed after the walk! My kids loved him. He was very funny and entertaining. Another highlight was painting teal pumpkins. The Teal Pumpkin Project is run by FARE and spreads awareness of food allergies during the Halloween season. Teal is the color chosen to represent food allergies.
You may face a long, tough road when you have food allergies. Sometimes you may feel like doors and windows are closing on you. But there is a lot of help and information out there. There is a lot of support. Many of us know what it is like to walk a mile in your shoes, and those of us who don't will walk by your side and try to figure it all out.
Every cause out there is important. Every participant will walk or run until a cure is found or awareness is spread. They will leave no stone unturned, no path untread. These walks bring us together; they spread joy and provide us with hope. They lead us towards a brighter place — a place where everyone knows about food allergies and other disabilities, and where everyone accepts people who have them.
We became a team the day my son was diagnosed with food allergies. Team Nuts About My Son. But all of us are a part of a team. It's called the human race. Let's come together and share in each others' hopes and dreams. Then perhaps the road will not seem so long, because we will walk that extra mile… together.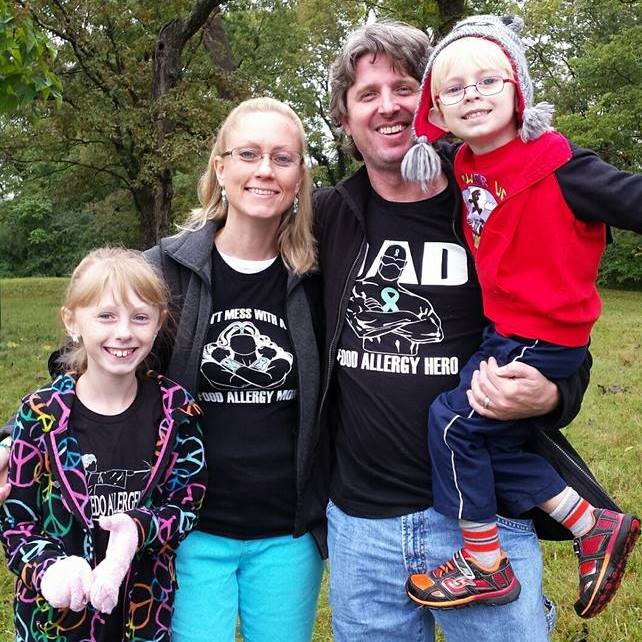 We must walk this road together,
in each others' shoes;
to try to figure out,
what we must do.

For in the end all that matters,
is the love and happiness of a child;
and for that our shoes will continue,
to walk that extra mile.
The Mighty is asking the following: Share with us an unexpected act of kindness, big or small, that you've experienced or witnessed in an everyday place. If you'd like to participate, please send a blog post to community@themighty.com. Please include a photo for the piece, a photo of yourself and 1-2 sentence bio. Check out our Submit a Story page for more about our submission guidelines.
Originally published: April 26, 2016