When My Daughter's Hospital Stay Was Unlike the 50 Other Times
---
A year ago was the most frightening day of my life. I'm just beginning to truly process it all.
My daughter, Lila, was admitted to the hospital. This was normal for her. She had over 50 hospitalizations under her belt and we were experts at being in the hospital. We knew what to expect, what food tasted best and to always request the art therapist. But it quickly became clear this was a different kind of hospital stay.
I remember the doctors calling for the medical response team because Lila became less and less responsive as her blood pressure dropped. They quickly moved her to the pediatric intensive care unit. They didn't know why, they didn't know what, all they knew was that her vital signs were going in the wrong direction. And they were not having a lot of luck fixing it. They started using words like "septic" and "kidney failure." There were so many people in that room giving orders, telling us what they were doing, following the orders others had given, talking all at once, trying to make a plan. I don't remember how most of it unfolded. I can only recapture snippets of those hours in my memory.
One snippet is holding my girl. She was quiet and moaning, barely able to talk or respond to direction. Seeing her that way made the tips of my fingers tingle, my stomach feel hollow and churning, and the whole world appeared to me like it was in a tunnel and I was on the other side.
Another snippet was the horror that surged in me when they called for the medical response team. At that time, I was a nurse who worked in that same hospital. I couldn't count how many times I had heard "medical response team" called for a patient followed closely by a "code blue" on the same patient. I was so afraid she was going to die. Starkly, bleakly. My fear must have been palpable to anyone in that room.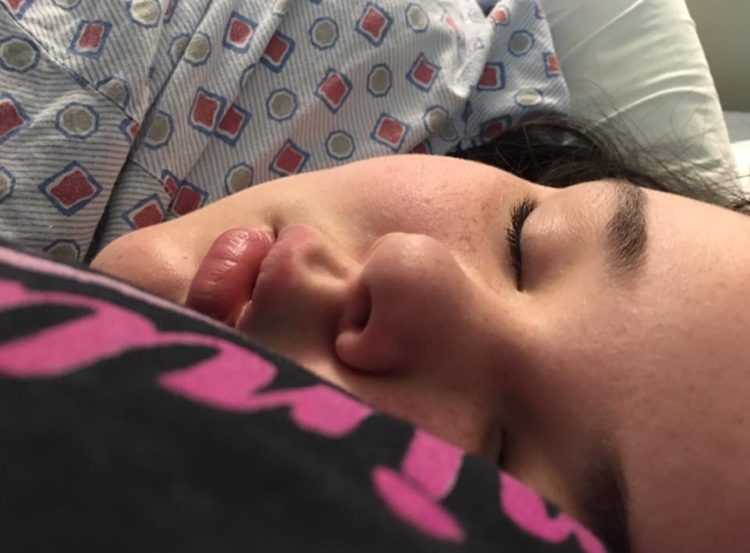 And that's what I remember the most is that total terror that I was going to lose her. It was like my whole world stopped but everyone else was still frantically moving and talking and acting. I sent desperate texts to my friends. "Pray, pray, pray. If you've ever prayed for anything pray for Lila right this minute because in all the years of all the sickness she has endured, I have never seen a doctor's face look like that."
I wrote this the next day.
Suspended.
There are places too wild and nomadic to name that break us down.
They slam us to our knees. They rip sobs from our bodies.
Fear hungers.
It is not sated.
Fierce and furious — suddenly it is all that is left.
Ravenous, it devours every thought, every heartbeat, every breath.
The careful frowns on the doctors' faces.
Her body still but for moans of pain.
The incessant beeping on which the universe hangs.
I am consumed.
There is nothing left.
Only my terror and the child in the bed on whose next breath the fate of  the world depends.
She made it of course. The diagnosis: sepsis from a common cold. That diagnosis remade our whole world… but that's a post for another time, and another day of processing.
Photo submitted by contributor.
Originally published: February 20, 2019