September's My Mighty Month Challenge Is Meal Planning
---
One of my least favorite questions is "What's for dinner?"
Whether you parent kids with disabilities, have a chronic illness or struggle with your mental health, there are days (many for me) when making dinner just seems like too much.
Tell me if this sounds familiar to you: It is 5:30 p.m. and everyone is hungry and therefore angry and crabby. My husband recently told me this phenomenon is called being "hangry." Anyway, it is 5:30 p.m. and everyone is hangry and you have no idea what is for dinner! Have you ever been there? I know I certainly have.
This is where four things happen:
1. I end up at the drive through but then I feel terrible about it because I am not making good and healthy choices for me and for my family.
2. I go to a restaurant with hangry people! And you still have to get there, order and wait for your food. The wait time takes forever and sometimes it is not pleasant, not to mention an extra expense.
3. I pass out snacks while I get something started, but then we are not eating until 7:00 p.m. Of course invariably someone might have eaten too many snacks and now they are too full, which is frustrating.
4. I pull out frozen pizza, which is a totally acceptable option, but them I have guilty feelings about not making a balanced meal for my family… again!
As a matter of fact, we used to be a family who ate fast food at least two times a week! McDonald's and Taco Bell were our staples.
Knowing that I needed to get better at this, I started planning what we were going to eat for dinner the night before. Eventually, that evolved into making a weekly menu, and the girls love to give us input as to what they would like to eat.
This month, we're asking you to plan out your meals so that deciding what's for breakfast, lunch or dinner doesn't feel like as much of a hassle for your or your family. Meal planning should match your personality. What works for me, might not work for you. The most important thing about meal planning is that it should be simple and easy!
Meal Planning Basics
If you are new to meal planning here are some quick tips to get you started.
1. Before creating your meal plan, look at your calendar. What appointments or activities are happening that week? Which days will give you ample time to make a meal and which days do you need something "on the go?"
2. Stick with staples that everyone likes or that you can easily make. It doesn't mean all your meals have to be staples, but there is nothing more frustrating than making an elaborate meal that nobody likes. Family staples tend to be easy because we are used to making those often.
3. Plan for leftovers. I love leftover days so I make sure to make enough for leftovers.
4. Fall in love with freezer meals and one-pot meals. There is nothing easier than pulling out a freezer meal the night before, sticking it in the crockpot in the morning and not have to worry about a thing because dinner is ready when you're ready to eat. (If you are looking for Instant Pot and slow cooker recommendations, check out our list of easy and delicious recipes!)
Freezer meals will make your life so much easier. What I do, and what you might find helpful, is when I make a meal, I make one for the freezer, too. That way I have one to eat now and one to eat later. You could take two or three recipes and double those or triple those. Whatever works for you! But this is a super simple and easy way to avoid running to the drive-through.
If you decide to make freezer meals, here are some ways to ensure your food stays safe:
Store freezer meals in gallon-sized plastic freezer bags and casseroles in an aluminum pan covered with layers of plastic wrap and foil.
Use freezer meals within three months of making them.
Food stored at 0 °F will always be safe. Most freezers are set for 0 °F but double check for safety.
5. Don't be afraid to plan for pizza. I have a friend who orders pizza every Thursday, it is part of her meal plan and it works. Maybe pizza is not your thing, maybe you prefer macaroni and cheese with hot dogs or you'd like to get burritos instead. Maybe the plan is to go eat out because you knew that day would be busy and you are already out. That works, too.
6. Keep it simple with "theme days." As you work on meal planning, something that you might find helpful is having "theme days." Having themes can make meal planning easier and fun, especially if you have kids. In our family, for example, we have themes for certain days. Tuesdays are either Taco Tuesday or Tostada Tuesday, Fridays are Finger Food Friday and Saturdays are Breakfast for Dinner. Not every day has a theme, but the days we do it are fun, and what's most important, it works for us!
7. While planning your meals jot down any ingredients you may need to pick up or order. I also like to write a grocery list while creating my menu.
8. Don't be afraid to recycle your menus! When I have a meal plan ready and done along with a grocery list, there is nothing easier than using it again and again. You don't have to do the same plan every week, but if you get at least two menus, having the same meals twice a month is a win!
Regardless of how you end up planning your meals, whether it is creating a weekly menu or just planning day by day, you should know every night what is for dinner the next day.
If you start by planning ahead for frozen pizza, that's OK! You planned it ahead of time, and that is the habit we are trying to cultivate. If you write it down your meals for the week, you've created a weekly plan you can use again in the future!
You can jot down your meal plans on a piece of paper or in the notetaking app on your phone. If you prefer one place to stay organized, download and print our Mighty Meal Planner.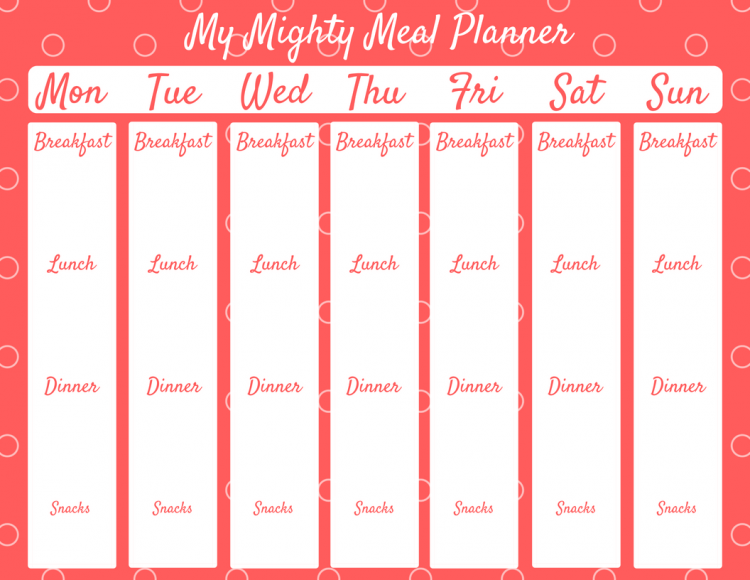 If you need some recipe inspiration, check out the minimalist baker, all recipes require 10 ingredients or less and they are supposed to be fast and easy. Damn Delicious also promises quick and easy meals.
If this feels a little overwhelming, here are some ideas to get you started (remember to keep it simple and easy):
Monday: Rotisserie chicken and frozen veggies.
Tuesday: Pizza
Wednesday: Tuna sandwiches
Thursday: Spaghetti
Friday: Breakfast for dinner
Saturday: Tacos
Sunday: Veggies with hummus, cheese and crackers
Want to make September a Mighty Month? Join us on Facebook at My Mighty Month, and don't forget to tag any social media posts or Thoughts and Questions on The Mighty with #MyMightyMonth. You can also sign up for our weekly email, (select "Mighty Monthly Challenges" from the newsletter options), and we'll send you weekly emails with self-care suggestions and reminders.
Originally published: September 1, 2018