When Life Events Bring Back the Grief of Suicide Loss
---
I have spent the past year writing a book for those impacted by suicide. The book is titled, "The Gift of Second: Healing From the Impact of Suicide." You can see a short video trailer for the book here. My hope is this book will be the best possible resource for a fellow survivor trying to navigate the waters of suicide loss. Below is a short excerpt from a chapter discussing grief:
Grief is neither linear nor does it adhere to a particular path. I created the image below to depict the manner in which I believe grief really affects us.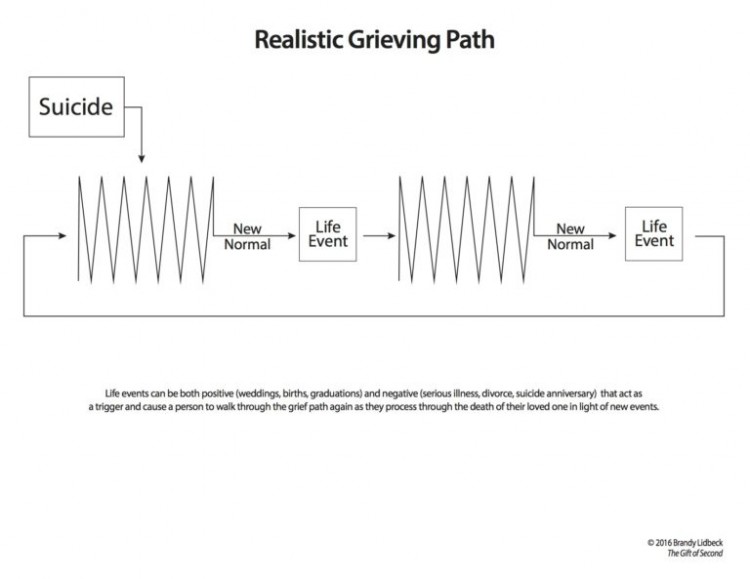 The "Realistic Grieving Path" begins with a suicide, causing a surviving individual to begin the grief process. The feelings one experiences can be overwhelming, chaotic, erratic and all-encompassing. I liken this feeling to the destruction of an earthquake. Not only can it rock our worlds and bring devastation to our lives, but it can also create cracks in our foundations, causing us to doubt all that was. The picture depicts waves of grief similar to an earthquake's seismic waves. One moment we can feel intense heartache and sadness, and the next moment we may be full of anger and rage. Always unpredictable and never convenient, walking through grief can be unbearable much of the time.
As survivors work through their grief, many of them eventually arrive at a phase titled "New Normal." This phase is labeled as such because I believe we will never return to the person we were before the suicide. How could we? This phase becomes our new status quo, the phase in which we go about our days, no longer so consumed with grief. Life begins to carry on in this "new normal" stage until a "life event" occurs. A life event can be positive — such as a wedding, the birth of a baby, or a graduation — or negative, like the anniversary of the suicide, a serious illness, or a job loss. Regardless of the event, this scenario can act as a trigger and cause the survivor to walk through the grief path again as they process the death of their loved one once more in light of the new events.
As I prepared for my wedding, I thought very little of the absence of my mom for the ceremony. Nor did I think of her at all during the honeymoon. Upon returning from the honeymoon, however, while setting up house with my husband, something seemingly out of the blue occurred. Two days after returning, my husband and I sat down to make our first grocery list as a married couple. Every idea he had for meals seemed horrible, and I began to snap at him for each suggestion. Eventually, my wise husband asked, "What is the matter? Why are you so frustrated?" Without pause and without thinking, I began to sob. The only thing I could get out between deep crying breaths was, "My mom should have been at my wedding and she wasn't." To me, at the time, (and I am sure to my husband as well) this seemed so odd and unexpected. In reality, it is a perfect example of a "life event" as described above in the "Realistic Grieving Path."
The wedding took place 17 years after my mom's suicide, and leading up to the wedding, I had been relatively unaffected by her death as it pertained to wedding preparations. The major life event, though, rocked my world and caused me to walk through the process again as I mourned my mom missing my wedding.
The events do not need to be big; they can be small, such as running into an old friend you haven't seen in years who reminds you of your loved one, or even simply hearing a song your loved one enjoyed. The idea is that events happen our entire lives, and many can trigger different parts within us to feel the loss of our loved one more fully. It is then that we must work through the death again. Walking through the grief path again by no means negates any grief work we have done before; instead, it brings to light different aspects that need more healing or attention. Grief is both cyclical and never-ending. We will never fully "get over" the suicide of a loved one, and I believe this model best depicts the reality of grief. When discussing his son's suicide, Tony Dungy, former NFL coach of the Indianapolis Colts, wrote in his book, "Quiet Strength":
"First, there is no typical grief cycle, and second, it's not something I went through. I'm still grieving."
Image via Thinkstock.
If you or someone you know needs help, visit our suicide prevention resources page.
If you need support right now, call the Suicide Prevention Lifeline at 1-800-273-8255. You can reach the Crisis Text Line by texting "START" to 741-741.
A version of this post originally appeared on The Gift of Second.
We want to hear your story. Become a Mighty contributor here.