4 Things I Learned About Grief After My Dog Died
---
Sometimes the death of a beloved pet comes suddenly and sometimes it's expected.  It can be tragic, traumatic and devastating. The loss is keenly felt and lives often change abruptly. Many of us consider our pets to be family, not "just a dog," or "just a cat."  The death of a pet can hurt as much as the loss of a relative for some people. Animals can provide you with unconditional love and companionship. They don't judge you and they are just plain happy to see you most of the time. They are ingrained in our lives and depend on us.  They give us purpose even when we are struggling with the day-to-day. I studied animal science and psychology in college — I had seen animals euthanized and knew the stages of grief. Still, I was unprepared for the loss of my dog.
My first dog as an adult came into the lives of my husband and I before our first wedding anniversary. In fact, we have a photo of my husband with our tiny pup sitting next to our year-old wedding cake top. Zoey was a fluffy little bichon/poodle mix puppy who captured our hearts. Together, we endured several moves and adventured on road trips. She was tough to house-train, but she sure loved learning tricks and happily performed them even well into her old age.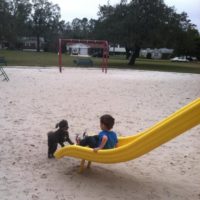 We joked Zoey was like our first child. In many ways, she prepared me for motherhood. She destroyed things I treasured and kept us awake many a night. She was so much work, but so very worth it. I learned patience. I learned to laugh even at the destruction, which came in handy after having two boys.  Speaking of our children, she was there for them the moment we came home from the hospital. Zoey welcomed our two boys when they came home with instant love. She napped with them as babies and played with them when they were older. She happily ate their spilled food and jumped into their big boy-beds. Zoey loved us all. She was a true family dog and was there for so many of our big moments. Personally, she helped me smile through bouts of deep depression and snuggled with me through challenging life moments.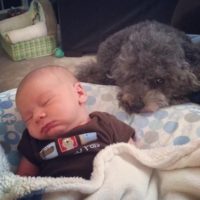 My little dog meant the world to me and I was not likely to have ever been prepared for her death. Zoey had been an extremely healthy dog for nearly 11 years when she suddenly became ill. I was out of town, but my husband was careful to follow all the veterinarian's instructions and provided me with updates. He let me talk to her on video a lot those last few days. Having studied animal biology, I knew more than the average pet owner. She had pancreatitis and her body was failing. She stopped drinking water and the next morning, she passed away in her sleep.
My husband called to tell me as I was leaving church with our two boys. To say I was devastated feels like an understatement. He did not need to say the words. I knew, and I could not control the tears. I thought I would be able to in front of my boys, but the floodgates opened and they didn't stop. My oldest son knew and told my younger one for me. Together, we cried in the parking lot 12 long hours away from home.
I became physically ill from the grief. I couldn't sleep. I felt like I was crying most of the week that followed. I kept thinking of what-if scenarios, but I never for one moment blamed my husband. He loved her as dearly as I did and cared for her in every way I would have.
In the days, weeks and months that have passed since the loss of my Zoey, I have learned a few things about grief:
1. Grief is an individual experience.
Losing a pet can leave you feeling like you've lost a piece of yourself. Your days and nights will forever be different. The routine you established with them will never be the same. The way you mourn will be unique to you and your relationship with your pet. There may be many things that remind you of your loss throughout your day. For instance, I no longer wake up to little paws scratching on my side of the bed. There is no Zoey to scoot or bang the dog bowl around when it's empty anymore. And I don't have a little black dog waiting in the window for my return home. Little moments can spark a deluge of tears.
2. Grief does not have a timeline.
The stages of denial, anger, bargaining, depression and acceptance are not necessarily followed in order.  Not everyone experiences all of the stages and we often can go through them multiple times. It took me nearly three months before I could really get the weeping under control. The emotions you experience can be intense and may come in waves. Maybe the waves feel more like tsunamis in the first few days and weeks. Over time, the waves hopefully come in slower and smaller.
3. The stages of grief are just general emotions.
Denial can be shock. Anger can be bitterness. Bargaining can be questioning yourself with the "what-ifs." Acceptance doesn't mean you've decided you are OK with what happened, it means you acknowledge your new reality. Your emotions aren't just limited to the names of the five stages. You might feel anxiety, regret, guilt, shame, loneliness, etc. Allow yourself to feel what you feel and avoid suppressing it.
4. Talk to other pet lovers.
This is a time where you should really surround yourself with friends and family that value their pets. These are your people. They will be the ones that "get it." People do not always know what to say, but other pet lovers will understand the depth of your grief. Avoid people that might minimize your heartbreak.
Unfortunately, loss is an inevitable part of loving a pet. There are ways to cope with the pain and come to terms with your grief in your own time. Do not let someone else try to dictate how you feel. Maybe when the time is right, you can even open your heart to another furry family member. For my family, our other dog's grief made me want to give her a companion sooner rather than later. Our new dog is not a replacement in any way, but she does give us a chance to love another pet.
Unsplash image by Jake Oats