The Best Advice My Mother Gave Through My Depression and Rare Diagnosis
---
May is Guillain-Barré Awareness Month and of course, Mother's Day. What a perfect time to recognize the life-changing power of the advice and example my mom gave me.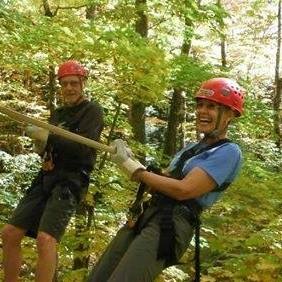 I often refer to my mom as a "little dynamo." She's a whirlwind of activity, surprisingly strong and remarkably fit, even now in her early 70s. Whenever possible she combines her lifestyle of exercise with a love of nature. She's convinced the combination of the outdoors and movement multiplies the benefits of both. She always returns from her runs proclaiming the glory of the spring lilacs, the snow on pine boughs, or the autumn colors. I didn't "get it" when I was a child, and often rolled my eyes at the lifestyle I didn't understand.
Then, when I was a teenager, I lived several years with clinical depression. This was in the late 80's when Prozac was just becoming available and depression was still not commonly discussed. But my mom knew the redemptive power of fresh air, sunshine and moving your body. She constantly tried to coax me out the door, urging me to keep moving. Though I never wanted to do it, she persisted, and kept encouraging me. I hated to admit it, but at least briefly, it made a difference. When you can hardly crawl out of bed in the morning, a walk in the woods isn't going to "fix" your depression. But it did lift my spirits a bit, and I never would have made the effort without her insistence.
Fast-forward to 2012: I had adopted the active lifestyle my mother had modeled, but I began having health problems. After a prolonged diagnostic process, I found out I had Guillain-Barré syndrome (GBS). My body had been overtaken with profound weakness and a slew of other symptoms which sidelined me for several months, but I started exercising again as soon as I was able. It was daunting to go from running a half marathon just a year prior to hobbling around the block, but I remembered my mom's insistence that fresh air, sunshine and movement could work wonders. I persisted in hauling myself out the door to move my body and get fresh air. My body responded in time. My muscles strengthened, my fatigue faded and eventually, I recovered.
My mom's encouragement throughout my life to "get outside and move," and the example she gave me by doing so herself were crucial to my recovery from GBS.
I am so proud of my strong, active, healthy mom, and so thankful for her advice and influence over me during the low times in my life struggling with depression and GBS.  She instilled a love of nature and movement in me which has sustained me through the most challenging times of my life.
The Mighty is asking the following: What is the best advice your mom gave you while growing up with a disease, disability or mental illness? If you'd like to participate, please send a blog post to community@themighty.com. Please include a photo for the piece, a photo of yourself and 1-2 sentence bio. Check out our Submit a Story page for more about our submission guidelines.
Originally published: May 4, 2016