Watching My Mom's Resilient Battle With Idiopathic Thrombocytopenic Purpura
---
Mom: a three-letter word that can consist of so much meaning and emotion.
Gulsefa Kazimoska, age 52, mother to two daughters, knows a thing – or perhaps a whole novel – about the good and the bad that life has to offer. Born and raised in the Republic of Macedonia, my mother is the oldest of four. She was the only girl in the household, so she was always being spoiled by her family in the most loving of ways.
Just as life would suggest, my mom got married as a young woman and migrated to the US. She dreamed of a better future because her homeland has been, and still is, deeply underdeveloped.
Moving to America, my mom had many positive things happen to her, but sadly, that is when she started having health issues. Initially, she was diagnosed with a kidney disease, which led to kidney failure. She was immediately started on dialysis, which made her extremely sick and required specific dietary care.
At that time my older sister, Edis Kazimoska, was in her early teens. She had to start taking the necessary care for mom. Not only that, she also had to care for me, her totally blind sister.
Can you imagine a young teenager, who is supposed to be concentrating on her education and enjoying time with friends, instead taking on some majorly intimidating adult tasks? I can't!
The difficult, but loving journey taking care of mom continued. Then one day there was a ray of hope. We found out that our grandmother's kidney was the perfect match for my mom's.
On February 24, 2000, my mom received a life-changing gift that to this day, is still going strong. Though her new kidney demands frequent doctor visits, daily meds and blood screenings, we are so thankful to our grandmother for allowing us to continue to live life with mom.
So we can take a breath now, right? Wrong! Somehow we found ourselves back in a cold, wooden box, screaming and crying with fear and hurt.
In 2006, mom became very ill once again. She had a splenectomy done because of a very low platelet count. She endured trial after trial of toxic chemo drugs such as intravenous immunoglobulin (IVIG), Rituxan, Vincristine, and so much more. Finally, we got the correct diagnosis:  she had idiopathic thrombocytopenic purpura (ITP).
After having surgery, mom was in remission until 2012. Then the monster was back, this time more aggressive than ever. Mother's case was beyond complex because she was resistant to all of the chemo-induced drugs, and worst of all, nothing would bring her count above 10,000. We needed to try everything we could to help the situation.
So there we were, once again, feeling scared that we will lose her to this dangerous blood disorder. It felt like it had taken over our entire lives.
During this time, I was preparing to graduate with an undergraduate degree in diplomacy. But I just couldn't fathom this indescribable, ugly and heart-wrenching feeling that was going through my entire body. I asked myself questions like, "Will Mom be there for graduation? Will she live to see my nephew grow to be a young man? Will she see me get married one day and meet my children?" My biggest fear suddenly became the thought of losing my mom and waking up one day, never hearing her voice again. 
Everything seemed unjust and unfair to me in the world, until one day, an innovative drug turned my frowns into hopeful smiles.
It took Mom's everlasting energy, but a few months before graduation, doctors finally put her on the Nplate. It worked its magic on mom's count, and slowly but surely, it brought her back to a somewhat stable life. It was smooth sailing from 2013 until 2016, when doctors decided to take mom off the Nplate.
She had been doing well without it, maintaining stable counts. And then our short-lived life of normalcy came to an abrupt end when she relapsed for the second time. This time around the Nplate was induced immediately. It took a long period of time for her body to recognize it and start reacting.
Transfusions, long days in the hospital, and watching her gasp for her breath were all I could remember then.
Currently, my mom is on a weekly dose of Nplate, which helps control her ITP. She still continues to face severe, ongoing issues such as diabetes, hypertension, pulmonary complications, and so much more.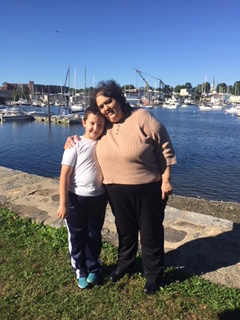 Despite all of mom's hardships, she is still here, pushing forward with her all. Though we do not know what tomorrow holds with her health, we are deeply blessed and grateful to have her with us each morning when we wake up. I could not imagine life without her.
Unconditional love and my nephew's special bond with her are just some of the little things that keep her going. She is able to find those minor specks of happiness and lean on them because to her, the little things are what matter the most!
More awareness needs to be given to ITP, and we need to raise more funds for better treatment options. I am on mission to create a change in this fatal disease, as well as many other blood cancers-disorders. I hope to one day create a marathon that is specifically geared towards ITP, and I hope it creates hope for other patients and their families.
From our family to yours, never lose hope!
We want to hear your story. Become a Mighty contributor here.
Originally published: January 25, 2017