How Step Therapy Hurts Chronic Illness Patients
---
Step Therapy requires that patients take cheaper medications, but patients cannot change until they "fail." Insurers claim that the fail first policy saves them money, but what about our health?
According to a 2015 American Gastroenterological Association study, over 10 Step Plans required medications with black box safety warnings (labels for drugs that have life-threatening side effects). This warning is the sternest alert that the Food and Drug Administration can give. If the FDA classifies these drugs as severely life-threatening, why are we giving them to patients? These insurance plans are potentially putting more than 97 million lives on the line. All for reducing corporate spending.
Under Step Therapy, my insurance plan would become my second doctor: it tells me when to change medications. Only when I fail can I change my medications. What kind of doctor would tell me that? A bad one. "Failing" for me means stomach cramps, weight loss, malnutrition and bloody diarrhea. Imagine if a company had forced me to continue the medication that was not making me better. What would I become after a month? A year? A decade?
Research has shown that the right treatment method can make all the difference. Numerous studies have shown that the wrong treatment leaves IBD untreated. Lack of treatment leads the IBD patient to expensive and extensive hospital stays — sometimes for months. Often, insurers advertise the cost effective benefits of Step Therapy, but there simply are none. High-quality therapy can make the difference between spending a month in the hospital and thriving at home. Chronic illness is so personal; there is never a "one-size-fits-all" treatment plan.
There only have been feeble attempts to change this policy. For example, the (now dead) Patients' Voice Act made room for exceptions to the Step Therapy, but it failed to take into consideration that the Step Plan only cares about company spending. Resurrecting this act would only lessen the blow on patients' wallets.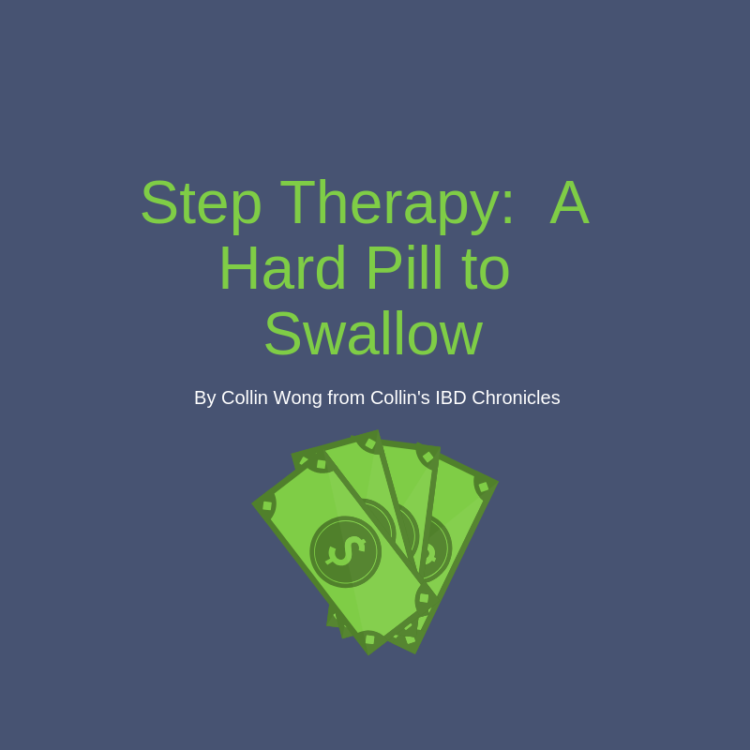 To legislators in Congress: please look out for the interest of the patients. We are important. too.
Yes, healthcare reform might not be the most important thing right now, but I still think it merits attention. I and many other patients are stuck in this system. How about we stop letting insurance companies be our doctors? Our health depends on high-quality and flexible insurance coverage.
Follow this journey on Collin's IBD Chronicles.