Inside The Mighty: Two New Ways to Help Each Other
---
I'm excited to announce two new ways to share your experiences on The Mighty. Our team has been hard at work building something we believe you'll love. And we brought it to life today.
First, a few words to set it up. I had no idea the power of shared experiences until the day my daughter was diagnosed with Dup15q syndrome. My wife and I felt lost, scared and alone. And then I found an old document online with six stories written by parents raising kids with the same rare disease. They moved me deeply. There were others in our shoes, others we could learn from, others we could lean on. I remember wanting to take them all out for beers and just listen.
Those stories led us to create The Mighty, a safe health community for people to express themselves and help each other. Over the last few years, the stories you've shared here have been read and watched more than a billion times. And we hear from people every day about their impact. Just a couple weeks ago, I wrote about this one literally saving lives.
But those stories were just the start. We heard you when you told us you wanted other ways to express yourselves, other ways to connect with people who will celebrate your high moments and support you through your low ones.
Today, we're offering you the opportunity to post your own Thoughts and Questions directly to millions of people in The Mighty community. It's a really simple way to share your experiences that bring so much value to others. Ultimately, that's what we're after. The Mighty is a place to help one another. We hope these new features will make it easier to do that.
I can't think of a better way to show the real value of Thoughts and Questions than Kat did here, on the first day we tested the new features.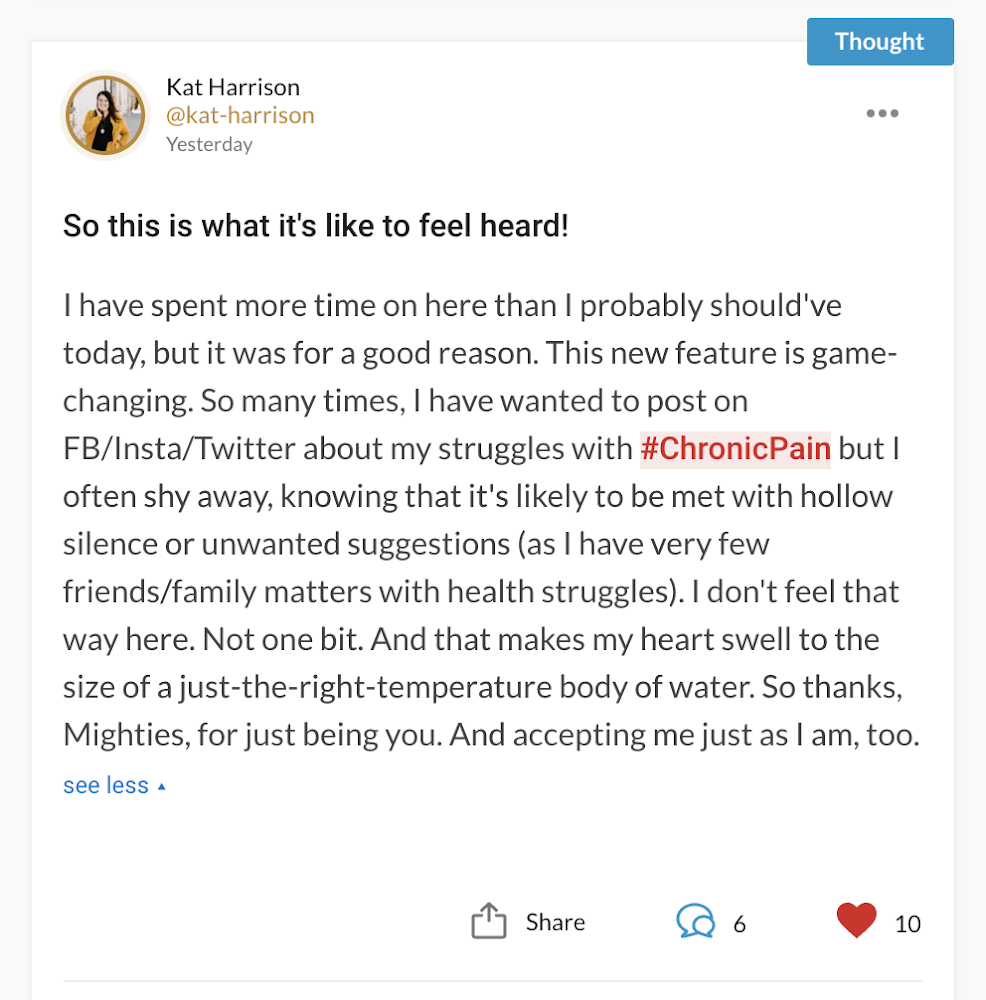 Her Thought reads:
So this is what it's like to feel heard!

I have spent more time on here than I probably should've today, but it was for a good reason. This new feature is game-changing. So many times, I have wanted to post on FB/Insta/Twitter about my struggles with #ChronicPain but I often shy away, knowing that it's likely to be met with hollow silence or unwanted suggestions (as I have very few friends/family matters with health struggles). I don't feel that way here. Not one bit. And that makes my heart swell to the size of a just-the-right-temperature body of water. So thanks, Mighties, for just being you. And accepting me just as I am, too.
So please, take a few minutes and explore The Mighty today. Respond to a question. Give a heart to a thought. Put yourself out there. The support you'll feel here is very real.
Earlier this week I was reminded of a quotation from anthropologist Margaret Mead:
"Never doubt that a small group of thoughtful, committed citizens can change the world; indeed, it's the only thing that ever has."
You are one of those people. Through each interaction, we can have a positive impact on each other's lives. And through the millions of Mighty people out there (and growing quickly!), we can change the world's ideas, attitudes and behaviors around our health.
I promise you this is just the beginning. Thanks for being a part of The Mighty. Let's help each other.