My Favorite Story on The Mighty This Year
---
A year ago today, we launched this website. I wrote a story that day about my daughter's disability — how I got started down this path — and explained why we created The Mighty:
Stories that inspire people – that can change the path of someone's day, as my wife says – are a great start, but we are going after much more. Ultimately we want to improve the lives of people facing disease, disorder and disability. This is not a small ambition. It requires a unique business model and strong relationships with non-profits, advertisers, media companies, researchers, educators, advocates and most importantly, people like you. Without a community of people who care and share, we have nothing.
The story of our first year is really a story about that community who cares and shares.
It's the story of a team of top-notch digital media professionals pouring their time and talent into something they truly believe in. Starting with a single editor, we are now a community of nearly 900 writers who are turning honest stories into hope, strength and courage for others.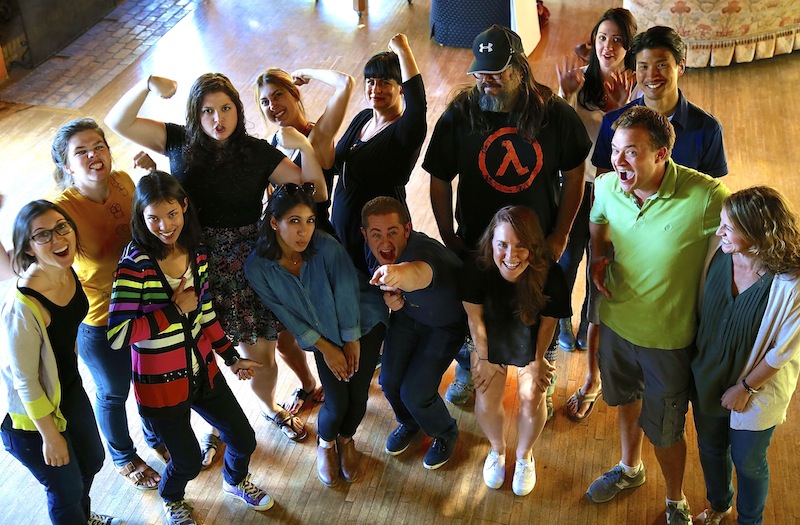 It's the story of building relationships with hundreds of organizations — non-profits, media companies, and more – to get our stories in front of people who they can help. To date, our stories have been read more than 30,000,000 times.
But really it's about the power those stories have on people.
It's the story of a teacher who started "Mighty Mondays" in her classroom, sharing our posts with her students. "It makes you think twice about treating people differently," one said.
It's the story of how a documentary finally got made: "It wasn't until the first piece I wrote for The Mighty went up and I heard people's reactions, that I felt I could and should finish the film."
And it's this story that landed in our email inbox a couple weeks ago. It's my favorite because it explains better than I ever could why we do what we do.
Thank you.
I know most emails and letters start out with "To Whom It May Concern" or "Dear So and So". I felt that I needed to start out with what was important. A simple Thank You. Like most people these days, I spend a lot of time at a computer and online and you always see the "Contact Us" sections on websites. This is the first time I have wanted to write a positive email. Most of the time I am only writing to express concern or complain about something I have seen or read. But not this time. I found myself searching for the "Contact Us" section to write praise and thanks. I am a very new user to The Mighty and I am only upset and disappointed that I did not find it sooner! I feel like there is finally a place where others understand and can laugh and cry and poke fun, and we are not being judged. Where have you been for the last 7 years?!?
Just so you have an understanding as to why I was so set on writing you, I would like to give you a small glance at my life. My husband and I had only been married for about seven months when we found out I was pregnant. We were ecstatic as most newlywed couples are when they find out they are having a baby. The pregnancy went well until six months in. I started having complications. Our son was born at 33 weeks and spent about a month in the NICU. He was little, but strong, and seemed perfectly fine and healthy when we got to take him home. That would only last for a few months. He started to get sick and was not getting much bigger. After many, many trips to the hospital and what seemed like hundreds of tests we finally had a reason. He was diagnosed with a rare genetic disorder, Gaucher Disease. We had no idea what we were up against and felt like we were alone. After multiple surgeries, countless hospital stays, appointments with specialists, and meetings with hospice care our little guy lost his battle at the age of two. After he passed, we still felt alone. We had nobody that knew what we had gone through or how to approach us. Your website gave me a place that I can feel comfortable again.
I found The Mighty after someone on Facebook posted the story about the 10 things that a parent who lost a child worries about. As soon as I opened that page, I knew I was among others who would understand. I did not have to walk on eggshells any more. I could speak freely and read what others were experiencing. It was so eye opening. I read another story in which a mother had "written a letter" to the doctors about why they would not be ending their son's life. She explained that she had already lost a child, so she knew what it meant for their second child to be dying. But she made a stand against their medical team and told them, "I understand what we are facing, but I will not let you bulldoze me into decisions. This is our child and we will make the decisions when appropriate." My husband and I have been going back and forth about having a second child. This article made that decision for me. I now have the hope and strength to be able to explain to the medical teams and family members that "yes, we know we could possibly lose another child. But we would be gaining a beautiful child no matter what. We will love them with everything we have and be right beside them through everything they will go through. That does not change just because a disease decides it will. It does not and will not run our lives. We decide when to be happy. And we have decided we will be happy…with another baby."
I apologize for the longwinded email. I get started on a subject and cannot seem to stop. I will try to finish this up now but I have one more thing to say.  Thank you, all of you. You have no idea how you have changed our lives…for the better.
~ A Very Thankful Mother in Missouri
Tina
I'm so proud of The Mighty community — our contributors, our readers, our partners and our staff. Thank you for playing a part in helping people like Tina. You've made year one a huge success and I have no doubt you'll help us achieve far more in year two.
 Got a story for The Mighty? Share it with our community.
Want to see more from us? Like us on Facebook.
And sign up for what we hope will be your favorite thing to read at night.
Originally published: April 15, 2015