Special Ed's Brewery Is Drawing Criticism for Its Insensitive Branding
---
Special Ed's Brewery in Galt, California is drawing criticism from the disability community for its poor choice of name.
The Brewery made waves on social media on Monday for its name as well as its slogan – "Ride the short bus to special beer" – and the names of some of its brews.
A photo posted to Yelp shows four beer bottles with the names: "Back of the Bus Brown Ale," "Dub'l Choflit Stout," "One To Twee IPA," and "Dub'l Eye Pea Aye." The slogan on the bottom of the bottles reads "Tard Tested, Tard Approved."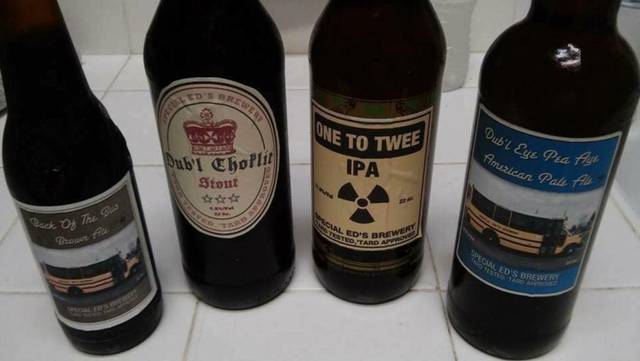 In an interview with Fox40, Ed Mason, the Brewery's owner, said the Brewery's name comes from a nickname his wife gave him. "They're saying I'm poking fun at people with special needs, absolutely not, that was never the intent," Mason told the News Channel. "We have special needs people in our family, we have a lot of friends with special needs, we love them all dearly … they bought off on this."
Since Monday's backlash, the company has taken down its Facebook page in response to death threats posted against the owner and his family.
The lack of a Facebook page hasn't stopped people from voicing their opinions, with commenters now moving over to Yelp.
One commenter wrote:

Every day, my daughter goes out into the world to try to make her way on her own terms. And every day, I hope against hope that she doesn't run into someone like you, someone who sees her disability as the punchline to a mean-spirited joke. Turns out, that's harder than you might think. And the only thing I can do is push back, one hate monster at a time. This is me pushing.
Another was appalled by the Brewery's marketing:
Too use a special needs school bus as your advertisement you should not be ashamed but embarrassed that you'd stoop to that level and try to mock something so positive an education for someone.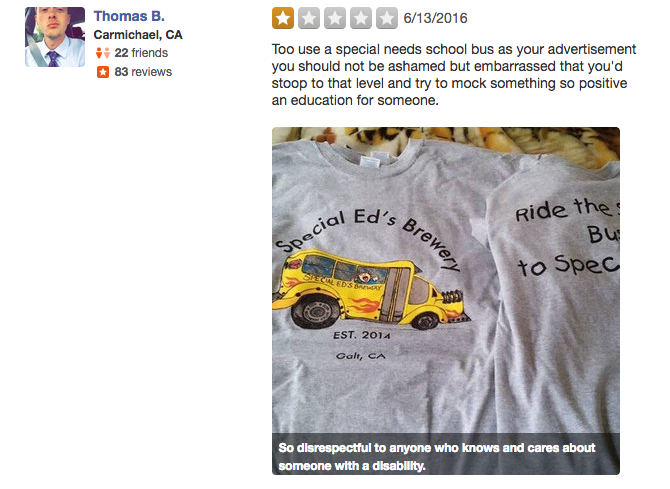 Meanwhile, some are defending the name.
Freedom of speech. They have theirs and you have yours, the beer us great. I was in special education, I do not find this name offensive. There is more important things to fight over like our nation's debt or the water storage. Don't take yourself so seriously.
What do you think? Let us know in the comments below.