Steve Harvey Defends Wife Marjorie Harvey for Using R-Word in Instagram Video
---
Editor's Note
If you want to help Spread the Word to End the Word, head here.
On Saturday, March 31, Marjorie Harvey, Steve Harvey's wife, posted an Instagram video of the two preparing beets to juice. Marjorie starts the video, which has over 400,000 views, by stating that Steve thinks she's "retarded" because she can't cut beets properly.
Fans immediately commented on the video, criticizing her use of the R-word, a derogatory slur typically aimed at people with intellectual disabilities. People often use it to negatively describe a situation or another person (disabled or not).
Steve jumped to his wife's defense in the comments of the video. He asked what people were "trippin bout." He then asked, "it's a word ain't it?" This implies the fact that a word's existence makes it OK to use, despite it insulting other marginalized groups of people.
"As a mom to a beautiful daughter with Down Syndrome, I find it highly offensive that, one, the word was used and, two, that you, Steve Harvey, would defend her," one Instagram user commented. "Why is it acceptable for that word to be used, but not acceptable for other words to be used? People with disabilities are people and deserve to be defended and respected. Shameful…why not apologize, learn from it, and move on!? Completely disrespectful and disgusting!"
Harvey said his wife was talking about herself and not someone's baby, which was supposed to make it OK.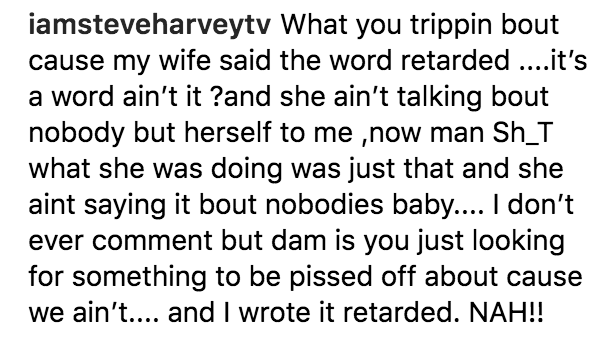 Some fans also defended the couple and said people who had a problem with it should just unfollow the page. Some said the word was used in their home and not in public, so it was OK.
"Now we have to watch what we say in our own homes," an Instagram user commented. "This lady was speaking about herself to her husband. I think people are needing something to talk about. If you didn't like what she said stop following her."
Others said the Instagram post made it no longer private, so the point that it was in their home was null, and even though Marjorie used the word to describe herself, it was still insulting.
"I see that a lot of people have supported you and said that there's nothing wrong with what you said," an Instagram user commented. "Unfortunately, that's not true. There are people like me, my family, my daughter who has Down syndrome, who are all hurt by the implication you made. By using the R word in that way, it infers that people with cognitive disabilities are less than or dumb. Please consider taking the time to either personally or publicly reconsider using a word that hurts so many. I'm not saying that was your intent, but when know better, we should do better…right?"
The medical term "mental retardation" was first used in 1914, according to Merriam-Webster. It was originally used to describe those with intellectual disabilities. The term was eventually replaced with "intellectual disability" because people began using "retarded" as a slur to insult and describe people as less than those without an intellectual disability.
Image via Wikimedia Commons/Avito C.Dalan for the Philippine News Agency
Originally published: April 3, 2018