Ashley Guillory Creates Comic About Living With Interstitial Cystitis
---
For Ashley Guillory, the best way to express how being diagnosed with interstitial cystitis (IC), an inflammatory bladder condition, made her feel was to turn her experience into a cartoon.
"I'd been looking for a way to express what I'd been through my IC diagnosis in a way that didn't ask for any pity," Guillory told The Mighty. "I knew it needed to be a comic – I've my MFA in comics, and find them the best media for autobiographical narratives – but every time I started writing the script it looked like a sob story, which I was trying to avoid."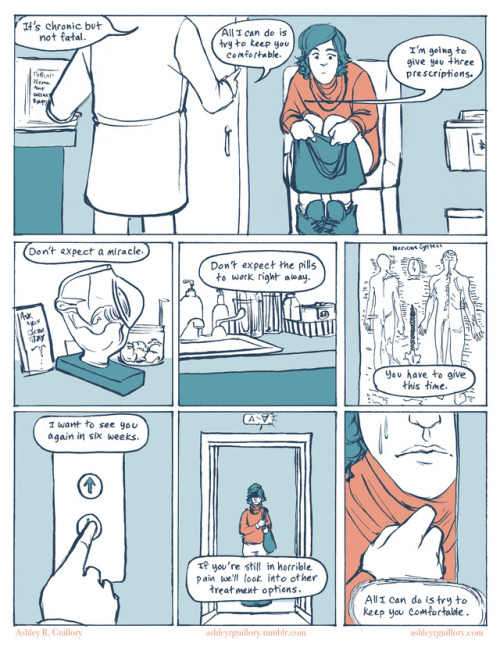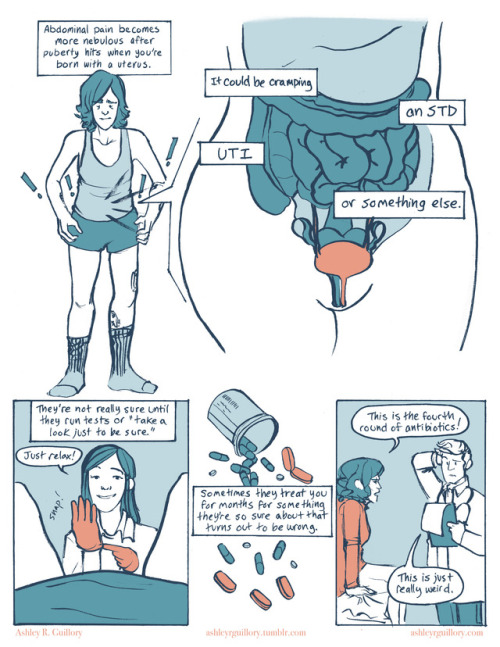 The 9-page comic starts from the beginning of Guillory's journey – trying to find a diagnosis – to current day, living with the lifestyle changes that come with managing a chronic illness. "I'm not fragile or broken. This illness doesn't define who I am or limit my ambitions," the Burbank, California-based artist said. "IC has taken a lot of things away from me, specifically all of my favorite foods, but I refuse to let it take my work from me."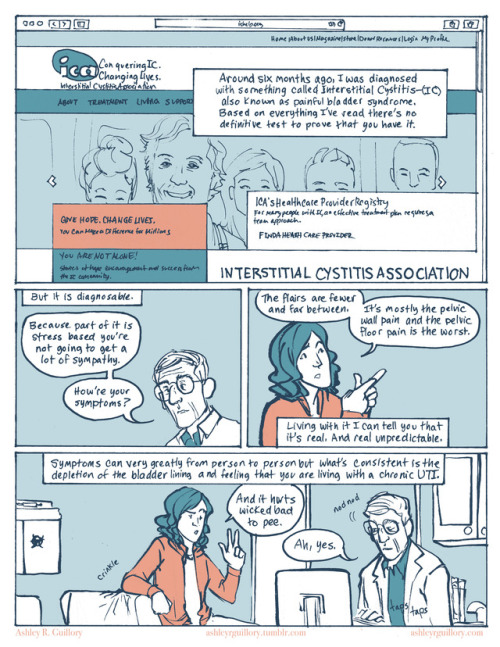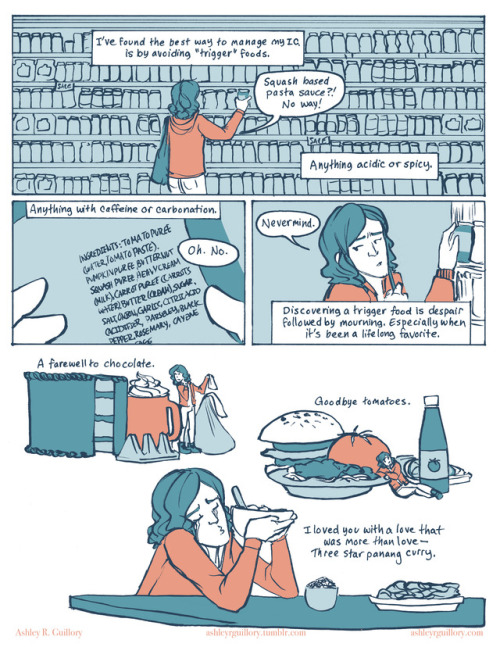 In addition to sharing her personal journey, Guillory also shares information about IC, describing the symptoms of IC and how they can differ from person to person. Guillory also discusses the dietary changes she had to make to make her condition more manageable, switching to an IC-friendly diet and eliminating foods like chocolate, tomatoes and citrus.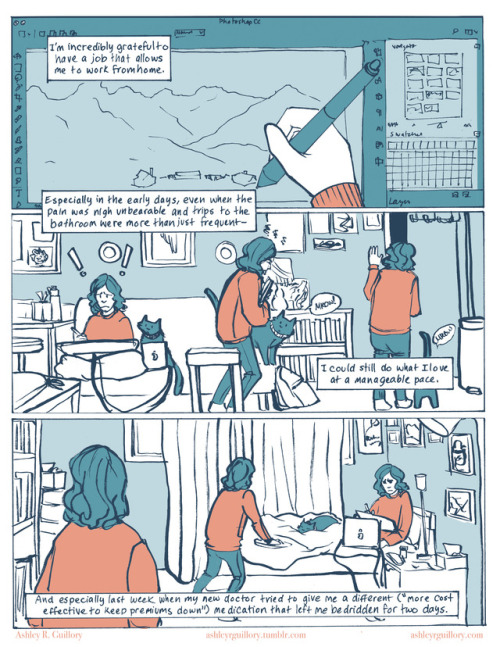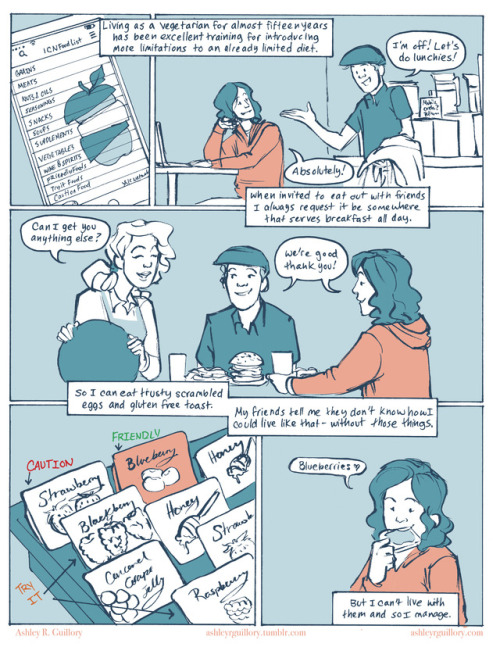 Beyond experiencing symptom flares, Guillory said the hardest part of living with IC is adhering to the dietary changes:
Any time my friends ask me to go to a new restaurant I have a panic attack. I start crying and it's like the day I was diagnosed all over again. I hate feeling like I am being a burden, especially to a waiter who doesn't know everything that goes into all the food on the menu. I can't tell you how many times I've asked if breakfast potatoes were seasoned with paprika, been told 'no,' and then had to send potatoes back because they were smothered in paprika. It's wasteful. It seems like such an extravagant thing to complain about but I didn't realize how many social aspects of my life revolve around food. Living in a city where people have so many self-imposed food restrictions I don't know where to begin explaining how I can't eat things because of the pain.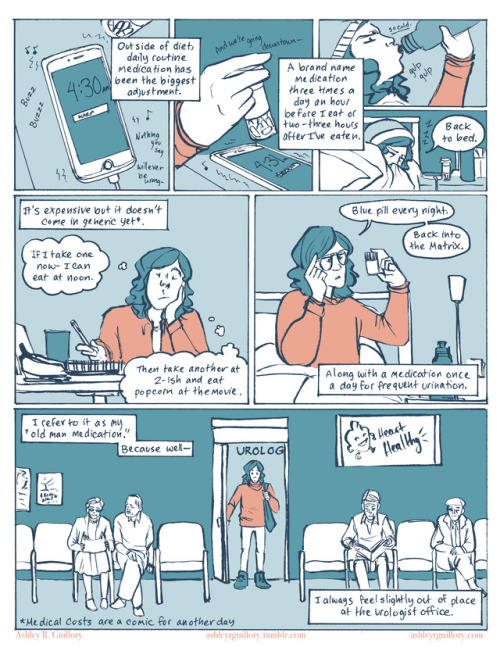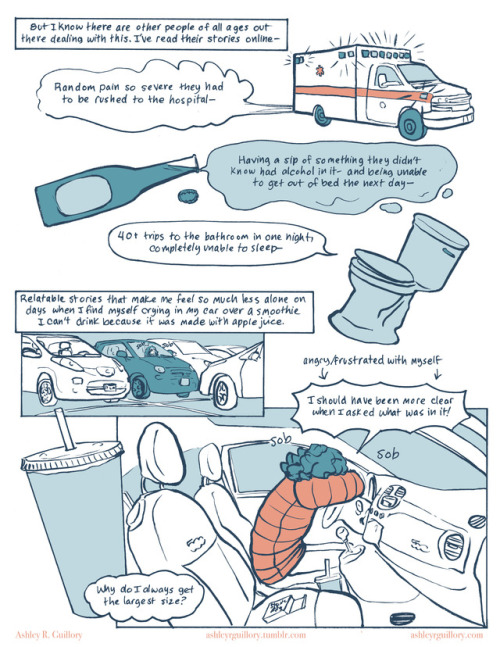 At first, Guillory said, she was hesitant to create the comic since she hasn't been living with IC for that long. "I didn't feel my comic had enough years of experience behind it to hold that sort of authority," she noted. "My experience with IC has changed the narrative of my life in subtle ways and this comic outlines those changes to my daily life. I'm interested in 10 years from now writing this comic again and seeing how my feelings have changed."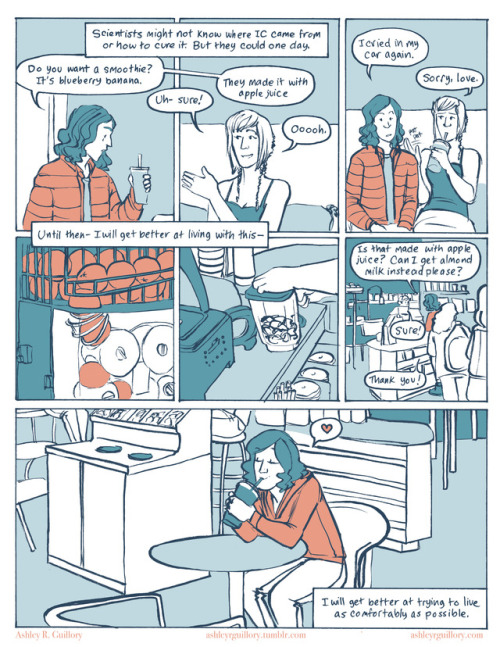 Since sharing her comic, Guillory said she's received lots of comments from people relating to her story. "I hope it's not too conceited to say I would love for this comic to inspire others living with chronic illnesses to make comics of their own," she added. "A lot of people might say they 'can't even draw a stick figure' but it's really the story that matters the most. Anyone can make a comic."
You can view more of Guillory's artwork on her Tumblr. 
Originally published: April 5, 2017