Finding Reasons to Smile in Life With Chronic Pain
---
I recently experienced some struggles with trying to understand why a person with chronic pain finds a reason to smile. There's the television version of all the happy people out there. The Hallmark variety of happy journeys with great endings and love all around. It's not that I am jealous of any of it. I am of the opinion that life is sacred, and it is up to me to make it the best I can! So, for me, I reached some conclusions that have helped through some tough times when the going was rough and nobody was around to see it. I believe that knowledge is power and that sharing that knowledge is very worthwhile. My heart, mind and soul are always open to finding what works for me with the hope that it helps someone else.
My journey with chronic pain began many years ago. It started as a urinary tract infection. It grew into a life-altering, mind-numbing, painful process. Every single day. For many years, it defined me. It was hard to know just who I was in response to the pain I was experiencing. The struggle was often very difficult because many of the professionals that I went to with the pain shrugged it off as women's hysteria or just over-acting. After a while the pain took over and almost became who I was. Almost.
I decided very early on in my diagnosis of interstitial cystitis that I would never let it define me. It is a painful condition, but it is not who I am. I refused to give it the attention it wanted. I turned my attention to other things. I chose a career to help others who have disabilities. My work is very fulfilling and rewarding. There are times when it is not easy because of pain and fatigue. But, I don't allow it to overshadow the work I need to do. I have learned to smile and refocus and work as hard as I can to give a voice to those who need the support.
Mindfulness has helped me so much over the years. Instead of fighting with the pain I have learned to be gentle. Instead of hating myself because the pain is so ever-present, I leaned into it. Gave it a restful place to be. I have learned how to breathe through most of the painful days. I study ways to meditate through, wrapped up in self-love instead of self-loathing. Music carries me into another place and helps restore my soul. I read the Scriptures and gather the faith and strength that I need for the moment or the day.
My female friends are so supportive. On the days when I say, "I would love to rip my bladder out of my body," they are there for me. They don't know how it feels to not have a bladder lining. They can drink whatever they want. They can eat the multitude of things that I can't eat. But they never flaunt it. They help me when I cry. They tell me I am brave. They champion my tenacity. I bury my pain in their words.
My why continues to grow. I have grandchildren. I love my sons and my family. I want to be around to see them grow in every way possible. I am a valuable person with many gifts. I have online friends who send me cards in the mail, encouraging me to never give up, never give in. I share my gifts of jewelry-making, card-making, antique button creations with them and others. I paint, create cards, read about olive oil and horsemanship. I save the bees.
I won't sit in the third row. I will sit where I want. Most of the time, it's in the front and I love it.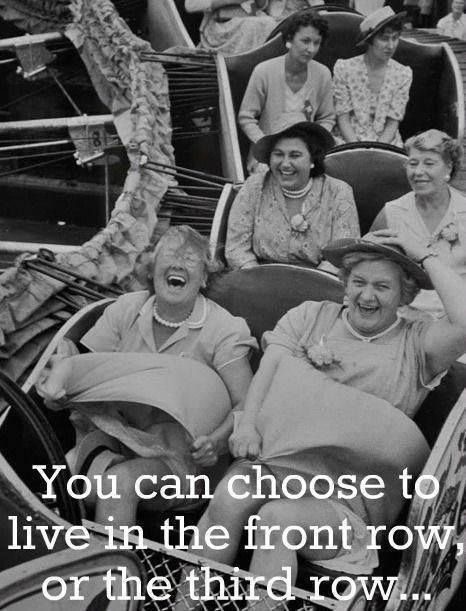 Namaste.
Originally published: March 12, 2018