Epicured Offers Low FODMAP, Gluten-free Meal Plans for People With Digestive Disorders
---
For those living with digestive disorders, significant dietary changes like following a gluten-free or low FODMAP diet are often prescribed as part of your treatment plan. Unfortunately, adhering to these diets can be challenging. That's where food startup Epicured comes in.
Epicured is a meal delivery service that caters to people with digestive illnesses like those living with celiac disease and irritable bowel syndrome (IBS) – conditions which affect 3 million and 25 to 45 million people respectively. "Epicured, at its core, is an evidence-based food company," Renee Cherkezian, RN, cofounder of Epicured, told The Mighty. "It's clinically recommended for patients with a variety of gastrointestinal issues like IBS, Crohn's, colitis, and celiac, all of which can have very real quality-of-life impact that can be managed through food."
As part of its service, Epicured delivers pre-cooked lunches and dinners that comply with low FODMAP (an acronym for fermentable oligosaccharides, disaccharides, monosaccharide and polyols) and gluten-free diets. While Epicured is not the only gluten-free meal plan on the market, it is the only low FODMAP-compliant one – making a notoriously time-consuming and restrictive diet accessible to those who don't have time to research and cook appropriate meals.
Epicured launched in July 2016 as a way of bringing together fine dining and medicine. "Renee and I have been friends for years. She came to me with this really ambitious idea to bring fine dining and medicine together," Richard Bennett, Epicured's cofounder, said. "As her friend, I loved that it combined her nursing experience and her culinary passion. I wanted to help, so we worked at it together and gave it structure."
For Bennett and Cherkezian, low FODMAP and gluten-free meals were the natural place to start. "[The low FODMAP diet has] been around for about 15 years and was pioneered by gastroenterologists and dietitians at Monash University in Australia," Cherkezian explained. "They found that removing short-chain carbohydrates from a person's diet is an extremely effective way of managing IBS symptoms. The problem is that short-chain carbohydrates are almost everywhere – onions, garlic, wheat, dozens of fruits and vegetables, sweeteners, even chamomile tea. When you're limited to gluten-free ingredients, not to mention all of the restrictions of low FODMAP, it's like you're cooking with your hands tied behind your back."
Beyond providing meals that follow dietary restrictions, Epicured aims to make eating an enjoyable experience. "Many of our customers have not been able to derive a lot of pleasure from food, and we want to give them back that ability," Bennett said. Epicured's menu changes seasonally and currently features items like pad thai, chicken or tofu tikka masala, truffled mac and cheese, coconut shrimp stew, beef tataki, and New England cod chowder.
To maximize the quality of each dish, Epicured relies on a team of clinicians, dietitians and professional chefs. "That's what makes our culinary team unique," Cherkezian said. "They've cooked in some of the best kitchens in the world. Sous Chef Tahiri Gonzalez came to us from Bouley. Daniel Chavez-Bello cooked at El Bulli and Mugaritz in Spain."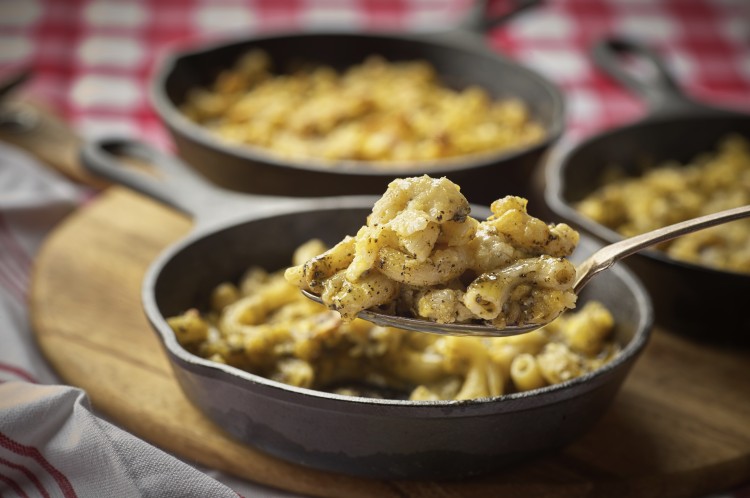 As to be expected with skilled chefs in the kitchen, the food does more than look good. It tastes good too. Epicured sent us some samples from their current menu to try. As someone with a digestive disorder, I was immediately intrigued. I love pad thai and New England clam chowder but typically can't eat either dish without feeling sick from the sugar and oil in the thai sauce or the cream in the soup. Both the soup and the pad thai were delicious, and, for once, I felt full after eating without feeling sick.
While I thoroughly enjoyed Epicured's offerings, each item felt like a light or healthier version of its namesake, especially the truffled mac and cheese. This isn't a bad thing. It just represents the modifications needed to make foods low FODMAP and gluten-free friendly. And, with each meal I tried coming in at under 500 calories, the plan is weight-loss friendly. Eating Epicured's meals didn't feel clinical. It felt like ordering delivery from one of my favorite NYC establishments. Would I order again? Yes, I definitely would.
The price may be prohibitive for some people. Depending on which plan you order – two meals per day or one meal per day, five or seven days per week – meals range from $12.99 to $14.99 per meal. Living in New York City, the prices are on par or below what I'd expect to pay at a restaurant – especially when you consider the additional charges of substituting for gluten-free pasta. For people who go out to eat a lot or rely on delivery services, Epicured might save you a few dollars.
Currently, Epicured is only available in Manhattan, Queens, Brooklyn and Nassau County. "Right now, we're looking at expansion opportunities," Bennett said. "We're going to focus on meeting demand in our broader region first. Once we meet the regional demand, then we will look at wider expansion opportunities. We will start looking up and down Route I-95 from DC to Boston."
Epicured samples were provided to The Mighty free of charge.