What You Should Know About the Low FODMAP Diet
---
This past March, I began experiencing gastrointestinal symptoms in the midst of being stressed by the coronavirus pandemic and issues in my personal life. I found myself unable to eat a lot of meals due to stomach pain and when I was able to, eating aggravated my symptoms even more.  I saw a gastroenterologist in May after it was clear I needed a more drastic plan to manage my stomach problems.
My gastroenterologist recommended I go on the low FODMAP diet, which led me to reexamine how different foods aggravated my gastrointestinal tract. High FODMAP foods contain carbohydrates that people like me may have trouble digesting. So removing these carbohydrates may lead to some relief from irritable bowel syndrome (IBS), which can include bloating, nausea, diarrhea and more.
Alex Ruani, doctoral researcher in Nutrition Science Education at University College London, and chief science educator at The Health Sciences Academy talked to The Mighty about the medical low FODMAP diet and you should know if you live with IBS or irritable bowel disease (IBD).
Ruani explained that doctors may recommend the low FODMAP diet to people with irritable bowel syndrome in the case that "IBS symptoms are triggered by one of these foods." However, not all cases of IBS are triggered by foods high in FODMAP. The low FODMAP diet is not generally used to treat conditions like Crohn's disease or ulcerative colitis, according to Ruani, especially during a flare. At other times, it can help some people with IBD reduce gas or bloating.
How Does It Work?
FODMAP stands for fermentable oligosaccharides, disaccharides, monosaccharides, and polyols. As aforementioned, people may have trouble dissolving high FODMAP foods in their gut. For people with IBS or IBD, finding which FODMAP carbohydrates you do not tolerate and eliminating them from your diet could help manage symptoms. People who are put on the diet start by eating foods that are low in FODMAP.
According to Monash University, here's a breakdown of high versus low FODMAP foods and what you can substitute if your doctor recommends a low FODMAP diet: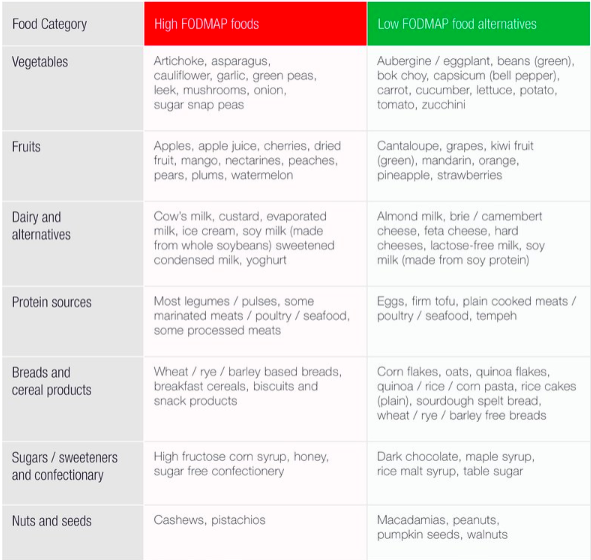 After eliminating high amounts of FODMAP from your diet temporarily, you'll then start to introduce food back to your diet. "A Low FODMAP diet is meant to be a short-term diet, not a lifestyle," Ruani said. "The reason for [it being] short-term is that you want to find out your upper tolerable limit for each FODMAP group. You may be perfectly fine with, let's say, lactose, but do poorly with […] chicory."
I personally found after reintroducing high FODMAP foods from my diet that lactose triggers my IBS symptoms, as well as foods that contain fructose. I am able to eat gluten and am able to tolerate some foods which contain sugar alcohols.
Risks of a Low FODMAP Diet
The low FODMAP diet helps around 75% of people with IBS manage their symptoms, according to a 2016 study. As long as the diet is followed and managed according to best practices, Ruani said people may find their symptoms improve and they feel better. While the low FODMAP diet has been helpful to people like me, there are some drawbacks.
"Usually reducing FODMAPs are not the first when trying to address gut symptoms," Ruani explained. "From a behavioral perspective, it is very restrictive and very hard to follow."
People should also work with their doctors or nutritionists to ensure they are still receiving the right nutrients if they follow the low FODMAP diet. If you do not need a low FODMAP diet or do so improperly, Ruani said you may be taking an unneeded risk. For example, if you do not have an issue with lactose but cut it out of your diet, you may be "potentially reducing your calcium intake, or your probiotic intake, and all these other beneficial things that we're now eliminating without replacing them properly."
Pursuing the Low FODMAP Diet
Before starting the low FODMAP diet, Ruani recommended that people talk to their doctors to see if they have a tolerance or insensitivity to certain FODMAPs. "You may also ask your doctor before even trying the FODMAP diet 'What medical tests do you think I need?'" Ruani said. "Maybe they will do different testing before even attempting to go to a restrictive diet like this one."
Finding which foods are low or high FODMAP diet can be difficult — many different websites and blogs have conflicting information — which is why people should work with their doctor or gastroenterologist when pursuing a low FODMAP diet, and get a food list straight from them.
"The best list is the one that your doctor would suggest, because, usually, your gastroenterologist will keep up to date with the latest research. You cannot count on a blog written last year."